With Helsinki as his first stop, U of T grad charts a career path in sustainability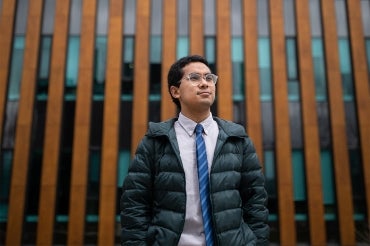 Andi Darell Alhakim came a long way to study at the University of Toronto Mississauga, travelling from his home in Indonesia. Soon, he'll be headed in another direction: to the capital of Finland to help the Helsinki Regional Council showcase the progress it's made toward achieving sustainable development goals.
"They have done a lot, and want to demonstrate that to an international audience. I'm excited to be a part of that," Alhakim says .
The bachelor of arts student in political science came to U of T in 2018 as a Lester B. Pearson Scholar, the university's most competitive scholarship for outstanding international students. When he arrived, he aspired to make a positive difference in the world and perhaps one day become Indonesia's ambassador to the UN. But he had yet to discover his true calling. 
For Alhakim, co-curricular activities were the key to learning more about his interests and finding his purpose. "Clubs, committees, organizations really set the tone for university life," he says. "You make good friends from it, and it's nice to have people on the same journey as you."
One of those organizations is the International Education Centre (IEC), where Alhakim worked for two years.
"It was so exciting to make sure that students get to express their cultural affiliations, and at the same time bridge divides between cultures," he says.
"People from many backgrounds participate in these programs, and the IEC really trusted students to run their programming. We facilitated discussions about food, dances, and different customs. These are important to building and starting conversations. As an international student, I really appreciated how U of T did not expect me to fit a pre-existing mould. There was a lot of emphasis on chasing your own path, and I was not really sure what that would be when I arrived."
He also got involved with Hart House Debate and Dialogue, and was able to align that involvement with a burgeoning interest in sustainability. For the past two years, he's been a researcher and intern for the President's Committee on Environment, Climate Change, and Sustainability.
Like other students, Alhakim had to cope with the challenges associated with the move to remote learning during the pandemic. But for him, there was an extra layer of difficulty. He went back to Indonesia in the early days of the pandemic so he had to keep nocturnal hours to attend class. 
"The folks in the GTA were very understanding of the 12-hour time difference, and the organizations I participated in often scheduled evening meetings so I could participate. That was very nice, but the hours were grueling – I was working from 8 p.m. until 6 a.m.," he says.
"By the end of one semester, I decided I needed to return, so I could have a healthier schedule."
He credits his time at U of T for paving the way for a career in sustainability after convocation. Already, he had lined up a job for after his summer in Finland as the sustainability lead at the Canada Summer Games in Niagara region. Organizers are looking to minimize greenhouse gas emissions related to venue construction, and to use the Games as an opportunity to spread awareness about social and economic sustainability. 
"It was daunting to come to an institution with a reputation like U of T's," he recalls. "You think everyone else has everything figured out – but that's not the case. Everyone is trying to find what they are most passionate about. You need to take the time to explore."
UTM