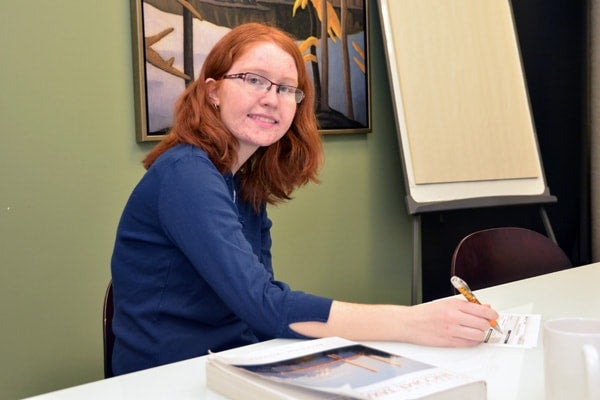 Helping others face their worst fears: filing taxes
Rotman Commerce students in the community
Many people hate filing taxes so much they put it off to the last moment -– or hire someone else to handle much of the work. But during this tax season, 28 Rotman Commerce students went out of their way to help file the taxes of total strangers.
For free.
"This opportunity was one of the best experiences within my post-secondary education," said Stephanie Atuahene, now in her third year of the Rotman Commerce Specialist program in Accounting. "I realized that everything we learn in class, without a doubt, comes in handy outside the classroom and is essentially useful to help those around us."
Volunteering for the Community Income Tax Volunteer Program (CVITP), the students helped eligible taxpayers in the Jane/Finch and Agincourt neighbourhoods prepare their income tax and benefit returns.
Born out of a collaboration between the Canada Revenue Agency (CRA) and community organizations, CVITP's objective is to help eligible taxpayers who do not know how to prepare their income tax and benefit returns, and who have low to modest income and a simple tax situation. Each year community organizations and volunteers help more than half a million Canadians file their tax returns.
Atuahene became interested in volunteering for CVITP after completing her first income tax course this year. She saw it as a perfect opportunity to apply what she learned in the classroom to the real world, while giving back to the community.
Every Wednesday, Atuahene (pictured left) volunteered in the Jane and Finch Community and Family Centre where clients provided her with their information and tax forms to complete their returns. Using Efile, she processed each client's return and ensured they attained all possible benefits available to them.
She then discussed the clients' return with them prior to sending it to the CRA and answered any questions or concerns to ensure they understood the process and subsequent events.
"After partaking in this opportunity, I was able to see what my actions provided various clients through the smile on their faces." 
Nicole Higgins just completed her third year at Rotman Commerce specializing in public accounting. She was looking for a volunteer experience that would allow her to use the skills she developed in class in a way that would help people. CVITP seemed to combine her two goals perfectly.
"This experience helped me see how things that I learned in my tax courses are actually applied in the real world," said Higgins. "It also allowed me to hear the stories of people from different walks of life and helped to broaden my perspective."
Like Atuahene, Higgins volunteered at the Jane and Finch Community Centre, getting to know her clients beyond the personal information they shared on the tax forms.
"One of the questions we had to ask was if they had any children and sometimes the people would start to tell us about them. I'll never forget how proud some of the people were of their children and their accomplishments, especially those whose children were going to university.
"Things like that made me realize how lucky I was to be going to The Rotman Commerce program at U of T."
Although similar opportunities for students to volunteer for CVITP are offered on campus by the Centre for International Experience and University of Toronto Student Union, this was the first year Rotman Commerce partnered with the Jane/Finch Community and Agincourt to have students provide income tax support in the community.
"CVITP provides Rotman Commerce volunteers with the opportunity to enhance their ability to work with clients, further their understanding of the Canadian tax system and contribute to the increased access of financial literacy support across the city," said Lisa Lewkowicz, assistant director, student life, Rotman Commerce.
"This volunteer experience provides transferable employment experience for students while cultivating community involvement and learning through service."