With the help of her students, U of T researcher and McLean Award winner is building the future of computer architecture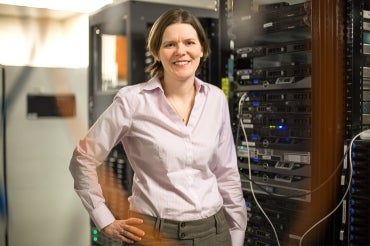 As a computer architect, the University of Toronto's Natalie Enright Jerger is helping make everything from smartwatches to sprawling data centres run as quickly and efficiently as possible.
The professor in the Faculty of Applied Science & Engineering's Edward S. Rogers Sr. department of electrical and computer engineering is considered a worldwide expert in "on-chip" networks and,  recently, is focusing on so-called "chiplets," which are touted by some as a way for chipmakers to circumvent Moore's Law.
But Enright Jerger's passions extend well beyond her research. She's a big proponent of teaching and students, and has strived to make her field more welcoming to women and other underrepresented groups – an effort that hasn't gone unnoticed by colleagues, who describe her as "tireless" and "stubborn."
"The whole reason I became a professor is really the students," Enright Jerger says.
"In the field I'm in, there's lots of great industry jobs, but the reason I'm here doing what I do is being able to work with the students."
For her contributions to computer architecture, Enright Jerger was named this year's winner of the McLean Award. The $125,000 award, jointly funded by the Connaught Fund and the McLean endowment, recognizes early career researchers and supports outstanding basic research in the fields of computer science, mathematics, physics, chemistry, engineering sciences and the theory and methods of statistics.
The award is designed to help the winner attract and fund promising graduate students and post-doctoral researchers.
"I'd like to congratulate Natalie Enright Jerger on being this year's recipient of the McLean Award," says Vivek Goel, U of T's vice-president, research and innovation, and strategic initiatives, and the chair of the Connaught Committee.
"With her exceptional record of achievement, we are eager to see what will come next for her and her team."
For Enright Jerger, the student focus of the award is fitting.
"Being able to support more students and build my research group through the award is really fantastic," Enright Jerger says.
"The support that the award provides for basic research is critical. It allows us to ask more forward-looking questions and think outside of the box. Asking these questions carries greater risk but higher reward.
"With basic research, my team and I are the ones identifying challenging open problems – cultivating this ability to ask questions is a critical aspect of my students' training."
Enright Jerger also hopes to make her field as inclusive as possible in an effort to attract the brightest minds. She recalls being one of just a few women in her undergraduate classes and says the demographics in the classes she currently teaches are still largely the same.
"I've gotten really involved in my professional societies and research community in trying to push equity, diversity and inclusion," she says. "There are a number of really notable women in my field and they've certainly been recognized for their accomplishments, but we still see remnants of the old boys' club.
"It's time to share that power and to be more inclusive in terms of leadership."
Enright Jerger points to Cristina Amon, who recently ended her 13-year tenure as dean of U of T's Faculty of Applied Science & Engineering, as an example of inclusive leadership. Under Amon's watch, the number of female faculty members almost tripled and more female undergraduate students were recruited, with incoming classes over the past three years consisting of more than 40 per cent women.
Before joining U of T, Enright Jerger remembers asking Amon what she planned to do to help women in engineering.
"I was surprisingly blunt with her at the time," Enright Jerger says. "Dean Amon talked about her work and her vision and it made me want to come to U of T. I always felt like I personally had her support.
"I've always felt that support from the university level as well, such as the Connaught Fund, which helped get the ball rolling for me."
Now, Enright Jerger is hoping to pay it forward as her lab grows and she continues on to the next phase of her career.
"As new faculty join our department, I'm looking forward to seeing how I can use my experiences to help them be successful," she says. "A rising tide lifts all boats. If we're better as a community, everybody benefits."
As for her reputation as "stubborn," Enright Jerger is not about to apologize.
"I am incredibly stubborn," she says with a laugh. "And I'm not going to let go of this until I feel that we've achieved what we want to achieve."
UTC