Helen Clark, former prime minister of New Zealand, receives honorary degree
A leader known for championing equity, sustainability and health, Helen Clark served three terms as Prime Minister of New Zealand. Only the second woman to hold that office (and the first to have been elected), Clark appointed a record number of Māori and women MPs to top roles in government and placed equity at the centre of her policymaking. She later served as head of the United Nations Development Programme.
Today, for her outstanding contribution to the public good and her commitment to a just, thriving, equitable and sustainable world, Clark will receive a Doctor of Laws, honoris causa, from the University of Toronto.
Clark grew up on a farm on New Zealand's North Island, the eldest of four daughters. She attended Epsom Girls' Grammar School in Auckland and, as a teen, became politically active, protesting against the Vietnam War.
She studied politics at the University of Auckland, earning a Master of Arts in 1974. While attending university, she helped Labour candidates get elected to Auckland city council, launching what would become a lifelong affiliation with the Labour Party. After graduating, she began lecturing at the university and stood for election to the council herself twice, but never won a seat.
They would turn out to be rare electoral failures. Clark ran for office again in 1981, at the national level, and won. She went on to serve as a member of Parliament for 10 terms over almost three decades, earning a reputation for pragmatism, a steady managerial hand and a preference for incremental change over grand gestures. She says she was driven by the desire to make a difference. "I always feel that in development, in politics, you can get up every day and do something that will have a positive impact somewhere, for someone, for something," she told the Guardian in 2017. "That's been my attitude."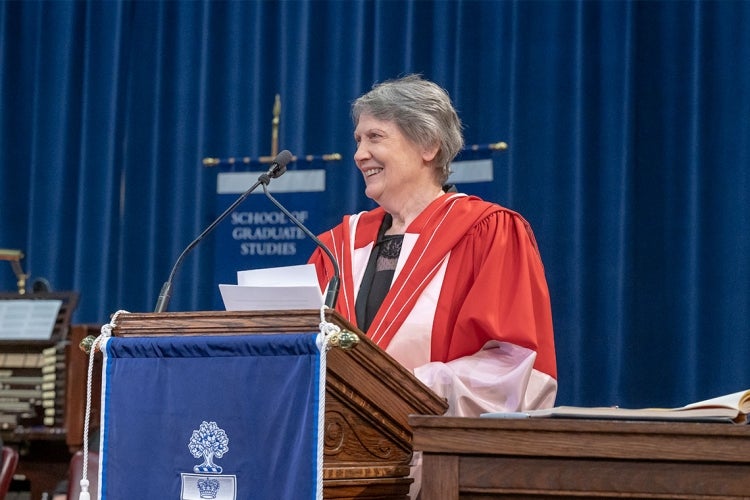 As an elected official, Clark held numerous cabinet positions, including minister of housing, minister of health and minister of conservation. She also served as deputy prime minister. In 1993, she won her party's leadership, making her Leader of the Opposition. Following the 1999 election, Labour formed a governing coalition, and Clark became prime minister.
In her three consecutive terms as prime minister, Clark oversaw the implementation of increases to the minimum wage, paid parental leave and the recognition of same sex unions. Her government established climate change and environmental protection measures, launched an emissions trading regime and worked towards carbon neutrality – all while the country recorded solid economic growth and decreasing unemployment.
Despite her achievements, Clark was on the receiving end of a lot of gender-based criticism. "They don't like your hairstyle; they don't like your clothes. In fact, they don't really like anything about you," she told the Guardian in 2014. "And maybe this all adds up to [the notion] that they don't really like a woman doing what you're doing.
Clark sought a level playing field, where men and women are assessed on the same criteria. "I always used to say I don't expect anyone, ever, to vote for me because I'm a woman. But I don't expect them not to vote because I'm a woman," she said in the 2017 Guardian interview. "That's where we've got to get to, where people can evaluate women as leaders because of their leadership skills."
In January 2009, two months after losing office, Clark was voted "Greatest Living New Zealander" in a website poll run by the New Zealand Herald. John Key, who succeeded Clark as prime minister, said he was not surprised by the result, saying "she is well thought of as a New Zealand prime minister."
Among the women inspired by Clark's career is Jacinda Ardern, who worked in Clark's office many years before becoming prime minister herself. In 2018, the two discussed the impact of women leaders and politicians in a video conversation recorded for UN Women Aotearoa New Zealand to mark 125 years of women's suffrage.
"I do consider myself very lucky," Ardern told Clark. "Because of course I had you and I grew up seeing a woman in those leadership roles."
Clark followed up her political career by pursuing public service at the global level – as head of the United Nations Development Programme, where she led international co-operation on sustainable development, gender equality and public health. In 2016, she stood as a candidate for Secretary General of the United Nations but lost to António Guterres, a former prime minister of Portugal. Had she been successful, she would have been the first woman to hold that position.
Today, Clark continues to have active leadership roles in global organizations such as: Partnership for Maternal, Newborn and Child Health; Chatham House; Women Political Leaders; the Global Leadership Foundation; the World Economic Forum; the Extractive Industries Transparency Initiative; the Global Commission on Drug Policy; and the Global Future Council on Health and Healthcare. In 2023, she was admitted to a group of 12 global leaders who advocate for social justice, human rights, sustainability and peace. The group was set up by Nelson Mandela in 2007. Clark is also patron of the Helen Clark Foundation – a non-profit, non-partisan, public policy think tank for generating and promoting policy research in New Zealand.
In her speech today to graduands of U of T Mississauga, Clark will note that the world is grappling with many pressing issues – from the need for climate action and conflict resolution to eradicating global poverty in all its dimensions.
"The challenges are great, but there is a niche for each one of us in finding solutions. My call to each of today's graduands is to find that niche for yourself, and to be a force for a better world. Your education has given you the knowledge and skills both to build solid careers and to make a difference for the better for your community, your country, and our world."
UTC