Health system needs to plan now for adoption of regenerative medicine therapies: U of T researchers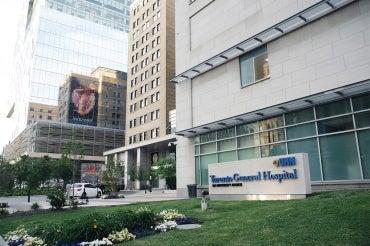 Regenerative medicine holds the potential to revolutionize health care, but critical work needs to be done now to ensure the new therapies will be safe, effective, affordable and widely available to patients who need them.
That is one of the key conclusions of a paper published recently in Cell & Gene Therapy Insights that outlines the recommendations of an international workshop hosted by Medicine by Design at the University of Toronto in collaboration with CCRM, the Toronto Health Economics and Technology Assessment Collaborative (THETA) at University Health Network (UHN), and Loughborough University in the U.K.
"As more regenerative medicine therapies move closer to the clinic, now is the time to engage policy-makers, governments, health-care providers and other stakeholders in these important conversations," said Murray Krahn, the paper's corresponding author and director of THETA.
"Laying this groundwork early will ensure our health-care system can adopt and implement regenerative medicine therapies efficiently and effectively, and in ways that align with the social values of Canadians," added Krahn, who is also an attending physician at UHN and a professor at U of T's Leslie Dan Faculty of Pharmacy and the Faculty of Medicine.
Funded by a $114-million grant from the federal government's Canada First Research Excellence Fund, Medicine by Design brings together more than 130 researchers from across U of T and its affiliated hospitals to advance and accelerate regenerative medicine discoveries. As part of its mandate, it convened the June 2019 workshop that led to the paper, bringing together 37 researchers, clinicians, ethicists, policy-makers and industry leaders from Canada and the U.K. to discuss challenges in the adoption of regenerative medicine therapies.
The challenges include how to generate robust data when the number of patients enrolled in clinical studies may be small and how to determine if these therapies will be effective over the long-term.
Other key questions are how much these therapies should cost, who should pay for them and whether the often hefty price tag of novel therapies justifies the clinical benefit compared with existing treatments. These considerations are particularly important in countries with publicly funded health-care systems, such as Canada, where resources are limited. Ethical and social issues such as accessibility and patient experience also formed part of the workshop discussions.
Workshop participants discussed lessons learned from recent regulatory approval and implementation of a handful of CAR T-cell therapies, which re-engineer the patient's immune system to fight certain types of cancer, and how they might be applied to regenerative medicine therapies.
"The pivotal next steps for future working groups to tackle revolve chiefly around addressing the evidence generation issues, relevant stakeholder engagement, targeted policy-maker engagement and understanding future payment system mechanisms," the paper concludes. Its co-authors are: Maya Chaddah, a freelance science communicator; Allison Brown, director, strategy and translation at Medicine by Design; Siofradh McMahon, senior manager, clinical translation and regulatory affairs at CCRM; James Kusena, a PhD candidate at the Centre for Biological Engineering and Wolfson School of Mechanical, Electrical and Manufacturing Engineering at Loughborough University in the U.K. and an alumnus of Medicine by Design's Summer by Design program; Karen Bremner, a research associate at THETA; and Ann Perry, associate director, administration, at Medicine by Design.
Krahn has convened a working group, made up of some of the workshop participants and others, to continue working on some of these issues. Early conversations have focused on creating a database for all regenerative medicine projects that will allow researchers to study their economic and clinical benefits compared with current therapies. As well, the group will explore the use of early health technology assessment methods.
Medicine by Design is also actively driving policy discussions. Affordability and accessibility form one of six topics Medicine by Design has invited researchers to address through its Grand Questions Program. Launched in July, the program is investing $3 million in bold ideas and developing transformative solutions that will be of critical importance to regenerative medicine over the next 20 years.
"If regenerative medicine therapies are to become the new standard of treatment for many diseases, we need to examine critically how they will intersect with regulators, policy-makers, payers and patients," said Michael Sefton, executive director of Medicine by Design and a U of T University Professor in the Institute of Biomedical Engineering and the department of chemical engineering and applied chemistry in the Faculty of Applied Science & Engineering. "Through this paper and our Grand Questions Program, Medicine by Design and our partners are leading this conversation."
Medicine by Design builds on decades of made-in-Canada excellence in regenerative medicine dating back to the discovery of stem cells in the early 1960s by Toronto researchers James Till and Ernest McCulloch. Regenerative medicine uses stem cells to replace diseased tissues and organs, creating therapies in which cells are the biological product. It can also mean triggering stem cells that are already present in the human body to repair damaged tissues or to modulate immune responses. Increasingly, regenerative medicine researchers are using a stem cell lens to identify critical interactions or defects that prepare the ground for disease, paving the way for new approaches to preventing disease before it starts.
Medicine by Design