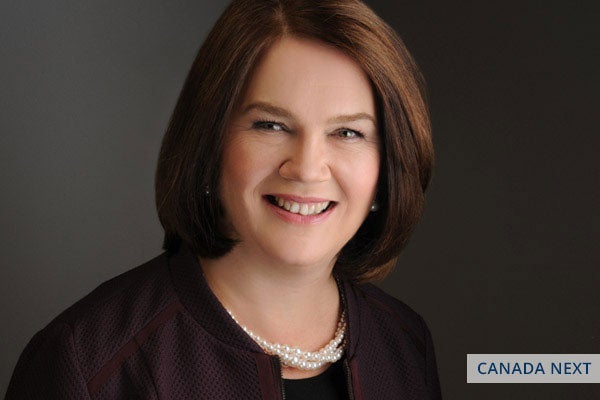 Health minister says drug costs are "way out of control" but change is on the way
Dr. Jane Philpott brings years of U of T experience to a crucial cabinet position
Dr. Jane Philpott would love to be in Addis Ababa in a few weeks to see the first students graduate from a family medicine program she was instrumental in establishing while at the University of Toronto.
Unfortunately, she will have to miss the graduation. She is too busy running Canada's health-care system.
In November, Prime Minister Justin Trudeau named Philpott minister of health. It is perhaps the most important portfolio in government, after the prime minister and finance minister and an extraordinary achievement for a neophyte MP elected to the riding of Markham-Stouffville.
It was a remarkable posting in another way: she is the first medical doctor to become federal minister of health. 
Philpott's connection to U of T goes back to the 1980s when she spent a year doing a fellowship with Dr. Jay Keystone on tropical medicine after completing her family medicine residency at the University of Ottawa. 
In 2012 she completed her master's degree in public health at U of T and holds a clinical, part-time appointment with the department of family and community medicine at U of T at the rank of associate professor. 
"I had an absolutely fabulous experience studying as a mature student at U of T," Philpott told U of T News. "It was very helpful at that stage of my career.
"I can't say enough about the Faculty of Medicine. I worked with a lot of outstanding colleagues over the years. And as a graduate student, the amount of courses available was absolutely stunning.
"My experience really deepened my understanding of the health-care system and health policy. It was tremendously enriching for me both personally and professionally."
Another enriching experience was her leadership role in the Faculty of Medicine's Toronto Addis Ababa Academic Collaboration.
"It is a really wonderful collaboration that is helping the University of Addis Ababa with their clinical training at the post-graduate level," she said.
The first nine students are set to graduate in the next few weeks. The program began in 2013. "I wish I could be over there in Ethiopia but I have to miss it because of my parliamentary obligations."
Those obligations are immense. They start with her first formal meeting with  provincial and territorial health ministers in Vancouver on Jan. 20 and 21.
The Liberals promised during the federal election campaign to negotiate a new health accord with the provinces, with long-term funding commitments. Philpott has talked already to most of the health ministers over the phone. "I am optimistic that over the months we can come up with a shared health agenda," she said.
While provincial governments are responsible for health-care spending, Philpott said the federal government can take a leadership role in setting policy on such crucial issues as access to home care and mental health care, lowering prices of pharmaceutical drugs and expanding innovation across the health care system.
During the election campaign, several U of T experts, including Dr. Samir Sinha and Dr. Danielle Martin, pushed strongly for a national pharmacare program. 
"All those experts making smart recommendations will be very pleased to see the kind of work we will be doing as a federal government," Philpott said.
"I absolutely hope we will be able to work towards a national pharmacare plan at some point, but the very first step to be taken is addressing the cost of prescription drugs." Drug costs, she said, "have gotten way out of control" in Canada, which has the second highest per-capita drug costs in the world, after the United States.
"There are a number of mechanisms the federal government has to bring down those drug costs and we will be working quite ambitiously to do that," Philpott said.
One method is bulk buying.  Some provinces are part of the Canadian Pharmaceutical Alliance, which buys in bulk, and are asking the federal government to join it. Ottawa is directly responsible for drug costs for some groups, including First Nations people.
After Philpott was elected last October, the Globe and Mail reported that she quoted a German doctor-turned-politician, Rudolf Virchow, to the effect that "politics is nothing but medicine writ large."
"It is something that I still very much believe," she told U of T News. "Politics and medicine are very closely linked. They are both about improving the lives of people. The things that drove me to become a physician are the things that drove me to become a politician."
She believes "one of the advantages I will have as federal health minister is that I spent so many years of my life working on the front lines of health care as a family doctor.
"I have had conversations and interactions with thousands and thousands  of people and seen them at some of the best times of their lives and also seen them during the most difficult times of their lives. Those peoples' stories are etched in my mind and will certainly shape me in the kinds of decisions that I make at the policy level.
"Government policies have a real impact on real people, and I have worked with those real people and will certainly be pressed to make sure decisions made under my watch will be ones that will help improve peoples' lives."