Before heading off to the U.S. Open, Bianca Andreescu made a pit stop at U of T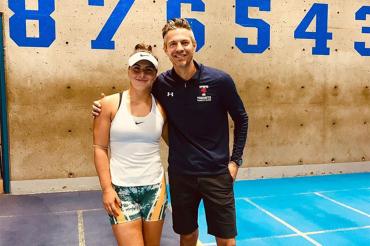 Bianca Andreescu made history earlier this month when she became the first Canadian to win the U.S. Open women's singles championship.
On the way to her historic win, the Mississauga teen stopped by the University of Toronto to get some running advice from Varsity Blues track and field coach Terry Radchenko.
Radchenko shared the experience with the Faculty of Kinesiology & Physical Education's Jelena Damjanovic.
---
How did you two meet?
My contact information was passed on to her from another coach she was working with. She wanted to get a consultation on her running form, so her mom contacted me and we met a couple of weekends ago at the Athletic Centre. Bianca came right after her practice with her mom and dad, one of her tennis coaches, her physiotherapist and her Tennis Canada strength and conditioning coach.
What were some of the tips you gave her?
First, I watched her and her trainer from Tennis Canada go through their activation circuit. These are drills that you would do before you actually start running or moving. You want to make sure that you're not overusing one muscle over another. So you want to activate your glutes and your hamstring, your quads and calves, and make sure your spine is mobile.
Then I watched them go through their mobility routine. These typically include exercises such as skipping with arm circles or sweeping the ground or kicking your legs up high. After this we did some of the drills that I would do with our athletes such as marching A and skipping A, which are both good for running form.
When she was warmed up, I watched her run at a variety of paces over 50 metres – first at 50 per cent, then at 70 per cent and then at 80 per cent – and I took some videos. I wanted to see where her foot was landing, how it was landing and if she was coming down on the power part of her foot. We looked back at the videos together and I pointed out a couple of little changes she could make.
I thought her running stride looked really good by the end. That's when I took a little video of her going over some baby hurdles, also known as wickets, and her form looked really strong, which was nice to see.
Canada's Bianca Andreescu celebrates after winning the U.S. Open women's singles title (photo by Cynthia Lum/Icon Sportswire/Getty Images)
What is Bianca Andreescu like?
The thing about her that was really interesting was that she was, like most super high-level athletes, like a sponge. She really wanted to hear the thoughts on her running form. She took a real interest in seeing the video of herself running, observing what her feet were doing and how her body was moving, noticing how it looked at the start in the first few strides she did and then comparing that to the video we took of her running over the hurdles and seeing how good her form looked.
Is she as humble as she appears to be?
She is humble, yes, but she is also very confident and motivated. She was great. The whole group of them were great and easy to work with and I can see why she is so successful. She wants to learn, she wants to do anything she can to get better. I was rooting for her, of course, and it was great to see her success. 
KPE