Hart House podcasting program 'ignited a social justice fire in me,' U of T student says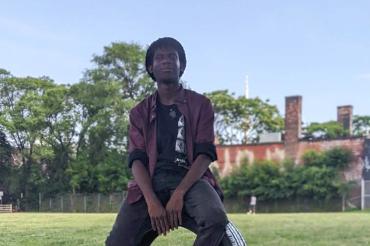 Elijah Miller is an undergraduate student at the University of Toronto – but his on-campus involvement began while he was still in high school via a podcast on climate change. 
Miller says got the opportunity to create the podcast – titled, "The ocean's rising, do you give a sh*t?" – while he was still attending high school at Runnymede Runnymede Collegiate Institute through a co-op placement at Hart House.
"Climate change is something I am passionate about," says Miller, who is now studying in the Faculty of Arts & Science as a member of Woodsworth College. "When I was talking with my friends at high school, whenever the idea of climate change came up, I wanted to ask questions like, 'What is it?' and, 'How did we get here?'"
He got the chance to explore those questions by working with the Hart House podcasting team, including Day Milman, manager, integrated arts education, and Danielle Dinunzio, manager, community access and outreach. "Day and Danielle taught me how to come up with the questions, how to edit, how to record," Miller says.
The co-op was organized through SEE U of T (Support, Engage, Experience University of Toronto), a collaborative access program initiated by U of T and the Toronto District School Board that encourages students who come from historically underrepresented communities to view post-secondary education as a viable destination by participating in classes, experiential learning and U of T campus life.
In the podcast, Miller interviews fellow students, teachers and a therapist to hear their perspectives on the climate crisis, why it's hard to instigate change and who is responsible. The podcast presses interviewees, audience members and its own creator to think critically about this complex topic and ask difficult questions.
While most of the co-op took place online, Miller says that didn't get in the way of creativity and reciprocity. "We would do Zoom calls, where I'd say, "Here's what I'm doing,' and they'd say, 'You should think about this or that.' It was cool."
Miller wrote, produced, edited and hosted the podcast – and even created the music under the name "Lilo." 
"The work that I did with Hart House really ignited a social justice fire in me," Miller says. "Working on the podcast, I began to question all of the ideas around climate change, to interrogate and to think about it more deeply."
He says feedback has been overwhelmingly positive. "Everyone I've talked to said they loved it, and thought it was amazing," he says, adding that students who are thinking about getting involved with Hart House shouldn't hesitate.
"Go for it because you can handle more than you think you can," he says. "This is something that Hart House really illuminated for me. Just think of it as a chance for you to explore something that really intrigues you."
Hart House