Happy birthday! The Conversation Canada turns one
U of T scholars among top contributors, most-read authors carried by non-profit news organization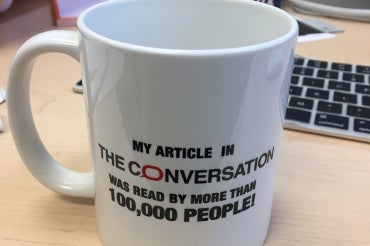 It was an interesting, solidly researched story – similar to the content they publish every day.
So Scott White turned off the lights at The Conversation Canada and headed home for the night. He made dinner and then – like usual – checked the daily stats to see how well the day's stories were performing.
He did a double take when he saw what was happening.
"Within an hour or two of us putting it up, it had been viewed 80,000 times," he says with a laugh. "I couldn't figure out why so I started poking around."
The story, disputing the health benefits of standing desks by U of T researcher Peter Smith, had touched a nerve – more than 14,000 kilometres away in Oceania where it was quickly picked up by major newspapers.
"We were like, 'How the hell did this happen?'" says White. "Little did we know that in Australia and New Zealand a lot of employers have brought in standing desks that people hate so [the story] confirmed what a lot of workers thought."
A hundred thousand views later, this story is just one of the surprises that has confounded and delighted the small editing team behind The Conversation Canada, which celebrates its one-year anniversary this week and its 900th story published.
Led by White, a three-decade veteran of Canadian newswire journalism, the non-profit news organization is a fusion of journalism and academia where scholars work with seasoned newswire editors to hone their opinion and research pieces into articles for a general audience.
Just like any traditional newsroom, "it's all about the story," he says – which needs to be interesting, informative and topical.
The stories are published under Creative Commons, which means any news organization can republish or share their work for free as long as proper credit is given. They're also free for anyone to read on The Conversation Canada's website.
The Conversation started seven years ago in Australia and now has independent offshoots in the United Kingdom, the United States, Africa and France. This week Spain started, too. There is even a global edition run out of a newsroom in New York.
The Canadian version of The Conversation is among the smallest, with six staff members (the equivalent of 3.5 full-time editors), but "productivity-wise, I think we match the larger organizations," says White, whose office is located at the University of Toronto.
"With the implosion of [traditional for-profit] journalism . . . we've arrived at the right time," he says, adding they've learned two main lessons from their first year in operation: "There is an appetite amongst the public for evidence-based, research-based journalism . . . [and] we never knew how much the academics would want to write for us.
"We're getting over 100 pitches a month coming in [from scholars across Canada] – that's kind of more than we can handle right now."
That's a good problem for a startup to have, says White, who previously worked as editor-in-chief of The Canadian Press, the country's leading national newswire service.
Everyone from young postdoctoral researchers to emeritus professors in their 80s have written for them to date and virtually all Canadian media organizations have republished their content, with the exception – so far – of the Globe and Mail and CBC.
The media pickups are critical for The Conversation since about 70 per cent of their readership comes from these sources, White says. However, they also know anecdotally from their researchers that even if outlets aren't picking up their content, they are "matching" it by interviewing The Conversation contributors and writing their own stories.
"If I was a competitive news organization that depended on advertising dollars, that [matching] would anger me – but it doesn't," he says. "We see part of our mission is to expand knowledge mobilization. If we're helping an academic from U of T or Dalhousie and somebody from CBC sees it, that's great. It's just getting the message out."
Facts vs. fiction
There are now 26 Canadian universities involved in The Conversation across Canada, including founding partners U of T and University of British Columbia. U of T, Canada's top globally ranked research university, was the organization's No. 1 contributor in 2017.
"Everyone loves the concept," explains David Estok, founding chair of The Conversation Canada's board and U of T's vice-president of communications.
"In times like this – a post truth, fake news era – it shows that in the academy there is significant and important work being done that is factual, evidence-based. That's something our society needs now, more than ever."
Underpinning the support from the universities is a grant from the Social Sciences and Humanities Research Council (SSHRC) awarded to UBC associate professors of journalism Alfred Hermida and Mary Lynn Young to get the project off the ground and to study its success in helping academics reach a broader audience.
"We're essentially their lab," White says. "We wouldn't be here without them."
With the cutting of beat reporters assigned to science and higher education, The Conversation has found a niche to fill – and one that seems to work better for scholars.
"In the old model, you'd have a reporter [who] would call up an expert and interview them for half an hour and maybe use three sentences of that conversation," White says.
"We've sort of taken that middle person out of it and allowed the academic to write in his or her own words about their knowledge. We help them put it into journalistic format so that people can understand it. It's a really interesting model."
Another important difference is a personalized dashboard for each academic who contributes to The Conversation. They can track how many times their stories are read and what media outlets have picked them up.
"Some of the authors become really addicted to their dashboards," White says.
'Nerd cred'
Last year, an article on how to safely watch eclipses by U of T astronomy Professor Bryan Gaensler was the second most read story – 204,000 views – published by The Conversation Canada.
"That one article, comfortably, has been read by more people than every single scientific publication that I've ever produced in my life put together," says the director of the Dunlap Institute for Astronomy and Astrophysics.
(The Conversation's top story with 450,000 global readers, White says, was on the female orgasm gap written by two male researchers at Concordia University.)
Since Gaensler started writing for The Conversation in Australia in 2011, he's published 18 articles that have been viewed more than 680,000 times. He checks his dashboard regularly and delights in telling his wife when he's been picked up by the journalistic big leagues.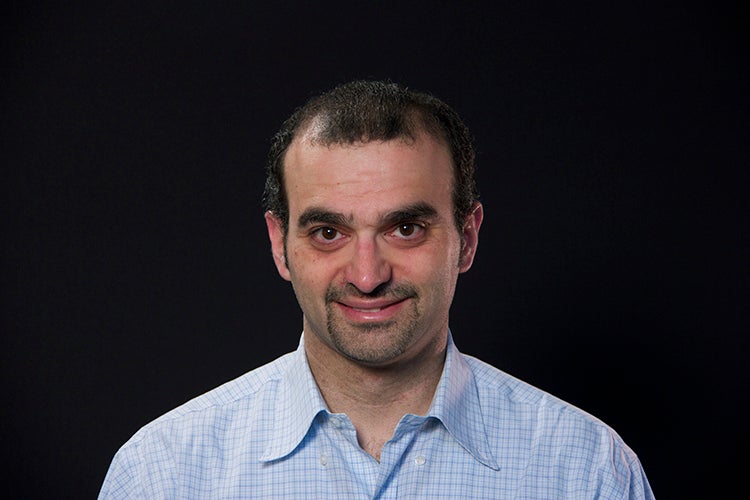 Professor Bryan Gaensler, director of the Dunlap Institute for Astronomy and Astrophysics
A Canada Research Chair in Radio Astronomy, Gaensler says he finds the process of writing for an average reader enlightening. And, unlike his scholarly work, he can have opinions in his articles for The Conversation.
 "Normally, when I write a piece for a newspaper or do an interview, they'll change it and the first I'll know is when it's published," Gaensler says. "What I like about this process is instead of them deciding to just take a paragraph out, it's an iterative process. They can tell me what works and I can push back and say, 'No, that paragraph is actually quite important.' And they can say, 'OK, but let's move it to here.' I actually get to participate in making the article accessible rather than some person who I never interact with changing what I wanted to say."
There's another important difference between the journalists and the academics. While White and his team get excited by pickups by Smithsonian magazine and the New York Times, Gaensler and his ilk have other big prizes in mind.
"The one that gets us the most excited is IFLScience.com," he says. "The holy grail among nerds is to get picked up by them…[because] they pick up what's cool and exciting.
"It's obviously not as prestigious as the New York Times or the Washington Post, but in terms of nerd street cred it is the one."
Next steps
Sitting proudly on Gaensler's desk where everyone who comes to visit can see it is a mug reading: "My article in The Conversation was read by more than 100,000 people!"
The mugs are a small tribute to contributors who have really knocked it out of the park with their articles, says White, who recently presented two to scholars at Memorial University in Newfoundland during a workshop to encourage more researchers to write for The Conversation.
As his team prepares to embark on their second year in business, he says they're looking to ramp up the number of stories they produce and launch La Conversation Canada to highlight the best of this country's research produced in French. "We'll also translate both ways," White says.
They'll also continue to focus on reconciliation and working with racialized authors through the work of Vinita Srivastava, The Conversation Canada's culture, arts and critical race editor.
"We did this piece by Daniel Heath Justice from UBC called Settlers with Opinions, which was a very difficult thing for some people to read," White says. "I thought it was one of the most powerful things we've ever produced. As this country is still going through reconciliation, I think we've really helped with the dialogue."
Crediting White and his editorial team for the success to date, U of T's Estok says he's eager for even more universities to join in The Conversation Canada as they work to launch new products and punch even higher at the global level.
Universities and scholars who take part have a huge opportunity to raise their profile and share the public good that is arising from solid Canadian research talent across a dizzying array of fields, he says.
"All of this is a perfect fit for the University of Toronto," Estok says. "It gives us a bigger platform to tell our story globally, which fits very well with our international strategy."
The Conversation is a powerful tool for academics to play a role in and influence public opinion by sharing their evidence-based research in an engaging format, Gaensler says.
"I wish more people would write for The Conversation and read it," he says. "My hero is Carl Sagan. One of the reasons he's my hero is because he was not just a spectacular scientist, he was also an amazing communicator. He made all kinds of profound discoveries and that allowed him to speak with authority and insights and to respond to the changing public landscape.
"As an established researcher, I think I have a responsibility to advocate for the field in a broad way."
UTC