A handful of 'magical' books in U of T's collection harbour an intricate, eye-catching secret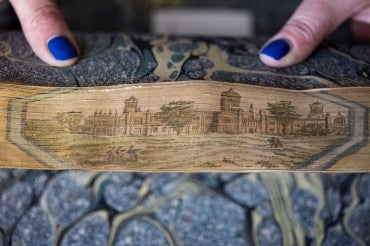 Of the hundreds of thousands of volumes kept in the University of Toronto's Thomas Fisher Rare Book Library, a precious few harbour a hidden secret. 
It's only when a reader fans out one of these book's pages with both hands that the mystery gradually reveals itself: a colourful illustration. 
Elizabeth Our Queen by Richard Dimbleby, circa April 1953.

Known as fore-edge painting, the practice has its roots in medieval Europe, back when heraldic imagery was all the rage, according to David Fernandez, a rare book librarian at U of T. Then, in the 1650s, the tradition made a comeback and became more sophisticated. 
"In some cases, you will have literary scenes represented," says Fernandez. "But they also work well for portraits of the author, collectors or popular figures associated with the text." 
In one volume about Charles Darwin published in the mid-19th century, a young and beardless Darwin and his famed ship, the HMS Beagle, emerge when the pages are fanned out.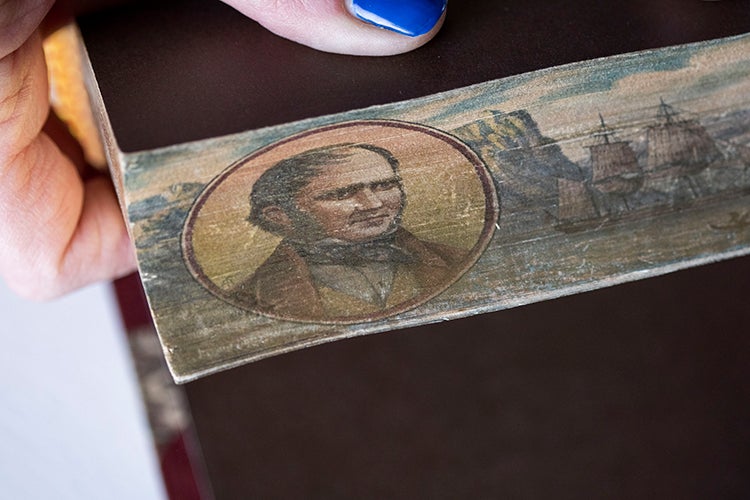 Journal of researches into the natural history and geology of the countries visited during the voyage of H.M.S. Beagle round the world, under the command of Capt. Fitz Roy, second edition, from 1845.
The paintings were made by a skilled artist using pigments akin to water colours, Fernandez says. Often, the artist or binder would gild the pages by applying a thin layer of gold leaf for added protection and decoration.
A landscape of Stratford-upon-Avon peeks out from the pages of The Dramatic Works of William Shakespeare, from 1823. 
Fore-edge paintings can be extremely complex. Some books have double paintings that reveal different images when the pages are fanned out in opposite directions. Sometimes, there is even a third picture in the finishing of the edges, Fernandez says.
"It's all about the angles," he adds. "That's what makes it so magical and fascinating: the precision and skill that goes into producing something like this."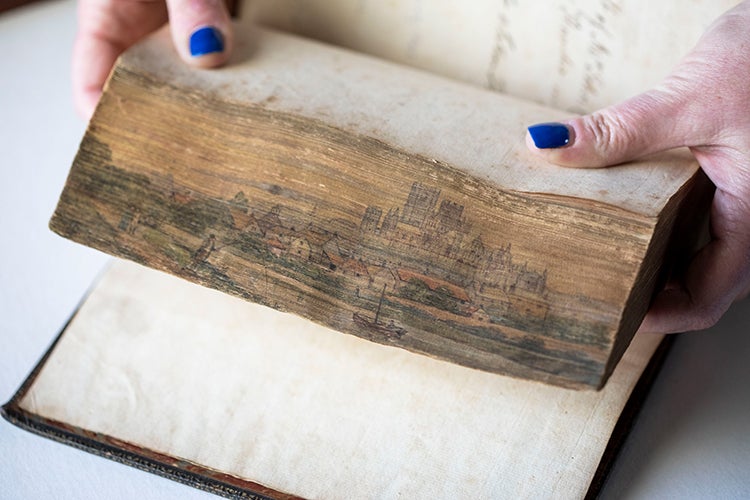 Bacon's Essays, 1892.

The paintings are more than a nifty work of art. They also say a lot about the book's owner, according to Fernandez. 
"It tells you something about the collectors who valued their books to the point that having a beautiful binding was not enough," he says. 
The death of Abel: in five books. Attempted from the German of Mr. Gessner, 1797.
There are about 30 books with fore-edge paintings in U of T's Fisher library, but Fernandez can't rule out the possibility that more are lurking in the collection of 740,000 volumes. 
"I'm pretty sure most of them have been documented," he says. "But books, especially in large collections like we have at Fisher, are full of surprises." 
UTC