Gwen Benaway and two other U of T community members win Governor General's Literary Awards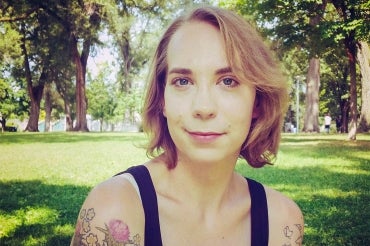 Gwen Benaway and two other writers connected to the University of Toronto have been recognized with prestigious Governor General's Literary Awards.
Benaway is the winner of the award in poetry for Holy Wild from Book*hug Press. The collection of poems explore the intersection of Indigenous and transgender identities through autobiographical narratives.
 A transgender woman of Anishinaabe and Métis descent, Benaway is a PhD candidate in the Women & Gender Studies Institute at the Faculty of Arts & Science, where she researches queerness, colonialism, storytelling, transgender history and Indigenous perspectives on gender and sexuality. She is an acclaimed poet and essayist. She won a National Magazine Award and was named a finalist for the Lambda Literary Award for Trans Poetry and the Ontario Trillium Book Award for Poetry.
The award's peer assessment committee had high praise for Benaway's Holy Wild, calling it a "burning, honest manifesto," and noting that Benaway's "confessional yet sometimes difficult poems about the Indigenous trans body are lyrical, rhythmic and fierce."
Benaway's fourth collection of poetry, day/break, and a book of essays, trans girl in love, are both forthcoming. Next year, she will hold a fellowship at the Transgender Archives at the University of Victoria – the largest trans archives in the world – to research a noted trans artist and thinker.
Amanda Parris receives the Fans Choice Award for Avril Lavigne who was absent as Jessie Reyez (left) looks on during the 2019 Juno Awards in London, Ont. (photo by Tom Szczerbowski via Getty Images)
Benaway is joined on the list of award-winners by Amanda Parris and Don Gillmor, who both have connections to U of T. 
Gillmor, a Toronto-based journalist and instructor at U of T's School of Continuing Studies, won in the nonfiction category for To the River: Losing My Brother. In the book, which takes place in 2006, Gillmor travels to Whitehorse, Yukon, to reconstruct the last days of his brother's life.
Gillmor has been previously nominated twice for the award and his work has appeared in, among other places, Rolling Stone, the Walrus and the Globe and Mail. He has won 11 National Magazine Awards, according to his personal website.
Parris received her master's degree from U of T's Ontario Institute for Studies in Education (OISE). She won the award in the drama category for her debut play Other Side of the Game. The play, set in Toronto in two different decades, tells the story of two Black women – Beverly and Nicole – who are community organizers. Cahoots Theatre and Obsidian Theatre Company co-produced her play in 2017 and Playwrights Canada Press published her play in May 2019.
Based in Toronto, Parris writes a weekly column for CBC Arts and hosts three CBC television series and is a radio host on CBC Music.
The Governor General's Literary Awards are among the most prestigious literary prizes in Canada and have been administered by the Canada Council for the Arts since 1957. The council awards $25,000 to the winning writers, illustrators and translators and $3,000 to their publishers. Finalists are awarded $1,000.
With files from Perry King
UTC