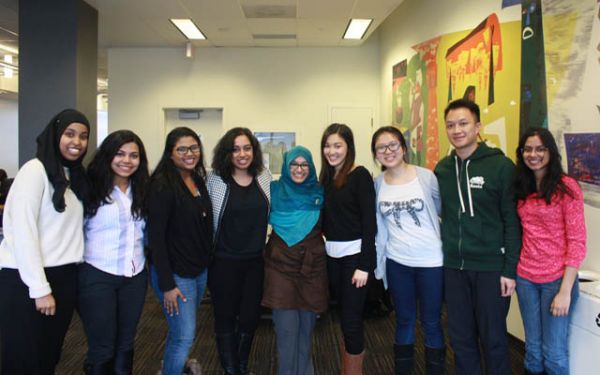 Groundbreaking course in ethnicity, culture and health underway
Dalla Lana School of Public Health course teaches students to view culture as a health facilitator
The first ethnicity, culture and health course ever offered at a Canadian health sciences faculty teaches students to view culture as a facilitator, not just a barrier, to health.
"Health professionals must be mindful of how ethnicity influences health and able to provide counsel that is reflective of personal cultural beliefs and traditional medical practices," said assistant professor Ananya Banerjee, who teaches the ethnicity, culture & health promotion course in the University of Toronto's Dalla Lana School of Public Health.
"Most public health professionals work with marginalized populations, so being culturally sensitive is extremely important," said Banerjee, who is also a registered kinesiologist at Women's College Hospital.
The course originated with a letter last summer from master of public health students Eden Hagos and Meena Bhardwaj to Dalla Lana Dean Howard Hu. Hagos and Bhardwaj emphasized the need for courses that explore the experiences of students who identify as racialized, LGBTQ or with other marginalized social identities.  
"This course will provide an opportunity for students and faculty alike to become more cognizant of how their own identity and the ethno-cultural identities of the communities with whom they work impacts our role as public health professionals," Hagos and Bhardwaj wrote in the letter, which was endorsed by the Racial Justice Matters organizing committee, the Public Health Students' Association and more than 80 students.
Banerjee accepted the offer to create the course and is midway through teaching the pilot class, which embraces epidemiology, health services research, critical social theory and behavioural sciences. This interdiciplinarity helps to shed light on the underlying reasons why certain ethic groups have a higher risk of developing chronic disease or other health issues.
She arranged for six guest lecturers to speak during the course, which runs January through April 2016, to ensure students are exposed to public health professionals engaged in health promotion activities specific to ethnic communities.
"There is significant research that identifies gaps, problems and health disparities among ethnic groups in Toronto, but what's lacking are tools and techniques to help public health and health care practitioners intervene in a way that is respectful and culturally sensitive," said Banerjee, noting that February is an important month for anti-racism and cultural diversity in Canada.
The launch of the course is particularly timely, given Premier Kathleen Wynne's Anti-Racism Directorate announcement earlier this month that anti-racism training that will soon be mandatory for all public service employees.
So far, student feedback on the course is positive.
"I really like the mix of theory and practice in how the course is laid out and the opportunities to meet leading public health practitioners and researchers in the area," said Anjum Sultana, one of six students in the pilot class and former co-chair of the Racial Justice Matters organizing committee.
"This course created an important space for key discussions in public health that aren't talked about often. It helps us answer such questions as how we address the needs of Ontario's growing diverse population in how we plan public health programs and services, and what implications this has on research, policy and practice," said Sultana.