Green Shield Canada to transform Canadian public health with $6.15-million gift to Faculty of Dentistry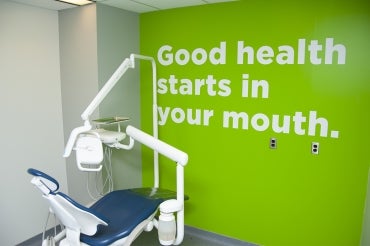 A $6.15 million gift made by Green Shield Canada (GSC) to the University of Toronto's Faculty of Dentistry – the largest single donation to dental public health research in Canadian history – is poised to transform dental public health research and policy development in Canada.
Donated through GSC's Green Door Project, which seeks to help Canadians secure access to health care, the gift will fund the establishment of a five-year research program that will offer no-cost oral health care to thousands of individuals and their families who could not otherwise afford it.
"Since our founding in 1957, Green Shield Canada has operated as a social enterprise focused on improving access to effective, evidence-based health care," says GSC president and CEO Zahid Salman.
"Our collaboration with the University of Toronto on the Green Door Project is a continuation of this history. Together, we will provide oral health care to under-serviced populations and aim to start a conversation across the country about how to permanently increase access to dentistry for the uninsured and under-insured in our communities."
GSC is the fourth-largest health and dental benefits provider in Canada.
The gift will fund a two-chair dental clinic housed within the Faculty of Dentistry, located in the heart of Canada's most densely populated urban centre. The One Smile research program will simultaneously conduct the largest dental public health research program in Canadian history while delivering care to potentially thousands of patients in the clinic, which will be known as the Green Shield Canada Clinic.
"I would like to thank Green Shield Canada for this incredibly generous and creative gift," says Meric Gertler, U of T's president. "The Green Door Project and the Green Shield Canada Clinic will benefit so many disadvantaged individuals and communities, and help to build a healthy and inclusive society. This wonderful gift will also significantly advance U of T's mission of national and global leadership in health care and public health policy."
"As an organization, we have always tried to follow evidence in our advocacy for improvements in health care and, in this case, the evidence pointed us squarely in the direction of oral health as one of the most significant gaps Canadians face in accessing the care they need to live their healthiest lives," says David Willows, an executive vice-president of digital, innovation and brand experience for GSC.
Removing barriers to oral health
"Oral health and access to oral health care are significant public health issues – not just dentistry-related issues – and need to be treated as such," says Faculty of Dentistry Associate Professor Carlos Quiñonez, who will lead the One Smile research program.
Oral health care is an increasing concern for Canadians everywhere. Studies have shown the systemic effect that oral health can have on overall health, with poor oral health status intrinsically linked to complications from diabetes, heart disease and a host of other conditions. Yet, one in five Canadians does not have access to oral health care. Those from lower-income brackets are four times more likely to avoid seeing a dentist due to the cost and are far more likely to have worse oral health and dental treatment needs.
Canada's oral health statistics were a major motivator for GSC's philanthropy.
"We carefully considered how we could best move the current system forward, both in terms of actually helping a portion of Canadians get access to the care they need, but also looking longer-term at addressing the systemic barriers that have led us to this place," Willow says. "That really sums up what the Green Door Project is here to do: working with community and academic partners like the University of Toronto to come up with smart, sustainable ways to move the needle forward on critical components of health." 
Quiñonez, who is also director of the graduate specialty program in dental public health at the Faculty of Dentistry, has assembled a multidisciplinary team of experts in health-care delivery, health economics, dental public health, public policy, immunology and periodontology. Individuals and their families admitted into the One Smile research program – an estimated 1,500-2,000 persons – will take part in a multi-layered study that will continuously assess their oral health, overall health, pain levels, as well as social factors such as life satisfaction, employability and more, over the course of five years.
Towards new public health policies
The goal of the program is to establish a unique body of evidence that can be used to inform public health policies regarding oral health and access to care.
Acknowledging past work in the area of dental public health and access to care, Quiñonez says this will be the first research program that will frame access to health care in terms of a return on investment – whether through improving human capital, social economic gains or lifting the burden on existing health-care structures. Those who cannot access oral health care often have to resort to hospital emergency room care, for instance, adding pressure to an already strained health-care system.
"We know that oral health is an integral part of overall health," says Daniel Haas, dean of the Faculty of Dentistry. "This unique, multidisciplinary research program will create meaningful measures of the impact of oral health care on individuals, families, the health-care system and society, which will allow us to extrapolate that impact to the regional, provincial and national public health discourse." 
Quiñonez adds: "Our goal is not to convince governments about expanding coverage for dental care in Canada, but to create the knowledge that is needed to help make policy decisions based on evidence and good research. What I primarily want to see is that we've been able to inform existing policy debates and, most ideally, to help people who desperately need access to dental care."
The One Smile research program will also continue the Faculty of Dentistry's vibrant history as a leader in dental public health research. The program stands to attract top graduate student talent to tackle the wealth of studies that could be generated from the original program.
"On behalf of the Faculty of Dentistry, I want to extend my heartfelt thanks to our partners at Green Shield Canada for this generous donation," says Haas. "With this investment in the One Smile research program, the Faculty of Dentistry has before it a truly remarkable opportunity to further strengthen our vision to improve health by advancing dentistry through inspired leadership, innovation and excellence in education, research and practice."
The Faculty of Dentistry at U of T is Canada's first and largest dental faculty, seeing over 90,000 patient visits in a typical year. The faculty is a leader in research and offers comprehensive training in undergraduate and graduate programs.
Dentistry