A green ear: U of T grad turns houseplants into instruments
Doctor of Musical Arts grad Steven Webb says his "Plant Music" project was conceived as a way to connect people with nature during COVID-19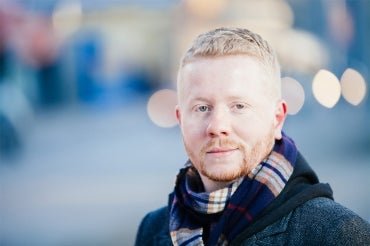 Plants might not seem like a noisy bunch. But if you listen closely, Steven Webb says you can find a symphony in your garden. 
As part of his studies at the University of Toronto's Faculty of Music, Webb turned houseplants into instruments as part of
Plant Music
– one of his many works that sample sounds from the real world to help make sense of it.
Webb, who will receive his doctor of musical arts this week, says he plans to build on the skills he gained at U of T to continue his project of composing music out of the cacophony of the modern experience – from the rhythmic chants of climate protesters to the distorted soundtrack of digital life.
"It's really developed into sort of examining … the confusion, disorientation and dread that arises from living in this world dealing with multiple crises – the climate crisis, growing marginalization of minority groups and the increasing isolation of the individual despite being hyper-connected with the internet."
When he began his degree, Webb was planning to work closely with a number of talented peers and musicians. But the COVID-19 pandemic presented him with a different path.  
Feeling isolated during lockdown, he decided to get creative.
"The concept [of the installation] was for people to interact with touch-sensitive plants – and through that, they could create and sculpt music themselves," he says.
"This would be a way for people to really engage with sound and nature in a time when they really, really couldn't."
So how did Webb coax plants to make music?
Plants – like people – are mostly made of water, so they conduct electricity. So, when you touch a plant, it changes its electrical resistance.
Webb rigged up wires to the plants so their electrical signals could be fed to a microcomputer, which relayed the input to another computer that triggered different pre-recorded sounds.
He also sampled sounds from nature – the scrape of cacti needles, the rattle of seedpods, the squish of flowers – and enhanced them to make them "larger than life."
"You can sort of play the plants – almost like percussion instruments – because every time you touch it, it will trigger a sample of a sound," he says. "That way, you can create instruments out of the plants themselves."
The Plant Music installation was held at the Faculty of Music's Electronic Music Studio in January 2022. Webb later incorporated his lush sounds into his doctoral recital, which was divided into three movements: seeds, growth and "photosynchosis," which represents human disruption of natural processes such as photosynthesis.
As a resident at the
Canadian Music Centre
, Webb plans to expand on these themes and techniques to create a "sonic forest," while also pursuing other projects such as ROYGBIV, a piece that will use light sensors to harmonize saxophone music with the colours of a room.
Webb credits U of T's Faculty of Music for supporting his musical experiments and allowing other students to riff on his ideas by maintaining his workshop at the Electronic Music Studio.
"I'd say what was really positive coming out of [the pandemic] is that the faculty, the facilities and my adviser really encouraged me to use the time to explore and grow in other areas of expertise that I maybe wouldn't have had the time to pursue," says Webb.
"I felt very accepted in this exploration that I wanted to do involving electronics and plants – and creating something very outside of the box."
UTC