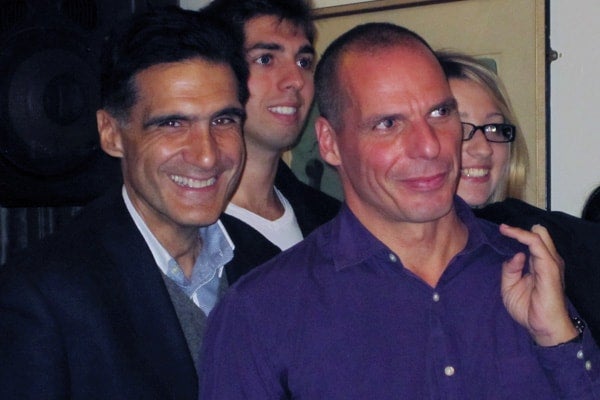 Greek 'anti-economist' offers solution to economic crisis
Standing room only crowd at Hart House
Yanis Varoufakis, a self-described anti-economist, told a standing-room only crowd at Hart House that the current economic crisis could be solved in two weeks; provided the political will to do so also existed.
"I'm standing here as an anti-economist who has had enough of the economic approach and understands that the human cost of toxic finance and toxic economic theories has been mounting up for a very, very, long time," said Varoufakis, professor of economic theory and director of the Department of Political Economy at the University of Athens.
In 2010, Varoufakis  and Stuart Holland , former adviser to Jacques Delors, co-authored a plan called, A Modest Proposal for Overcoming the Eurocrisis. The proposal, referred to as radical by some, is a set of policies aimed at helping Greece, and now Italy, avoid bankruptcy while keeping Europe from accumulating more debt.
Essentially, the plan recommends that the European Central Bank (ECB) intervene on behalf of member states by securing loans at manageable interest rates from private investors. This solution would allow member states to pay down their debts without having to accept a bailout and incur harsh austerity measures. It would also give private investors something to do with their money.
"Wherever there is a mountain of debt there is a mountain of savings that has nowhere to go," said Varoufakis. Noting that what is happening in Europe is not just a debt crisis; it is also a surplus problem.  
Unfortunately the plan was not adopted when the two men presented it to the Greek Prime Minister earlier this year and the fallout is apparent.
According to Varoufakis one of the roadblocks to acceptance is Germany. Currently, it holds what he calls an "exit card" -- the fiscal strength and ability to leave the European common market if it deems it necessary.  By enacting the proposal all member states will have to accept the idea of common debt. In doing so, Germany would forfeit its immense bargaining chip.
"What we have is a political conundrum," said Varoufakis. "Those who have the power to solve the crisis in two weeks will lose their power if they do."
Phil Triadafilopoulos, a professor of political science at U of T Scarborough, said Varoufakis' ideas were not beyond the pale.
"I've read this from others as well.  He's not the only economist who has said this," Triadafilopoulos said.  "It is by no means a fringe position."
For now, Europe will continue bailing out fragile member states, an unsustainable option with dire consequences.
"I am having more and more difficulty thinking this through because scenarios that seemed wild 12 months ago have come to pass," added Triadafilopoulos. "Greece is effectively insolvent; that's an amazing thing for a Eurozone country."
Varoufakis believes that restoring the European economy entails an understanding of the events that lead to the current crisis. He explores this and the options for restoring economic order worldwide in his recently published a book, The Global Minotaur.