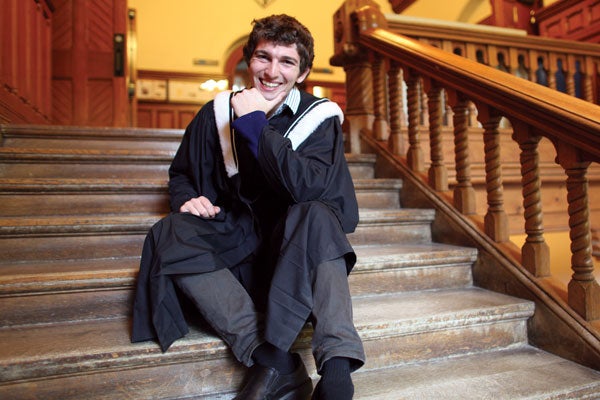 Graduating student builds bridges of understanding
U of T has been David Berkal's studio for the past four years, but the world has been his canvas.
Berkal, a graduating peace and conflict studies student, has used his studies as the backdrop for creating community service programs that build bridges of understanding between cultures. His work as one of the founders of Operation Groundswell and the Canadian Roots Exchange is among the reasons he received the Faculty of Arts and Science Dean's Student Leadership Award.
Before beginning his university studies at U of T, Berkal took a year off to travel to Ghana where he worked to set up Operation Groundswell, a program offering students volunteer opportunities abroad that allow them to experience a new culture first-hand while giving something back. The not-for-profit organization began by offering a single volunteering trip annually but the demand has led to real growth. There are 14 trips to all parts of the globe scheduled this year.
"Students are looking to go abroad in a meaningful way before, during and after university and this fills that need," said Berkal, who serves as the organization's executive director. "It's more than a one-time program. We're building a network of like-minded people."
A couple of years into his university career, Berkal and an international relations student joined forces to create the Canadian Roots Exchange, a vehicle for forging ties between non- aboriginal and indigenous people and showcasing the strengths of First Nations communities. With the help of Professor Cynthia Wesley-Esquimaux, the project has grown beyond campus boundaries to include students across Canada.
"All aboriginal communities are so different from each other but they share a common history of oppression from the state," said Berkal. "Trauma has been passed down from older generations but there is also incredible resiliency and good humour.
"You see how much aboriginal communities have to offer Canadian society."
Both programs grew organically out of Berkal's own passions.
"I have always been interested in international issues, global development and entrepreneurship," he said. "These are a natural marriage of the two."
Entrepreneurship will take most of Berkal's energies during the coming months, leaving him no time to slow down after convocation. He is one of three dozen students nationwide selected to take part in the inaugural The Next 36 entrepreneurship program, a unique national program that aims to transform Canada's most promising undergraduate students into high-impact entrepreneurs, thus increasing Canadian prosperity. While working on team projects, the students are exposed to some of North America's top experts in entrepreneurial education.
When the program ends Aug. 15, Berkal will finally be able to take a deep breath and make time for some recreational travel. Meanwhile, he's thankful to those who have helped him along the way.
"None of it has been done alone, that's for sure," he noted. "I couldn't have accomplished this without some wonderful people and networks."