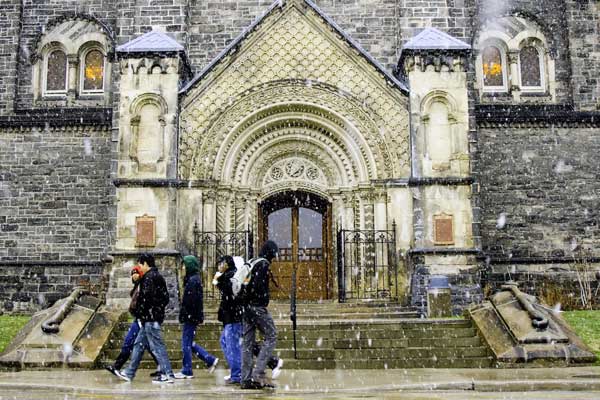 Graduate students identify strategies to boost morale, mental health
Workshop participants say faculty and staff can help by encouraging student collaboration, providing positive feedback
"We need more guided discussions with peers to discuss grad school issues more openly and honesty."
"It was really useful to hear from other students that difficulties are common, that it's not just me."
Those were some of the comments from participants after a recent mental health workshop for ecology and evolutionary biology (EEB) graduate students. The workshop was a resounding success, according to organizers Tess Grainger, Alex De Serrano and Rachel Germain, and will be used as a model for future workshops in other U of T departments, starting with the Faculty of Information in January.
The workshop was jointly organized by the Ecology and Evolutionary Biology Graduate Student Association and the School of Graduate Studies.
"Graduate student mental health is a widely recognized problem across universities," Grainger, De Serrano and Germain said in a report evaluating the workshop.
Workshop participants identified a number of challenges to mental health and morale posed by grad school, such as isolation and competiveness, imposter syndrome (the conviction that you do not deserve the success you have achieved), supervisor-student conflict, work-life balance and financial and career instability. Strategies were proposed to tackle some of these challenges including open and honest communication with supervisors, more interaction with peers to deal with feelings of isolation and scheduling guilt-free time off. 
The participants said faculty and staff can also help, for example, by encouraging short-term projects that can serve as morale boosters, encouraging student collaboration and giving students positive feedback.
"The students reported feeling relieved to hear that other students suffer from imposter syndrome and other health and wellness issues related to grad school," said Grainger, De Serrano and Germain. "Students were also happy that counselors from SGS, Health and Wellness, and the Crisis Resolution Centre attended to provide specific advice on when students could use their services; meeting these counselors in person was a great way for students to put a face to the resources that are available."
Workshop participants recommended further workshops dealing with specific topics, such as depression/anxiety and maintaining positive student-supervisor relationships. They also recommended workshops for faculty on identifying and helping students in distress and strategies for student-supervisor relationships.
The organizers said they briefed EEB faculty on the results of the workshop. "They seemed surprised to hear that mental health was an issue in our department and wanted to know how they could help."
U of T offers a number of mental health services for graduate students at the departmental and faculty levels as well as through the School of Graduate Studies (SGS). For example, the SGS has a counsellor who specializes in graduate study issues, including depression, anxiety and stress management. It also offers workshops on coping skills, grief, mindfulness and other topics. The school is also establishing a conflict resolution centre in January 2016.