Grad student focuses on writing's capacity to explore trauma and 'move toward justice or repair'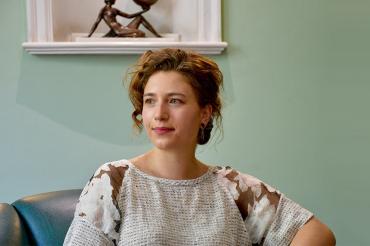 Karine Hack spends a lot of time thinking about the power of writing to process and document trauma – in part because an undergraduate project that involved transcribing and editing Holocaust testimonials. 
Now, as she looks forward to convocation this fall after earning her master of arts in English literature from the University of Toronto's Faculty of Arts & Science, Hack is also thinking about the ability of writing to transcend time. 
Both themes appear in Hack's writing, including a lyric essay recently published in Grain magazine called "The Most Beautiful Thing." 
"Writing for me is like my mind's eye externalized," says Hack. "I love how writing allows us to move in and out of time, how it brings the past into the present, so we can grapple with it and move toward justice or repair." 
Hack is the inaugural winner of the Professor Linda Munk Graduate Futures Scholarship. The scholarship was established two years ago in honour of Professor Emeritus Linda Munk, who earned her master's degree and PhD at U of T and was a faculty member in the department of English until her retirement in 2003.
The annual scholarship – established by Munk's children, Anthony Munk, Marc-David Munk, and Nina Munk, to honour their mother – is one of the largest in Canada for full-time English graduate students. Its goal is to help the department recruit the best and brightest. 
A Rhodes Scholarship finalist, Hack was contemplating where to do her graduate studies when she learned she'd won the award. 
She says she was already leaning toward U of T after hearing great things about the English department from professors at the University of Victoria, where she did her undergraduate studies. The $20,000 scholarship clinched the deal. 
"When U of T offered me this amazing scholarship, I felt so welcomed and so incredibly honoured," says Hack. 
"It was thrilling to plan a move to Toronto and for my partner to be able to come with me. She's found an engineering job here, which is very exciting." 
Hack says she was impressed by what she learned about Munk. A passionate teacher who would rather her students write poetry in class than labour over essays at home, Munk was 42 when she returned to U of T to earn her master of arts in English literature. 
"I saw photos of her and she seemed like a wonderful person, absolutely bright and beaming," says Hack. 
"My mom did a master's degree in her 50s and I was really proud of her. It's special to see your parents in a new light. I hope I will be lucky enough to have multiple careers and paths."  
As she explores narratives of trauma and time, Hack is also drawn to memoir writing. In the Dream House by Carmen Maria Machado and Crying in H Mart by Michelle Zauner are recent favourites, and she's about to start A History of My Brief Body by Billy-Ray Belcourt. 
She's also keeping some lessons in mind as she prepares for whatever life brings next. 
"One of the things the pandemic has highlighted is how wonderful it is to be in a classroom together – or a courtyard summer course if you're lucky," Hack says. 
"I think for people who are really driven and ambitious, it can be intimidating to relax in an academic environment. There's vulnerability in letting yourself learn from other people. But nobody is doing this work alone. You learn in a community, and you have to be open to community, and invested in it.
"What I'm taking away from my year is the importance of this openness to learning from and with other people – and how absolutely joyous it is to share these spaces of inquiry together."  
Arts & Science