Grad focuses on empowering women – on campus and beyond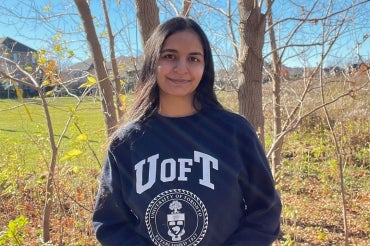 Neha Sharma's passion for empowering women is evident in her post-convocation plans, which so far includes becoming a lawyer who specializes in women's rights issues and launching a non-profit.
With plans to study law, Sharma was involved in executive roles at more than seven student groups during her undergraduate years at the University of Toronto Mississauga.
That included the UTM Mock Trial Competition and UTM Women in Law, which she founded in an effort to empower women lawyers and build a community.
"It was meeting new people outside of academics," says Sharma, 22, who is graduating this week with a double major in criminology, law and society, and sociology. "If you meet like-minded people, it's great. You can network, you can go to their events, you can meet lawyers, law students, and talk to them."
All of that networking cemented Sharma's desire to pursue law, an interest she says began at U of T Mississauga.
"I was in second year and took a few crime courses and it was really interesting to learn about so many social issues," says Sharma, who plans to become a criminal lawyer who is focused on women's rights issues.
She then began looking to different clubs on campus, particularly those focused on law or women's rights. She ended up founding the UTM Women in Law student group.
"There was no club related to those two things," Sharma says. "That's why I started it."
Extracurricular activities were also her way to unwind from a heavy course load. Her active participation and initiative prompted her sociology professor, Jerry Flores, to nominate Sharma for a UTM Student Leadership award last year, which she went on to win.
"I was really surprised," Sharma says.
A self-described introvert, Sharma says she had to learn how to be talk to new people. It's why she loved the UTM Mock Trial Competition – it forced her to learn, she says.
"You really have to talk, be a good speaker – and those are things you can learn," Sharma says. "Ultimately when you have to do it, you have to do it."
Sharma recently moved to London, Ont., where she plans to complete her LSAT, apply to law schools and start a non-profit organization focused on women's rights and empowerment.
"Similar to the club I started in fourth year, I want to promote women's empowerment in everything – not just law," Sharma says.
UTM