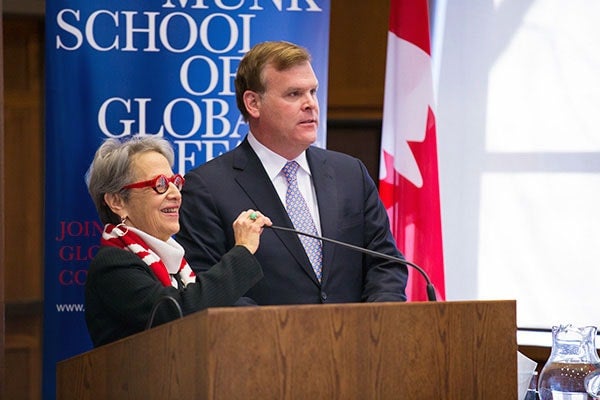 Government of Canada backs digital public square from U of T's Munk School
U of T's Munk School of Global Affairs and the Government of Canada are launching a new project to increase digital communication access for people in countries ruled by repressive governments, federal Foreign Affairs Minister John Baird announced January 6.
 
Baird said the government will provide up to $9 million for the Digital Public Square Project, which will be headed by former Munk School Director Janice Stein.
"Canada believes that by harnessing new digital technologies to support freedom and democracy we can help give a voice to the voiceless," he said. "Through the Digital Public Square project, the Munk School of Global Affairs will create open digital spaces to enable citizens to hold their governments to account in defending freedom, democracy, human rights and the rule of law."
 

Baird was introduced by Stephen Toope (pictured at left) who took over as director of the Munk School January 5.
"This is my second 'official' day as director of the Munk School and I cannot think of a better way to start the year," Toope said.
 
Professor Stein said the project builds on an earlier Munk School initiative, the Global Dialogue on the Future of Iran, which established platforms and tools that reached over 4.5 million unique users inside Iran.
The federal support "will enable the Munk School to create our new Digital Public Square, a square designed for citizens who cannot come together physically to exchange ideas about the future of their country," she said.
Besides Iran, Digital Public Square initiatives may be developed for Russia, Ukraine, Northern Iraq and Western Syria, she said.
 
"Governments have jailed journalists, closed civil society organizations, and strengthened their firewalls to deny citizens access to the web. Using surveillance technologies, they monitor what their citizens post," Stein said. "Why do they do this? Because oppressive and authoritarian regimes fear the power of ideas. Ideas are what they fear most. And for good reason. Ideas create change. Ideas are what citizens exchange when we push against the constraints that others impose.
"We will learn what citizens want most and share that knowledge. We will learn what tools are most effective and continually improve what we do in digital public space."
 
Stein said Munk will work with partners in the private sector in Canada and others around the world on the project.