The Good Word: U of T lecturer explores lineage, faith and Black history in spoken word album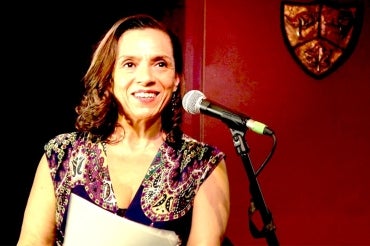 One of Andrea Thompson's treasured family photographs shows a young couple seated with their twin daughters. A beam of light bathes the family of four in a warm glow.
Thompson, a sessional lecturer at the University of Toronto Mississauga, says one of the little girls is her great-grandmother Emiline, a woman whom she remembers visiting when she was a child. Emiline later married the son of Cornelius Thompson, who escaped from slavery by following the Underground Railroad.
"We used to play tag around her chair, because she didn't move much," says Thompson. "And that's pretty much all I remember about her, which is so sad because I was a kid and didn't appreciate who she was."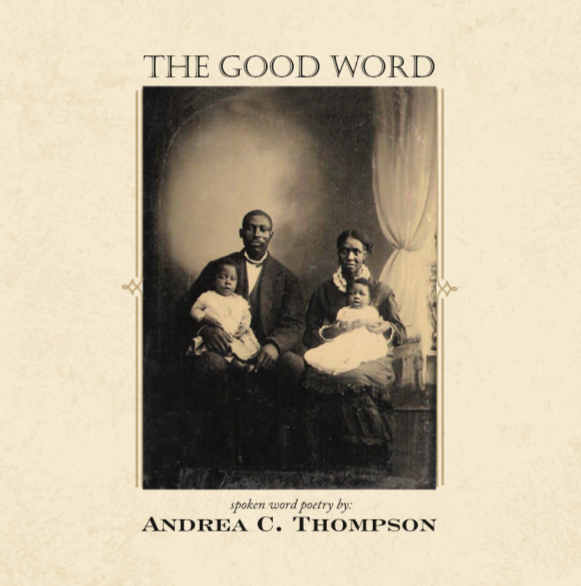 While she may not have fully understood her ancestors' experiences when she was a child, Thompson has now dug deep into her roots – and the lives of Black historical figures – to tell their harrowing stories in her new spoken word album The Good Word.
The album focuses on the experiences of historical Black figures, including Harriet Tubman, American gospel singer Mahalia Jackson and Martin Luther King Jr. Its cover image is the family photograph featuring Emiline. For Thompson, the snapshot portrays what the album is about: lineage, faith and the historical Black experience – with the sounds of gospel and spirituals driving these stories.
She says she felt driven to create The Good Word a few years after she completed her spoken word album Soulorations in collaboration with composer Evren Oz. A track from that album inspired The Good Word.
"It talks about the influence of Black history on the spoken word, going from slavery up until contemporary times," Thompson says. "We played with some gospel elements in terms of music ... and I thought that it was the strongest track on the album by far."
The track also had doses of spirituals – which, historically, were used as covert communication to help slaves escape.
"The song Harriet Tubman used, Go Down Moses, was a song that they would have sang in code as a covert way to start making plans for escape," she explains.
Thompson adds that her newfound Christian faith inspired her to create a spoken word album that takes listeners on a journey to the intersection of faith and Black history. 
"There are these misconceptions connecting Christianity with a right-wing, conservative, white demographic and, for me, that's not it at all," says Thompson, who adds that she had a very profound personal experience that led her to embrace the Christian faith five years ago. "A lot of the civil rights movement was focused around faith and the leaders were faith leaders ... and this has been the bedrock of Black North American history.
"I wanted to explore that."
The Good Word contains a track about Thompson's paternal ancestor, Cornelius Thompson, who escaped slavery and later became a Baptist minister. The track details his escape, his emotional and physical scars from being a slave and poses questions.
"Did he pray for me and my cousins, thinking someday in the future there's going to be this generation of people who are born free and have none of these scars? There are so many questions," she says.
Thompson adds that the album is deeply meaningful for her because it's partly an expression of her Christian identity.
"It's representative of how I'm maturing with my style – especially with the mixing of the singing and the spirituals. It's like my full self is here and my history is here and my teacher hat is here," she says, adding that she hopes the album serves as a reminder of the importance of Christianity within Black history.
"To me, there's a real deep-rooted connection between the Black community and the Christian faith," she says.
The Good Word album release party will take place on Feb. 22 at Poetry Jazz Café in Toronto at 7 p.m. 
UTM