Going all-digital, U of T Mississauga art gallery addresses COVID-19 crisis, supports arts and culture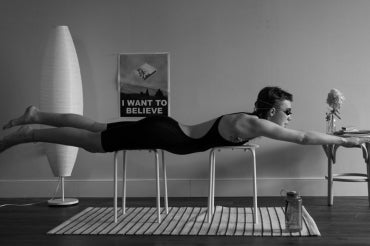 Learn to swim in your living room. Make music from tweets. Explore the folk remedies of pandemics past. The Blackwood Gallery at the University of Toronto Mississauga has launched an ambitious new initiative to support artists and capture the creative energy of the current moment.
Earlier this month, the Blackwood Gallery published TILTING (1), a special two-part digital publication that marks several firsts for the on-campus art centre as it adapts to the new realities imposed by a global health crisis.
The Blackwood Gallery was among the countless galleries forced to close their doors in March, leaving gallery staff to find new ways to work with established artists from around the globe and support educational programming for curatorial students enrolled in U of T Mississauga's art and art history program, as well as a joint visual studies program with Sheridan College. Programming is supported by U of T, the Canada Council for the Arts and the Ontario Arts Council.
"The closure of almost all public institutions across the country meant the simultaneous cancellation of contracts for the unprotected labour force, which [includes] the art and culture industry," says Christine Shaw, Blackwood Gallery director and curator and assistant professor, teaching stream, in U of T Mississauga's department of visual studies.
"An entire community of makers was left without income, without support systems and without resources. That became an immediate concern for us."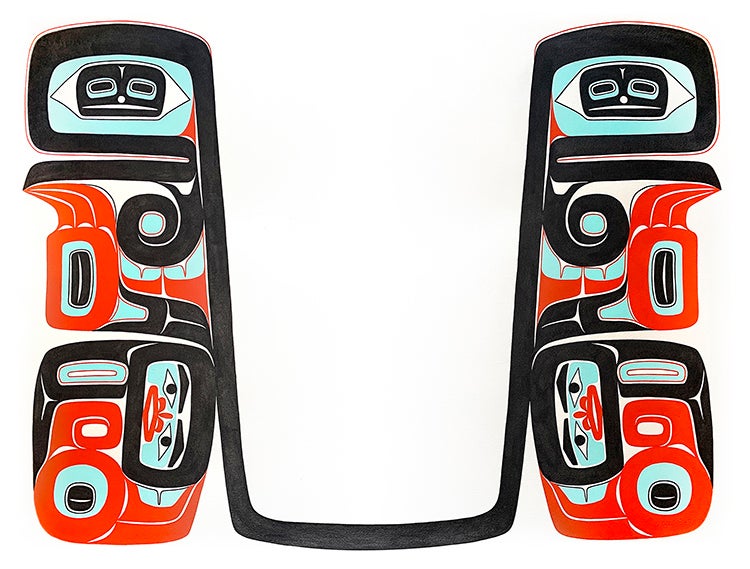 Alison Bremner, Distancing, 2020. Acrylic on paper. (image courtesy the artist)
Shaw says her team was well-positioned for the challenge and saw an opportunity to re-imagine the gallery's printed broadsheet series, The Society for the Diffusion of Useful Knowledge (SDUK). The series launched in 2017 with the Blackwood's The Work of Wind: Air, Land, Sea exhibition to connect artistic production and research with interdisciplinary debates.
The Blackwood team moved the SDUK series online, issuing the first-ever open call for submissions and launching the first-ever all-digital version of the series on a revamped gallery website.
"This is a way that we might be able to support artists who are working – both in reaction to the unique social conditions created by this crisis and their own realities as freelancers who are adapting to this situation," says Blackwood assistant curator Alison Cooley.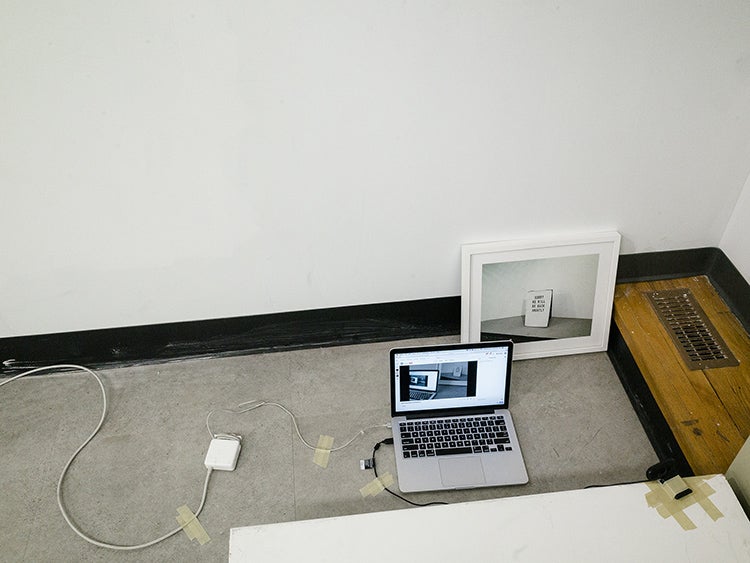 Aisha Ali, Atanas Bozdarov, Craig Rodmore, Florence Yee, Alternate Forms of Delivery, 2020. Laptop, framed photograph, signage (image courtesy the artists)
The project asks artists to consider how the pandemic has shifted our ideas about the world as it was, as well as the world that could be.
"We intimately connect the COVID crisis as one of a long-term pre-existing condition of oppression and injustice," says Shaw. "The community of thinkers and makers that we collaborate with and support have fairly critical perspectives on this current moment and propositions for how to think, work and do otherwise."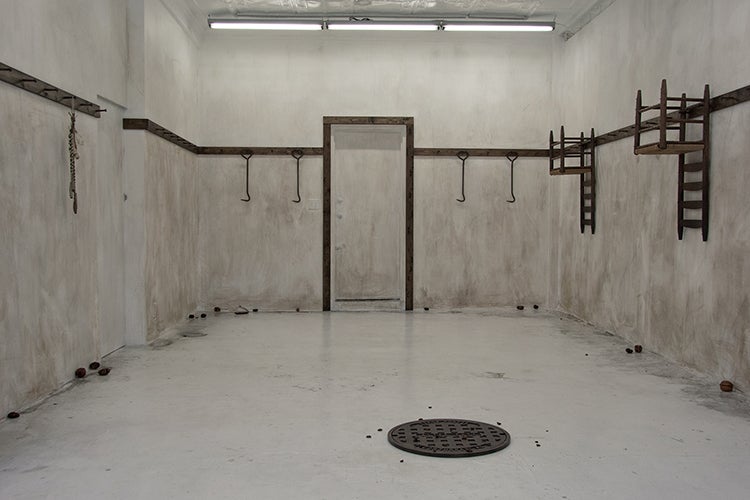 Sydney Shen, Four Thieves Vinegar (installation view), Springsteen, Baltimore, MD, 2017 (image courtesy the artist)
The first of the two-part issue launched on April 20. TILTING (1) features works by 20 artists and researchers responding to the pandemic, including original images, poems and performance projects from artists who were paid for their contributions. Among the submissions are: How to Swim in a Living Room, a performance piece from Toronto artist Adam Bierling; Four Thieves Vinegar, an installation project about folk cures for plagues by Sydney Shen; W.E.I.R.D. Uncertainty, a real-time sound performance generated by Twitter posts by Venice-based musician and digital artist Nicola Privato; and Distancing, an acrylic on paper work by Tlingit artist Alison Bremner.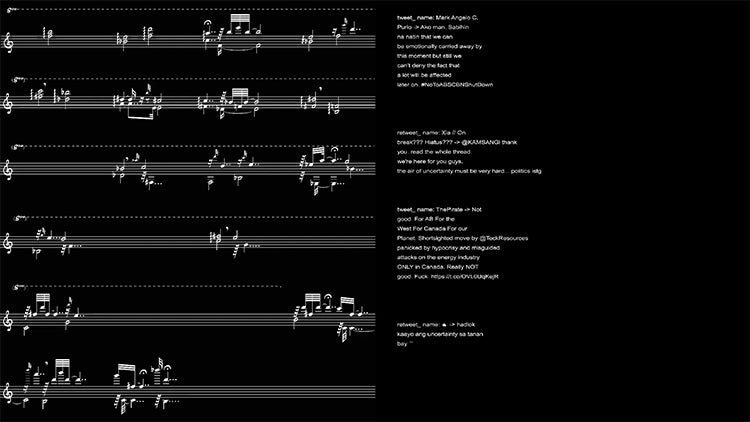 Nicola Privato, W.E.I.R.D: Uncertainty (video still), 2020 (image courtesy the artist)
U of T researchers have also contributed to the project, with concept pieces by John Paul Ricco, a visual studies professor who writes about resistance and reality; Andrea Muehlebach, an associate professor of anthropology who considers the virus and the commons; and Distinguished Professor Eric Cazdyn of the department of East Asian studies who ponders the relationship between critique and crisis. Blackwood post-doctoral researcher D.T. Cochrane responds to issues of employment with a proposal for job guarantees.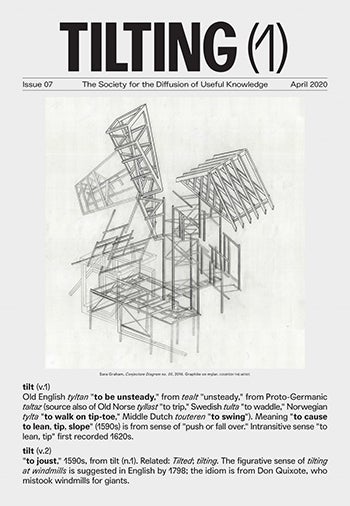 "There's a sense in which this situation might allow some people to 'tilt' what's happening in order to support decisions that might shape the world more justly and more equitably," says Cooley.
There is more to come. The Blackwood team will launch a second instalment of the project, TILTING (2), on May 1, and are re-imagining how the gallery will proceed and continue to support artists in the coming months through publications, digital workshops and more.
"We might not be able to make physical exhibitions for a while, but we are committed to research and knowledge production, and have the tools that enable us to virtually convene, gather and exchange knowledge," says Shaw.
"The Blackwood has what it needs to go forward."
Cover of The Society for the Diffusion of Useful Knowledge 07: TILTING (1) featuring Sara Graham's Conjecture Diagram no. 05, 2014.
 
UTM