Globe and Mail science reporter and U of T alumnus Ivan Semeniuk receives 2016 Sandford Fleming Medal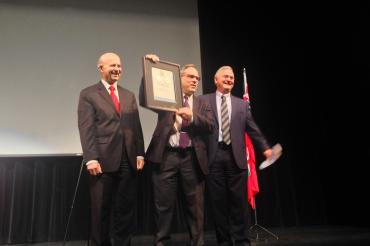 For more than two decades, Ivan Semeniuk covered breaking scientific research – from the mysteries of the universe to the ancient creatures that once inhabited the Earth.
Now, The Globe and Mail science reporter and U of T alumnus has joined the ranks of Chris Hadfield, David Suzuki and U of T's Molly Shoichet as a recipient of the Sandford Fleming Medal & Citation.
The Royal Canadian Institute for the Advancement of Science presents the award annually to a Canadian who engages the public in issues related to science and technology and helps foster a scientifically literate and well-informed public. 
Semeniuk's love for science developed during his time as an undergrad in the department of astronomy and astrophysics at U of T.
"Astronomy was my first love," Semeniuk said, adding visits to the planetarium as a kid "completely fired my imagination." 
He said he is fascinated by astronomical and medical research and is particularly captivated by the journey to understand the earliest moments of the universe.
The richness of science research in Canada makes it all the more imoprtant to support science journalism, Semeniuk said. But he said there is a shortage of resources and journalists to cover this important work.
"Thanks to the Internet, Canadians have more access than ever to science news but the science in their own backyard is still underreported," he told U of T News. "This award is a huge validation for doing that work and a huge validation for The Globe and Mail. 
"The fact that The Globe and Mail has committed a full time position to cover science, the importance of that cannot be underestimated. That speaks volumes and it's my privilege to be able to enact that." 
Semeniuk has continued to be an active part of the U of T community – he was affiliated with Massey College and teaches a science journalism workshop for graduate students offered through U of T's School of Graduate Studies. 
"When I interact with students I'm forced to think about why I do what I do," he said. "It made me a better journalist." 
He also acknowledged the important role of universities in sparking an interest for science.
"Much of the research in Canada is done in universities and U of T is the largest research university in the country," he said. "It's a diverse community with an astonishing amount of talent. 
"It's amazing how many people pass through Toronto that are important to the progress of science – this is a big plus for Toronto. Having said that I don't think we should be complacent. It's a very competitive environment and we have to keep thinking about how we can make Toronto and Canada an attractive destination for scientists and a focal point for science."  
Semeniuk sees the award less as a prize for the work that he has done and more as encouragement to keep doing it. He said he is determined to continue "putting science in the public space and do that in the public interest."