A global exchange of innovation talent: Agreement links U of T and NUS in 'international entrepreneurship highway'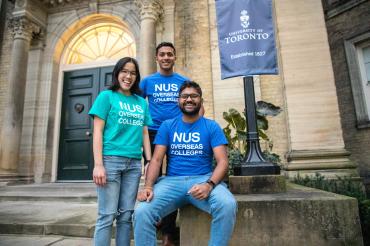 The wheels are already turning on a new "international entrepreneurship highway" linking the University of Toronto and the National University of Singapore (NUS).
The first cohort of nine students from NUS arrived in Toronto in August as part of the work and study program in innovation, boosting the ranks of local startups as full-time, paid interns while also taking part-time coursework and being mentored at U of T.
A second cohort will arrive in Toronto in January 2019 and by the winter of 2020, the first group of U of T students will be travelling to work and study in Singapore These exchanges are all part of a reciprocal agreement signed Wednesday in Singapore that paves the way for the two universities to collaborate as global hubs for talent, cutting-edge research and startup businesses.
"For Toronto, this is our moment," says Christopher Yip, U of T's associate vice-president of international partnerships. "We are booming in all sorts of ways, in no small part because of the AI revolution and the number of startups here that are making the city more and more attractive to new businesses and investors.
"Singapore is an innovation hub and a city-state that has really invested in higher education, research and entrepreneurship," he adds. "It's also well-situated for any startup that is interested in expanding into Asian markets."
U of T and NUS have a long history of co-operation and the new agreement is being facilitated by the Singapore Ministry of Trade & Industry and the Canadian High Commission.
The agreement gives students from both universities the opportunity for on-the-ground experience with startups and running a business while developing networks in both cities.
One of the hoped-for outcomes is that over time, Toronto startups will open offices in Singapore and vice versa as a result of the collaboration, Yip says.
"It's a win-win not only to develop our students but also a relationship ecosystem between Toronto and Singapore."
Those links appear to be forming already. Shaik Jifridin, a third-year mechanical engineering student at NUS, is interning as a business operations analyst at SOSCIP, a consortium co-founded by U of T that matches academic and industry researchers and then provides the partnerships with the latest in computational power.
Using the supercomputer access the consortium provides, Jifridin is supporting more than 100 startups by developing workflow software they can use to streamline their operations. One of those companies, he says, has asked him to help facilitate an expansion to Singapore.
"I'm very interested in this innovation space and looking for ideas I can bring back to Singapore to collaborate with people back in Toronto and combine the best of both worlds," says Jifridin, who is also interning at the provincial government agency Compute Ontario.
Siddharth Madhavan, a third-year computer engineering student at NUS, is working on software development at media and advertising startup Blockthrough.
"When I got to Blockthrough, I realized what we are learning in school is only a part of what we need, and the rest of what is required is to get hands-on experience," he says.
"It is so much better to work in a startup, because that's where you have to wear a lot of hats and get your hands into everything."
Fellow student Alicia Chin is filling an online marketing and communications void at Blockthrough, which didn't have anyone focused on that work before her arrival.
The third-year student in applied mathematics says her background has come in handy. "I think the misconception about marketing is that it's purely creative, but in fact a large part focuses on the quantitative side of things, such as measuring the effectiveness of campaigns," she says.
Chin says she hopes to keep exploring the advertising tech field after she graduates. "It's a very complex space, but if you can figure it out, you've really got a future."
The new international entrepreneurship highway is based on a successful template NUS has already established with a number of "overseas colleges" in other international hubs such as Silicon Valley, New York and Beijing.
Adding Toronto exposes its students to "one of the most innovative cities in the world," says Harpreet Singh, program director for the Toronto NUS Overseas College (NOC).
Singh notes that Assistant Professor Peter Wittek, the academic director of the quantum program in the Creative Destruction Lab at the Rotman School of Management – who is available to mentor NUS students here – is a graduate of the NOC program, which also includes the founders of the Singapore-based online consumer marketplace Carousell among its former students.
Over the years, more than 75 per cent of all U of T inventions have been co-developed by students, both undergraduate and graduate, and post-doctoral researchers.
As well, U of T offers more than 170 courses focused on entrepreneurship and innovation and is home to nine startup accelerators and related resources.
The partnership with NUS is "absolutely critical" to U of T's ambitions to establish similar international entrepreneurship highways with places like Silicon Valley, China and India, says Yip.
UTC