Global Engineering Week aims to inspire students to think beyond their borders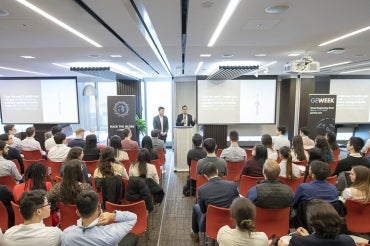 Global Engineering Week, which takes place next week, will challenge students at the University of Toronto's Faculty of Applied Science & Engineering to think critically about how they can make a difference on the world stage.
Complex global issues – from climate change to accessible health care – affect all of humanity. These challenges require multidisciplinary teams of engineers who can think beyond the technical aspects of the problem, says Global Engineering (GE) Week founder and U of T almunus Malik Ismail.
"We want to expose engineering students to solving problems in non-traditional contexts, whether it's solutions to a complex issue in the developing world, or in Northern Canada," he says. "There are socioeconomic implications, financial implications and unique circumstances based on your local stakeholders – a well-rounded engineer, one who makes a positive difference, would be mindful of all of these aspects."
This year, Ismail is working with the Centre for Global Engineering, the U of T Engineering chapters of Engineers Without Borders, Women in Science and Engineering and the Sustainable Engineers Association. They have also partnered with leading tech companies and NGOs, including Google, LEAP and the Boston Consulting Group.
Events during the week at U of T include a speaker panel on the role of artificial intelligence in global development, hosted by Associate Professor Timothy Chan, as well as a student hackathon, Hack the Globe, which kicked off on March 2 and will continue March 16-17.
"The hackathon is the first social-impact hackathon of its kind in Canada and emphasizes multidisciplinary challenges outlined in the Google Impact Challenge," says Ismail, who now works at the Boston Consulting Group. Participants include students from engineering, computer science, business, health sciences and the arts.
GE Week events has also expanded to three other universities this year: University of Waterloo, Concordia University and Western University. "We've experienced three times the growth since I started GE Week three years ago," says Ismail. "This year, we're excited to have the opportunity to engage nearly 10,000 engineering students across four universities through immersive and hands-on events."
Ismail has recruited a group of passionate engineering students and alumni to plan the events at U of T, including students Phil Lu, Henry (Bohan) Zhang, Morris Huang and alumnus Alyf Janmohamed.
"Coming into university, I had set out to make a positive, significant impact as a student," says Lu. "Planning GE Week was an opportunity to do that."
Lu is excited to see his fellow engineering students and the broader U of T community become inspired and re-think what it means to be an engineer.
"Many of us throughout our engineering education become fixated on honing our technical skills without truly tapping into our potential of doing more, or of thinking more broadly about social issues," he says. "I want to see a future where the norm for engineers is to be global thinkers – leaders who can build and scale a project, from grassroots to global."
Engineering