'Give generously to the world,' says honorary degree recipient and Indigenous activist Cindy Blackstock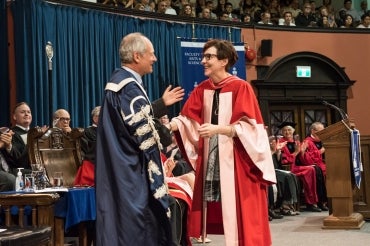 Canada's Truth and Reconciliation Commission addressed the historical and present-day injustices faced by Indigenous people, but for decades before, Indigenous activists like Cindy Blackstock were fighting against inequity.
Blackstock, a University of Toronto alumna who is a celebrated academic, community leader and social worker, is an indefatigable advocate for the rights of Indigenous children in Canada. Her work has affected the lives of 163,000 children.
"She is Canada's Martin Luther King at this moment for Indigenous children – a relentless moral voice holding government to account," NDP MP Charlie Angus said of Blackstock in a Globe and Mail article in May.  
Blackstock received a Doctor of Laws, honoris causa, from U of T on Monday for her outstanding service.
As she leads a number of humanitarian initiatives, she's been driven by a simple truth: Indigenous children deserve the same consideration and benefits as all other youth in Canada.  
In 2007, she filed a complaint to the Canadian Human Rights Tribunal that sought to hold the federal government accountable for inequalities faced by Indigenous children.
Almost ten years later, that filing proved a victory, when a landmark ruling found the federal government failed to provide First Nations people on reserves the same social services received by other youth.
Jordan's Principle was created as a response, providing funding for health, social needs and education to Indigenous children.
But for Blackstock, this marked only the start of the changes she wanted to see to the way Indigenous children and families are treated. She has voiced concerns about when and how the funding will be allocated and regularly travels the country as a speaker. The inspiration for her work comes from the children whose lives she wants to see improve.   
"Children are the great hope of reconciliation," Blackstock told Peter Mansbridge on CBC's The National in 2016. "They know how to do it. We just need to follow their example."
Blackstock is a member of the Gitxsan First Nation, and was born and raised in northern British Columbia. In her interview with Mansbridge, she describes seeing racism all around her as a child.
"I saw that First Nations people were seen to be lesser than everybody else. What I couldn't figure out is what we have done wrong," she said. "That sense of injustice followed me, that question of, 'Why are we treated so differently, and why is it so OK?'"
Blackstock channelled her outrage over that injustice into her life's work. She spent more than a decade as a social worker, seeing up close the systemic injustices faced by Indigenous children and families. She then pursued a career of rigorous academic work coupled with relentless activism and community organizing.
She earned a Bachelor of Arts degree from UBC, a master's degree in management from McGill University, a Master of Jurisprudence in Children's Law and Policy from Loyola University Chicago and a PhD in social work from U of T.
Today, she is a professor at the School of Social Work at McGill University, and is the executive director of the First Nations Child & Family Caring Society of Canada, an organization that promotes the rights of Indigenous children, youth and families. She has received countless awards for her advocacy work, including a recognition by the Nobel Women's Initiative, the National Aboriginal Achievement Foundation (now called Indspire) and Front Line Defenders, and she was named an honorary fellow of the Royal Society of Canada.
She has also served as an adviser to the United Nations Committee on the Rights of the Child, UNICEF and the United Nations Permanent Forum on Indigenous Issues. Through these efforts, she continues to work on repairing the damage done to traditional Indigenous families as the result of colonial policies, including residential schools and the Sixties Scoop.
A message to U of T grads from Cindy Blackstock:
Find out what you are passionate about and good at, and then nurture it and give generously to the world.  Know your values and develop the moral courage to defend them so you can take your turn to stand against the winds of discrimination and injustice. 
UTC