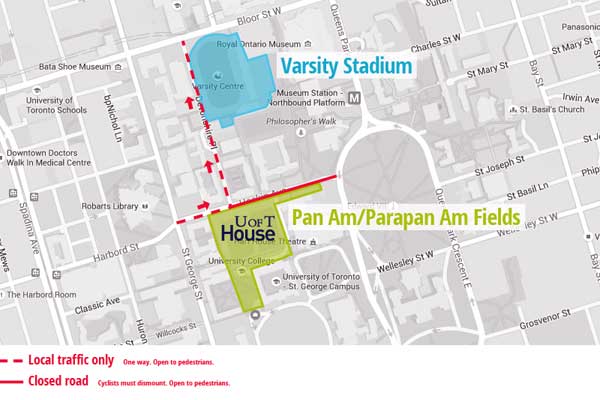 Getting around during the Toronto 2015 Pan Am/Parapan Am Games
Navigating the downtown campus and University of Toronto Scarborough campus
The Toronto 2015 Pan Am/ Parapan Am Games are at the University of Toronto – with high-profile competitions and practices hosted at both the downtown and UTSC campuses. 
So how should anyone getting to and from the Games navigate U of T?
"The TTC is the best way to get to U of T's downtown campus during the Games, as all venues are  geared to be accessible to TTC," said Elizabeth Cragg, operations manager for the Games at the downtown campus.
The main Pan Am/Parapan Am transit stops will be Queen's Park Station, St. George Station, and the streetcar stop on College Street at McCaul Street. Those who take the TTC to campus should be aware that high traffic is anticipated at these stops on competition days. 
To navigate the downtown campus, visitors need to know that Hoskin Avenue between Devonshire Place and Queen's Park (behind the Pan Am/ Parapan Am Fields) will be closed to vehicles until August 22. Devonshire Place is only open (northbound) for Toronto 2015 Pan Am/ Parapan Am Games vehicles and staff or deliveries to the surrounding U of T buildings. The sidewalk on the north side of Hoskin will be open to pedestrians and cyclists who dismount and walk their bikes. No other roads are closed to motor vehicles on the downtown campus.
There will be no road closures at UTSC during the Games. The week of July 13 - 17 is expected to be the highest volume week for traffic at this campus as the Toronto Pan Am Sports Centre (TPASC) hosts some popular aquatic events.Those who drive to campus should give themselves extra time and consider approaching campus via Kingston Road or using alternate exits from the 401 such as Neilson or Meadowvale Road.
Read more about getting around UTSC during the Games: how to get to campus, employee parking and what's open and what's closed during the Games.
At both the downtown and UTSC campuses, some buildings or areas at both campuses are only open to staff or visitors with accreditation or tickets during the Games. For example, at UTSC the TPASC (the CIBC Pan Am Aquatics Centre) has been given over to the Games until August 15. On the downtown campus, the east half of Daniel Wilson Quad (on the west side of University College) will be fenced off until August 15.
U of T's operations staff members have been preparing the venues for the Games since June. 
"We will have ask-me booths, staffed by Student Life volunteers, who are our ambassadors and that will be guiding spectators around campus," said Cragg. "We also have U of T Houses as well – the Hart House and first floor of the Instructional Centre at UTSC – so that visitors can learn about the Games, learn about the history of U of T and the legacy here. People should head to hart house to celebrate there."
Cragg says that spectators and visitors to U of T will have a lot to get excited about. "If you are thinking of coming to U of T for the Games, I think the Parapan Games will be the most exciting part. There is the five-a-side football for the visually impaired that involves a bell that athletes are listening to. There's the seven-a-side for those with cerebral palsy. If you're looking for a way to inspire yourself, your children, and visitors to the city, this is it."
She also says that the Games offer a unique opportunity for U of T staff and faculty. "This is a time of celebrations, and it probably won't happen again in our working careers."
Cragg credits staff from facilities and services to student life to those at Hart House and the Faculty of Kinesiology & Physical Education and others for helping to bring the Games to campus. "This is absolutely typical of U of T – people coming together, and working together.  Now everyone is getting excited. This would never happen without all these people – and it's a love for U of T, really, that made it all happen."
What's on at U of T?
At the downtown campus you can catch top athletes in archery (July 14-18 and August 9-10, Varsity Stadium), field hockey (July 13 – 25, Back Campus), five-a-side football (August 8-10 and August 12 and 14, Back Campus) and seven-a-side football. 
At UTSC, sports fans and spectators can watch the Games at the CIBC Pan Am / Parapan Am Aquatics Centre and Field House and at the UTSC Centre. Among the highlights: fencing, modern pentathlon, aquatics and roller sports on July 9-25; sitting volleyball and aquatics during the Parapan Am Games during August 8-14. UTSC's Tennis Centre, holding seating for up to 250 people, will host the wheelchair tennis competition from August 8 - 4.  
Read more about the four venues at U of T where you can catch the Games.
Find out how to buy tickets for the Games.
More information:
Pan Am Field (Back Campus) 
Exclusive Pan Am use from May 15 - September 15, 2015
All staff and visitors need accreditation to gain access to perimetered areas
 
Varsity Stadium 
Exclusive Pan Am use until August 15, 2015 
All staff and visitors will need to be accredited to gain access to perimetered areas
 
Goldring Centre for High Performance Sport 
Exclusive Pan Am use until August 20, 2015 (lower floors only).
All staff and visitors need accreditation to gain access to perimetered areas