Get to know U of T: Virtual orientation events beam university community into students' homes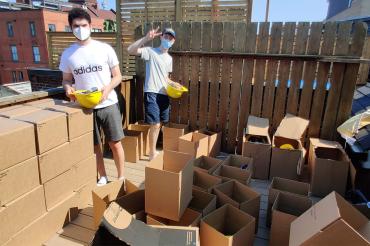 Orientation typically takes place once new University of Toronto students arrive on campus. This year, however, U of T will be coming to them.
With many undergraduates set to take courses remotely this fall, staff and student leaders at the university have organized a host of creative virtual orientation events designed to introduce incoming students to the school and its communities – and make their first few weeks as fun and memorable as possible.
Among this year's highlights: An online concert headlined by Brampton singer, rapper and song-writer Roy Woods, virtual "club crawls," inspiring remarks from America's most high-profile infectious disease expert and orientation kits mailed out to households around the world.
Here's a small sample of events to kick off the semester across the three campuses:
---
St. George
At the Faculty of Applied Science & Engineering, students who are participating in orientation can expect a package in the mail containing a first-year starter kit, including a hard hat, sew-on patches, copies of the engineering campus newspapers and purple face paint.
The seemingly random collection of items is all part of the faculty's storied undergraduate traditions, which aim to build bonds for life.
Gabriel Sher, orientation chair of U of T's Engineering Society, says nearly 800 orientation packages will be delivered across the country and as far away as Japan, Brazil and Italy.
Students have also been invited to take a 360-degree video tour of the downtown Toronto campus alongside a small group of their peers, with an upper-year student as their tour guide.
"We've narrowed our focus to be an exercise in friend-making, and that's really critical this year," Sher says.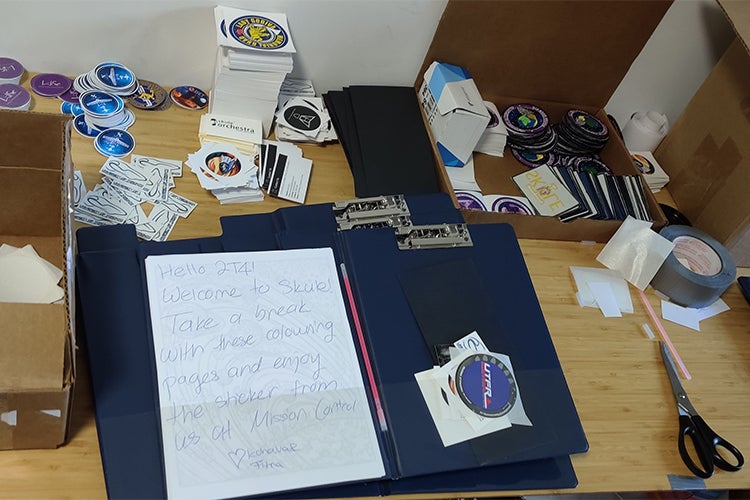 Students in the Faculty of Applied Science & Engineering who are participating in orientation can expect a package containing a first-year starter kit, including a hard hat, sew-on patches, copies of the engineering campus newspapers and purple face paint (photo by Dana Kokoska) 
For those keen on experiencing a party-like atmosphere – albeit virtually – the University of Toronto Students' Union (UTSU), which represents students on the St. George campus, is hosting a video concert called U-Nite featuring singer Alina Baraz and Brampton-born rapper Roy Woods. The event will be hosted on MS Live, an audiovisual broadcasting tool, and is being supported U of T's division of campus events and the classroom technology support group – one of more than 30 orientation events they're helping to stage.
"Student orientation co-ordinators have an important and unique task," says Arielle Berube, manager, campus events. "They deserve a lot of recognition for navigating uncharted territory."
The UTSU also plans to host a series of virtual "club crawls," where students can become acquainted with different campus groups during sessions reminiscent of speed dating that take place in Zoom break-out rooms. 
At New College, one of U of T's seven colleges, orientation leaders will support incoming students not just for the first couple of weeks of the term – but throughout their entire first year.The mentor-like program is meant to address a dilemma that many new students face after orientation is over – one that orientation co-ordinator Laura Gallo describes as: "I survived the first week of classes, but what do I do now?"
The college's all-digital orientation schedule also includes a video games night, trivia night, student-life edition of Family Feud and an event focusing on mental health that was organized with Health & Wellness.
"More than ever, people are feeling isolated right now," says Emily Yu, another New College orientation co-ordinator. "So, we wanted to promote a discussion about mental health and techniques to lower stress to make sure students are making time for themselves and are able to relax."
Incoming students in the Faculty of Medicine have already received a greeting from one of the most prominent names in their field: Dr. Anthony Fauci.
In a video posted on social media, the director of the National Institute of Allergy and Infectious Diseases and member of the U.S. coronavirus task force urged students to stay well, look out for each other and view the pandemic as a rare learning opportunity revealing insights at the "intersection of medical science, public health and human behaviour."
"Now more than ever, we need your energy, your talent, your character and your resolve – qualities I'm confident you have in abundance," he said.
U of T Mississauga
At U of T Mississauga, the students' union organized an outer space-themed orientation to go with a calendar of events hosted in cyberspace.
The festivities began this week with a "journey across the cosmos" – otherwise known as a virtual campus tour. Students can also show off their skills at an online UTM Got Talent event, take part in virtual scavenger hunts and get to know the many different student clubs and societies.
Meanwhile," O-week" will officially kick off Sept. 7 with a live Welcome Day – reimagined for an online space – during which new students can meet upper-year mentors and listen to a message from Alexandra Gillespie, vice-president and principal of U of T Mississauga.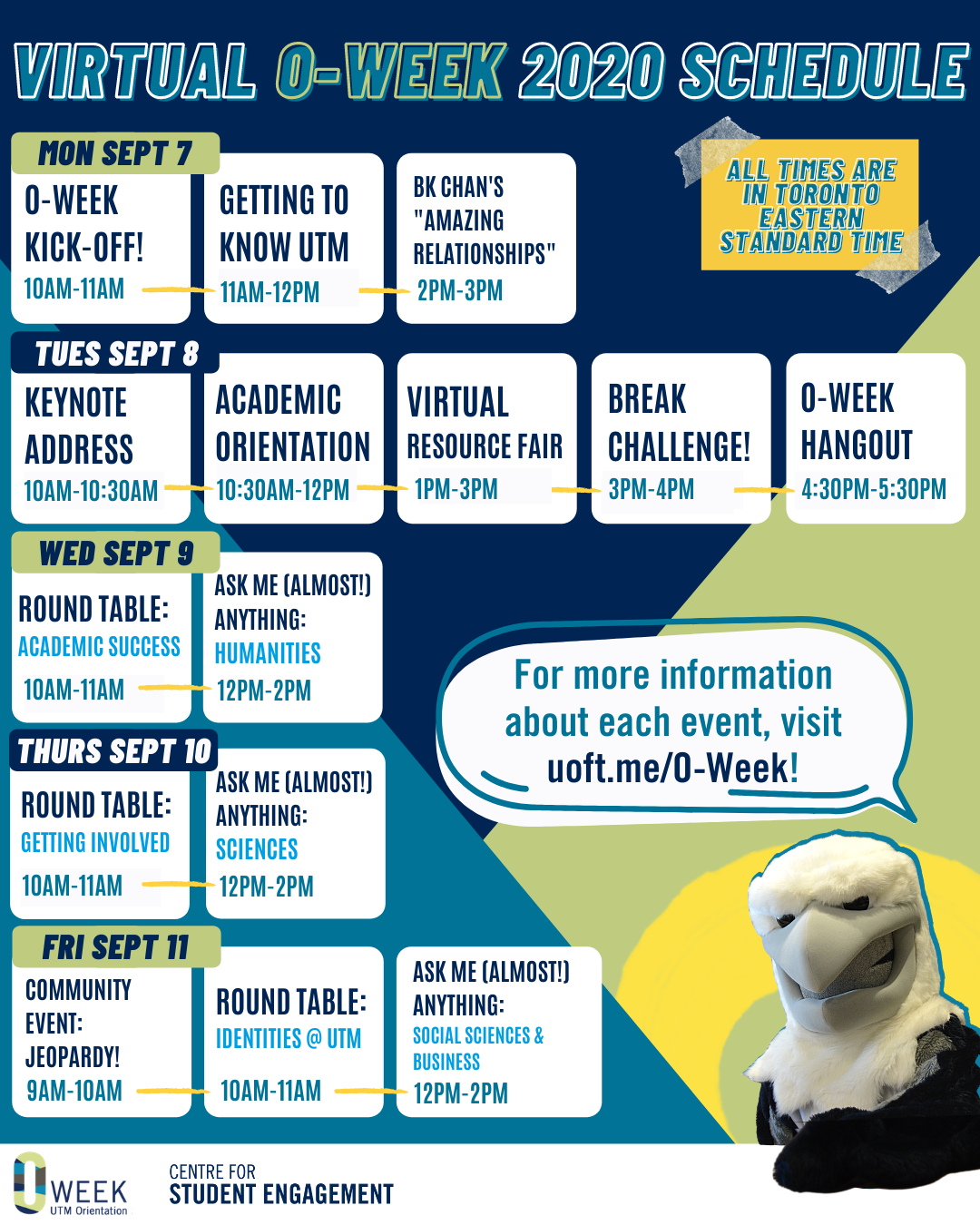 "We thought that by opening the week with a live event, students can know that they're in a Zoom webinar of their own peers," says Janina Malapitan, orientation team lead at U of T Mississauga.
On Sept. 8, students can join an academic orientation where they can have one-on-one conversations with their future professors and advisers. The following day, there's an opportunity to learn about everything the campus has to offer through a virtual resource fair. Students can also familiarize themselves with the U of T Mississauga Career Centre, U of T Mississauga Students Union, Robert Gillespie Academic Skills Centre and more by hopping from one "booth" – or Zoom break-out room – to another.
U of T Scarborough
In Scarborough, incoming first-year students will also set off on a new adventure among the stars.
The Scarborough Campus Students' Union (SCSU) has adopted a Starship Launching theme for this year's orientation.
Michael Sobowale, frosh co-ordinator, says one of the highlights will be an online clubs fair – a presentation of two-minute videos about the variety of student groups on campus.
"I want people to have the notion that, although U of T might be challenging, it's also fun," Sobowale says. "We want to make it easier for first year students to recognize that there's also a social aspect to U of T and that we have a community."
Orientation co-ordinators have put a lot of thought into the program to overcome the challenge of hosting online activities for the first time, adds Sobowale.
"Even though people are staying home, we can bring the community to them."
In parallel with the SCSU events, U of T Scarborough is hosting an LGBTQ-focused orientation, an event for international students, an athletics open house and welcome day on Sept. 8.
Students can join the sessions online and can play icebreaker games through the Kahoot! platform.
"I hope (new) students will feel connected to the campus and that they know we care and we're trying to meet them where they're at – like literally, in their homes," says Nadia Rosemond, assistant dean, student affairs and student life at U of T Scarborough.  "Even though we might not physically be on campus, the same services are open to them to utilize.
"We're working hard behind the scenes to make sure they receive all the support they need to succeed."
UTC