Geoffrey Hinton and Fei-Fei Li to discuss ethical AI development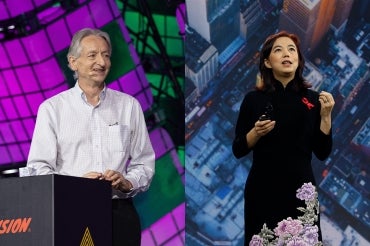 Two leading figures in the development of deep learning are set to discuss their joint contributions to artificial intelligence and the ethical considerations that should guide its future.
Geoffrey Hinton – a University Professor Emeritus of computer science at the University of Toronto who is often credited as the "godfather of AI" – and Fei-Fei Li, a professor of computer science at Stanford University and co-director of the school's Human-Centered AI Institute, will wrestle with the opportunities and risks of AI advancement during a conversation presented by Radical Ventures and hosted by U of T on Oct. 4.
Hinton sounded the alarm about the risks posed by unchecked AI development earlier this year, stepping down from his position at Google so he could speak more freely about the issue.
The two AI luminaries will be joined by Jordan Jacobs, managing partner of Radical Ventures, to talk about their collaboration on one of the most important milestones in the history of modern AI, the societal implications of this transformative technology and its potential to solve some of the world's most pressing challenges.
Their conversation will be livestreamed and will kick off the Radical AI Founders Masterclass, a four-week program featuring speakers including U of T alumnus Nick Frosst, co-founder of Cohere, and Shivon Zilis, director of special projects at Neuralink and a fellow at the Rotman School of Management's Creative Destruction Lab.
UTC