Gaming for everyone: U of T's Faculty of Information makes video games more accessible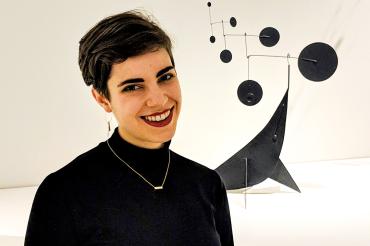 To create more accessible video games, researchers at the University of Toronto are partnering with major studios, non-profit organizations and influential gamers with disabilities through U of T's new Accessibility Arcade – as well as an inclusive online gaming hub.
The Accessibility Arcade, part of the Knowledge Media and Design Institute (KMDI) in the U of T's Faculty of Information, provides a space for designers, developers, researchers and gamers to put their heads together to design more inclusive games. It's based in the KMDI Makerspace, an area in the Bissell Building off Robarts Library where students are encouraged to get creative with technology like 3D printers, Arduinos and Raspberry Pis – open source prototyping platforms and simple computers, respectively. 
"The Makerspace is much more than a room with fancy new technology," said Adrian Petterson, a research assistant at KMDI and the project lead on the accessibility arcade. "This space builds a community of support and innovation where gamers and industry members can connect and learn from each other." 
Petterson is also the chair of the faculty's accessibility interest working group and a Master of Information student who specializes in design ethics and video game accessibility under the academic supervision of Associate Professor Sara Grimes, director of KMDI and an expert in critical theories of technology.
There has been a recent push in the rapidly expanding video game industry – from large studios and indie developers alike – to design games that are accessible to players with disabilities.
While game designers are used to taking on complex challenges, it is by no means simple to design games that take into account the vast diversity of accessibility needs.
The Accessibility Arcade provides a space for designers and developers to imagine new game possibilities by allowing them to take their software on a test run before launch. 
They can also create games or game features that appeal to a wider, mainstream audience. Copilot mode on Xbox One, for example, allows two players to manipulate a single character using two controllers. It was originally intended for players who couldn't use their whole controller and needed the support of another player. But Copilot has since become a function that players use to create unique shared gaming experiences. 
"Gamers with disabilities have been modifying games to suit their needs for decades and connecting industry members to see potential new forms of games which can appeal to new, wider audiences," Petterson said.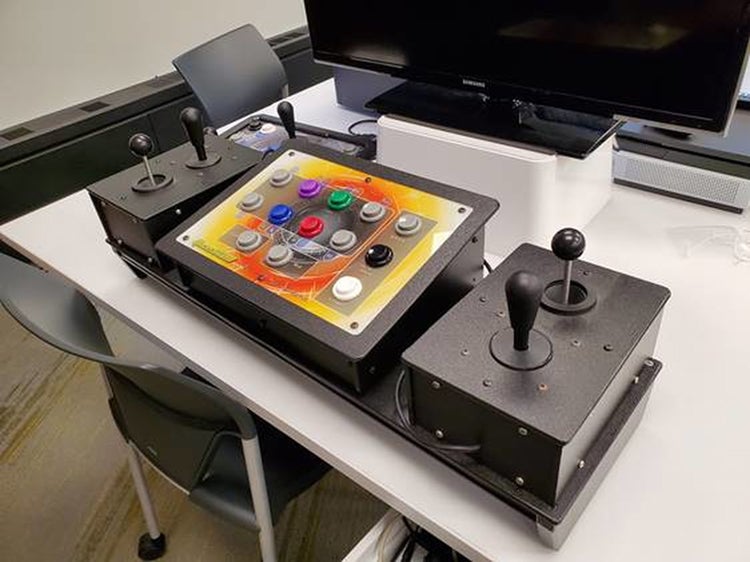 The Accessibility Arcade is equipped with adaptive gaming equipment, such as a one-handed keyboard, adaptive Xbox controller and a Logitech Adaptive Gaming Kit (photo courtesy of Adrian Petterson)
The Accessibility Arcade features the most up-to-date hardware in inclusive gaming and accessible titles. Gamers with disabilities can try out equipment and explore what options might be right for them. Game designers can learn about accessible gaming and try out equipment to ensure their games are compatible with the latest technology.  
The Makerspace inventory includes a one-handed keyboard, an Xbox adaptive controller for individuals who are unable to use their hands and a Logitech Adaptive Gaming Kit with buttons and switches.
Adaptive gaming equipment is often extremely expensive and difficult to acquire. At the arcade, gamers with disabilities and designers can use adaptive equipment without having to buy it. Petterson is compiling a list of video games that have features for a variety of disabilities.   
"Twenty per cent of gamers have disabilities," Petterson said, adding that game designers can tap into new markets by adapting their products. "Also, it helps designers and developers think about new ways of creating, which is a boon for any industry."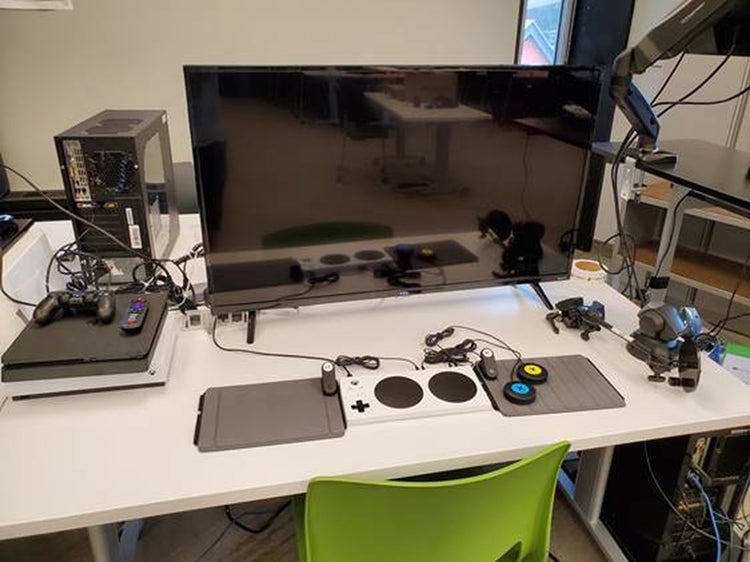 Adaptive gaming equipment is often expensive and difficult to acquire, but visitors can try out these tools at no cost at the Accessibility Arcade (photo courtesy of Adrian Petterson)
As a part of the Accessibility Arcade, Petterson has been building an inclusive gaming hub to create game innovation on an online platform. Digital platforms make it easier for individuals in different parts of the world or people with mobility challenges to join. Community members, industry leaders and gamers can gain access to this collaborative network and apply what they learn to their own projects and communities. The inclusive gaming hub will be among the first digital space dedicated entirely to project sharing and collaboration in inclusive gaming.
"Our society is so focused on digital platforms that it is vital digital spaces are created to foster innovation in general and be accessible to everyone," Petterson said. "Some of the most powerful innovators are individuals with disabilities."
To help the Accessibility Arcade become a vibrant community space, Petterson has partnered with major studios, non-profit organizations and influential gamers with disabilities. 
LittleNavi, a popular Twitch affiliate with multiple sclerosis, said she enjoyed working with Steve Saylor, who goes by the "Blind Gamer" on his YouTube channel, on the Accessibility Arcade. 
Several years ago, LittleNavi suffered a massive ischemic stroke causing paralysis in half her body. On her Twitch profile, she writes: "Over time, I re-learned how to walk, how to talk, how to read, how to write, and how to game!" The experience led her to discover her calling for making games accessible for people with disabilities, she said. 
Saylor found his passion for advocating for more accessible video games through YouTube, where he shares reviews and his first reactions to games. The Toronto-based gamer was born with nystagmus, a condition that causes rapid involuntary movement of the eyes making it hard to see (in one YouTube clip, he uses Fortnite to demonstrate what he sees when he plays a game).
Saylor, LittleNavi and Petterson created a list of essential equipment for the space and collaborated on access policies. Other consultants on the project include representatives from Makers Making Change, Toronto Media Arts Centre, and AAA Games Studios.
"The KMDI Accessibility Arcade fosters industry creations, a strong diverse community working together and that an inclusive society makes us all stronger," Petterson said. 
Faculty of Information