G7 leaders should present a unified front against Russia, U of T expert writes in the Globe and Mail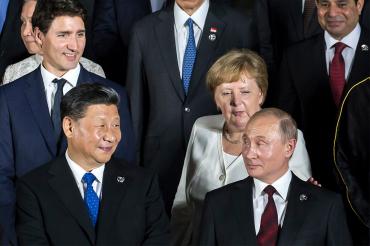 World leaders gathering for this weekend's G7 summit in the French resort town of Biarritz should make Russia a focus as it increasingly uses aggressive foreign forays to distract from problems at home, says Aurel Braun, a professor of international relations and political science at the University of Toronto Mississauga.
In an op-ed for the Globe and Mail, Braun, who is cross-appointed to the Munk School of Global Affairs & Public Policy, writes that Russia, which is not a member of the G7, is showing "classic symptoms of imperial decline" amid a continued economic slide and a growing domestic protest movement.
At the same time, Braun notes, Russian President Vladimir Putin continues to oversee disruptive actions ranging from information warfare campaigns to military excursions designed to destabilize its neighbours as well as the G7 countries.
"The G7 must disabuse Mr. Putin's Kremlin of its hopes of dividing the democracies by increasing their countries' hard power while making a more determined and unified use of their vast soft power," Braun writes. "With a policy of preventing but not provoking, they should make clear to Russia that they present no threat, but are resolute in resisting Russian military adventures or political interference."
UTC