Fulbright scholar at U of T law school delves into Jewish, Islamic and secular law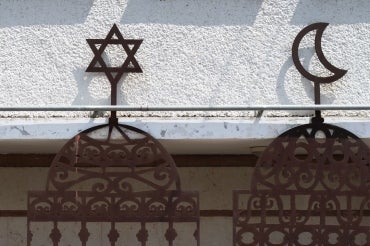 A visiting Fulbright scholar at the University of Toronto's Faculty of Law will be working on a comparative law analysis regarding the role of Jewish, Islamic and secular law in the context of real estate transactions.
Fulbright fellow J.R. Rothstein will be working with the Beis Din, Vaad Harabonim of Toronto and the Islamic Medina Seminary of Toronto, both of which will facilitate his research, over the course of the next eight months.
Fulbright awards are funded by the U.S. Department of State and the J. William Fulbright Foreign Scholarship Board.
Rothstein fostered Jewish-Muslim dialogue as an undergraduate at the University of Michigan, and later the co-chair of the Jewish-Muslim task force at AJC ACCESS. He says he chose Toronto and U of T over other cities and universities because Toronto is the perfect place "to explore the convergence and divergence between these two faith communities." 
He will be working with the Faculty of Law's Professor Mohammad Fadel, Canada Research Chair for the Law and Economics of Islamic Law, and Professor David Novak, the J. Richard and Dorothy Shiff Chair of Jewish Studies.
"Toronto is a crucible of different communities, cultures, and ideas all coming together. It is the perfect place for intellectual endeavours and to explore the potential of Jewish-Muslim relations," says Rothstein.  "I was attracted to U of T because it has first rate international scholars in Jewish and Islamic legal studies, theory and theology. Where else can you find intellectual giants such as Mohammad Fadel and David Novak at the same institution?"
Law