Fujitsu president leads global delegation to U of T to launch collaborative research lab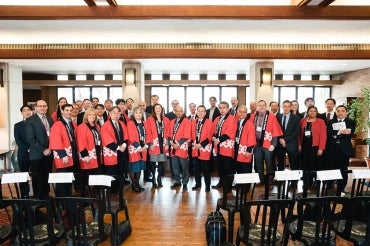 Representatives from Fujitsu Limited visited the University of Toronto this week to officially launch the Fujitsu Co-Creation Research Laboratory, a new multidisciplinary research hub that will accelerate collaborative work in fields including machine learning, quantum-inspired computing, smart cities, advanced health care and financial technology.
A global delegation led by Tatsuya Tanaka, president of Fujitsu Limited, the information and communication technology multinational, met with U of T leaders and researchers at the Faculty of Applied Science & Engineering to celebrate the Fujitsu Co-Creation Research Laboratory and tour the new Myhal Centre for Engineering Innovation & Entrepreneurship, which officially opens on April 27.
As part of the launch of the laboratory, Fujitsu Laboratories Ltd. has signed four research partnership agreements with Professors Alberto Leon-Garcia and Shahrokh Valaee, both of the department of electrical and computer engineering, Taufik Valiante, an associate professor in the department of surgery and the department of electrical and computer engineering, and Yuri Lawryshyn, an associate professor in the department of chemical engineering and applied chemistry.
"Fujitsu's continued collaboration with this world-leading institution further strengthens and catalyzes an ability to produce research innovations," said Tanaka. "Establishing the Fujitsu Co-Creation Research Laboratory at the University of Toronto is the next step in advancing this flourishing relationship."
Tanaka and Shigeru Sasaki, CEO and representative director of Fujitsu Laboratories Ltd., met with Faculty of Applied Science & Engineering Dean Cristina Amon, as well as U of T President Meric Gertler, Vivek Goel, vice-president, research and innovation, and Chris Yip, associate vice-president of international partnerships, to discuss future opportunities for co-operation.
"U of T Engineering faculty and students collaborate across disciplines to create innovative technologies," said Amon. "Forward-thinking industry partners like Fujitsu recognize that our leading research is addressing and anticipating global challenges. The Fujitsu Co-Creation Research Laboratory will further enable our dynamic and productive partnership."
A team from Fujitsu Laboratories visited U of T in September 2017 to sign a memorandum of understanding that laid the foundations for establishment of a new research and development centre in Toronto to create the next breakthroughs in quantum-inspired computing. Fujitsu also recently joined MaRS and hosted an event there on March 13 on the topic "Computing Revolution in the AI Era."
One result of the ongoing U of T collaboration is Digital Annealer, developed by U of T Engineering and Fujitsu researchers and considered a leap forward in quantum-inspired computing. Annealing, a term borrowed from materials science, means to find an optimum solution – in computing, the best solution is often the least energetically expensive.
Fujitsu plans to work with U of T to accelerate the practical use of quantum-inspired computing technologies that can reach beyond the limitations of today's supercomputers to tackle multifaceted global challenges that involve massive amounts of data and complicated calculations.
"Cities are complex organisms – as they continue to grow and modernize, we can glean critical insights to improve their function by analyzing complex systems data," says Leon-Garcia, an expert on software-defined networking for smart cities and one of the principal investigators joining the Fujitsu partnership.
"To integrate and interpret high volumes of data, we need powerful computing capabilities. This makes Digital Annealer a tremendously valuable tool for tackling a diverse range of engineering challenges with the power to improve people's everyday lives." 
Engineering