Friends and family: U of T's Lucia Stafford to share track with big sister in Olympic debut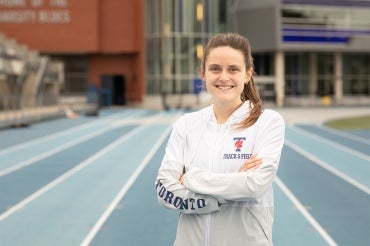 In less than two weeks, Lucia Stafford will come up against the fastest runners in the world in the 1,500-metre race at the Tokyo Olympic Games. But at least one of her chief rivals doesn't intimidate her – even if she's ranked among the top five at that distance: her older sister Gabriela DeBues-Stafford. 
The two sisters, who both studied at the University of Toronto and ran track with the Varsity Blues, have been pushing each other to their limits long before becoming elite middle-distance runners.
"We've been running together since I was in Grade 4 and she was right by my side for all of it, starting on our cottage road – just going for 5K and getting dragged by her and my dad," Lucia says.
"Now we're toeing the line on the biggest stage ever. That will be pretty special."
Gabriela, who is three years Lucia's senior, revealed her potential relatively late for a runner – near the end of high school. Terry Radchenko, an assistant U of T coach for middle-distance and cross-country running, first met her when she was in Grade 10, when she was posting respectable times for her age group but lagged behind the leaders.
Two years later, after training with the U of T track club, Gabriela was leaving her competitors in the dust.
"She didn't come out of the womb a superstar," Radchenko says, noting that he's recorded 10 training logs that capture the Stafford sisters' progression over many years.
"It took a training effect to bring out Gabriela's full potential."
Today, Gabriela is the fifth-fastest woman in the World Athletics Rankings over 1,500 metres and trains with the Bowerman Track Club in Portland, Ore., one of the premier running clubs in the United States and home to world champions and Olympic medal winners.
Yet, during family runs or even strolls, it was Lucia who often took the lead – especially when the two women were younger.
"If we were on a walk in the forest, Lucia would have to be the one at the front of the pack," Gabriela recently told Canadian Running Magazine. "She's been a chronic one-stepper since she was a toddler."
While Lucia denies there's a sibling rivalry, Radchenko says she's always keen to prove herself against her older sister.
"She's not scared of Gabriela," he says. "When it comes to her sister, there's no qualms about going head-to-head."
He points to their duel in the home stretch of the 2017 Ontario University Athletics track and field championships. With about 200 metres left in the race, Lucia pushes ahead of Gabriela, staying basically neck-and-neck with her sister until the very end. After a photo finish, Lucia crumples to the floor in exhaustion. Gabriela, meanwhile, forgoes any celebration and immediately turns back to help her sister to her feet as the third-place runner crosses the line.
Running is in Lucia's and Gabriela's genes. Their late mother, Maria Luisa Gardner, was a teacher who coached cross-country in elementary school, while their aunt Sara Gardner, ran in the 1992 world cross-country championships. Their father Jamie Stafford, who happens to be a professor of statistical sciences at U of T and vice-dean of academic operations in Faculty of Arts & Science, represented Canada as a cross-country runner at four world championships.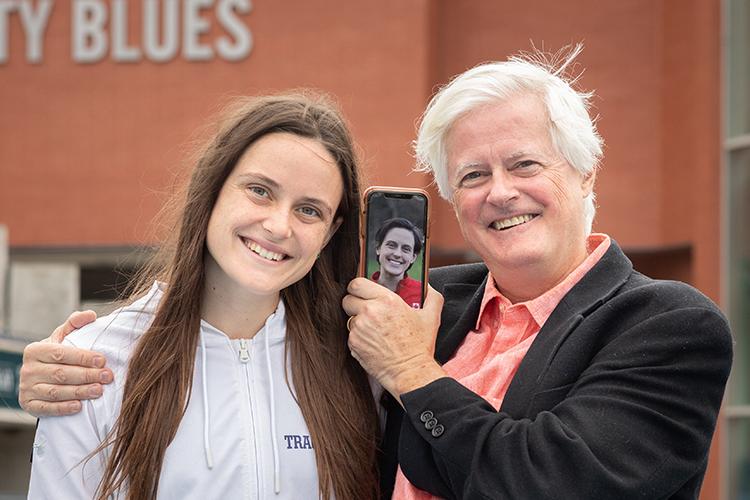 Lucia Stafford and her father Jamie Stafford, a U of T professor, are joined by Gabriela Stafford, who was training in Portland, Ore. prior to the Tokyo Games (photo by Johnny Guatto)
Heading into the Olympics, Lucia might find comfort in the fact that she ran a personal best of 4:05.70 this year, smashing her previous best record by five seconds. It's the second-best indoor time in Canadian history after – who else – Gabriela.
These days, Lucia says racing against Gabriela brings a sense of comfort – no matter the location or the stakes. In fact, Lucia lists Gabriela as her favourite professional athlete on her Varsity Blues profile page.
"Whenever I'm in a race with her, I have a really good race because I think it's just having that reminder: This is someone that I've run with for years and years, and here we are running together again," she says.
"The scenery might look a bit different, but at the end of the day, we're still just running."
As a civil engineering major in U of T's Faculty of Applied Science & Engineering, Lucia has had more than just running to think about in recent years.
The day before an important meet to book her ticket to the Olympics, she wrote an exam in geotechnical engineering from her hotel room. In Tokyo, she will spend some of her time off the track completing the requirements for her engineering degree through a summer course on multidisciplinary perspectives on the environment.
"I have to email my TA because the lectures and tutorials are mandatory, but it's going be, like, 1 a.m. [local time] during the lecture," she says.
Like her sister, Lucia has also had to cope with Graves' disease, an autoimmune disorder that causes an overactive thyroid. The disease left Lucia feeling listless and unable to hit prescribed paces. She even once swallowed a radioactive iodine pill to shrink her thyroid gland and alleviate symptoms.
"This pill is no joke," she told Canadian Running Magazine in 2019. "I set off the alarm in airport security one month later when I was flying to Florida."
For Lucia, training during COVID-19 presented another challenge – particularly with her sister in Portland. Fortunately, she was able to lean on Madeleine Kelly, a U of T alumna and fellow Varsity Blues runner who writes for Canadian Running magazine (including the magazine's July and August 2021 cover story on the Stafford sisters). The two met at U of T about six years ago and have trained together ever since. They secured Olympic qualification together and both are now in Japan, where the routine is "PCR test, run, eat, sleep – literally on repeat," Kelly posted on Instagram.
Lucia says she and Kelly have grown especially close over the past year. "It's kind of like having a stand-in big sister," she says.
Since they specialize in different events, the two women didn't have to compete with each other for a spot on the Olympic team – and were relieved when they qualified together.
"I can't imagine doing it without her," Kelly says. "I can't imagine doing it with anyone else."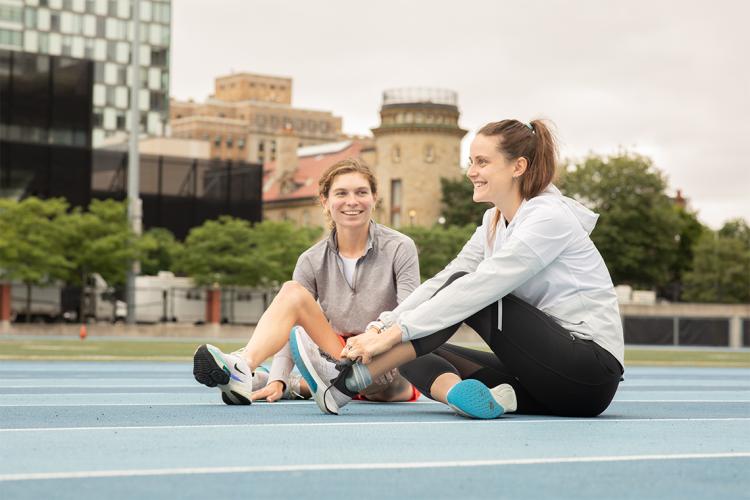 Madeleine Kelly (left), a U of T alumna and fellow Varsity Blues runner, trained for the Olympics with Lucia Stafford, forging a close bond in the process (photo by Johnny Guatto)
Making the Olympic team was a process of self-discovery for Kelly. "I think I've learned that I'm much tougher than I give myself credit for sometimes," she says. "Because it was hard – but manageable, as it turns out."
Kelly's first race in round one of the 800-metre event takes place on July 30, while Lucia and Gabriela begin their pursuit of Olympic glory three days later.
Lucia's and Gabriela's father, meanwhile, plans to cheer on his daughters from back home in Toronto. He cautioned the pair to manage their expectations and avoid putting too much pressure on themselves. "Set the bar low and clear it by a mile," Lucia recalls him saying.
And while the stats professor is well aware of the improbabilities, his dream result for Lucia and Gabriela in the 1,500 metres comes as little surprise.
"A dead heat for first."
UTC