Free textbook for students: U of T Mississauga gets its first open access digital resource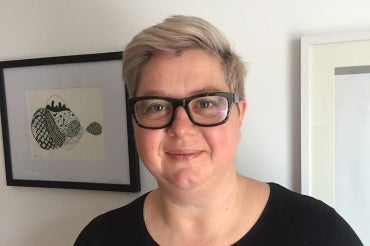 Biology students at University of Toronto Mississauga are using a new resource this semester at a price point that every student can afford. 
U of T Mississauga's first-ever open access digital textbook, Introductory Animal Physiology, launched in January as the primary text for 480 undergraduate students enrolled in the second-year biology course. Custom-tailored to the course, the textbook is available to students free of charge.
Sanja Hinić-Frlog, an assistant professor, teaching stream, in the department of biology, led the creation of the textbook. She says she was frustrated with traditional textbooks that were expensive, outdated and didn't meet the specific needs of her students or her course structure.
With a provincial grant, Hinić-Frlog worked with staff from the University of Toronto Mississauga Library and U of T's Centre for Teaching Support & Innovation to create a nine-chapter textbook that is built around Hinić-Frlog's biology course and includes review questions and learning objectives as well, as links to external podcast and video resources. 
"It fits exactly what I want to do in every lecture," Hinić-Frlog says. "This is a living document and can change as we are using it. Before I post a lecture, I edit the book to integrate parts of the chapters into my lectures, and parts of my lectures into the textbook." 
The textbook uses material from peer-reviewed open access journals and publishers, says project collaborator and science liaison librarian Jessica Hanley, who helped to source content and manage licensing agreements. "The materials are scientifically sound and from reputable resources," she says.
"It was a big project," says Hinić-Frlog, "but we had a lot of support, so it wasn't as overwhelming as writing a textbook from scratch. The content was already there – it was a matter of putting it together."
A $15,000 provincial grant provided support to hire three students to source and create images for the textbook, and to adapt the content to the Pressbooks platform, which makes the content accessible to users on a variety of Apple and Android devices, as well as desktop computer and printable PDF files.
Introductory Animal Physiology is among 21 higher education projects funded through eCampusOntario's Open Textbook Intiative by the Ontario government. The project launched in 2017 to promote the adoption, adaptation and creation of open textbooks to help eliminate or significantly lower the cost of course materials for learners and help educators to adapt materials to suit the needs of learners and programs. A similar initiative in British Columbia is estimated to have saved students nearly $4-million in textbook costs since 2012. 
Two other U of T texts also received funding, including $40,000 for an open access text about Indigenous Peoples and natural resources, and $14,430 to support an open access text about neuroscience. 
Hinić-Frlog says that students from U of T Mississauga's Master of Science in Biomedical Communications program have been enlisted to create new digital images and figures for the open access textbook. "We're very pleased to collaborate with graduate students who will be creating content with their expertise in science and art," she says. The team also hopes to collect student feedback for future improvements.
UTM