Four U of T scholars awarded Guggenheim Fellowships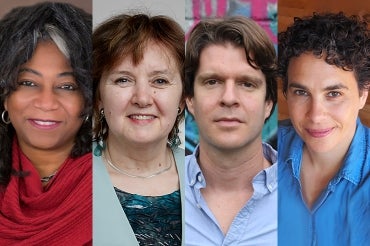 Four University of Toronto scholars are among the recipients of this year's prestigious Guggenheim Fellowships. 
The four researchers from the Faculty of Arts & Science – Kamari Clarke, Eugenia Kumacheva, Amira Mittermaier and Kevin Lewis O'Neill – have published groundbreaking research in fields ranging from religion, law and chemistry to anthropology and transnational studies.
They are among 184 artists, writers, scholars and scientists selected through a rigorous peer-review process from almost 3,000 applicants this year.
"Congratulations to Professors Clarke, Kumacheva, Mittermaier and O'Neill on this prestigious honour," said Melanie Woodin, dean of the Faculty of Arts & Science. "We are thrilled that four members of our faculty are receiving a Guggenheim Fellowship. This is an incredible career achievement for a scholar, and it will allow them each to continue their important work in their respective areas of focus." 
Offered annually since 1925, the Guggenheim grants support mid-career individuals who have shown exceptional capacity as scholars or artists, and who continue to produce transformative work. 
Clarke, a distinguished professor at the Centre for Criminology & Sociolegal Studies and the Centre for Diaspora & Transnational Studies, is both a legal scholar and anthropologist. Her careers spans more than two decades and she is an expert in such areas as international justice, religious nationalism and the politics of globalization and race. Her award-winning research has shown how different legal frameworks, shaped by forces such as neocolonialism, both influence and are influenced by contemporary social movements. 
An author and editor, Clarke is currently completing a book that describes how social movements in the developing world are using modern technologies – such as mobile phones and GPS – to challenge the way justice has been historically accessed and delivered. 
"It's a recognition of lifetime achievement; it's a grant to continue to write and to think about the core issues that I'm committed to – and, in many ways, will map maybe the next 10 years of the contribution that I'll make to the field," Clarke said of the award.
Kumacheva is a University Professor and distinguished professor in the department of chemistry who is cross-appointed to the Institute of Biomedical Engineering. Her research explores the field of "soft matter" – that is to say, polymers, colloids, liquid crystals, hydrogels and living matter. She has designed and developed soft materials for use in a broad range of areas, including telecommunications, security, data storage, drug delivery and tissue engineering.
An Officer of the Order of Canada and the first Canadian winner of the L'Oreal-UNESCO Prize for Women in Science, Kumacheva is now collaborating with noted U of T researcher Alán Aspuru-Guzik in a bid to use artificial intelligence to fuel the development of innovative anti-cancer therapies.
"The Guggenheim Fellowship is a mark of recognition and one of the great career achievements for a scientist," said Kumacheva. "It will support the collaborative research with Professor Alán Aspuru-Guzik, with an ambitious goal to accelerate anti-cancer drug discovery."
A professor in both the departments of religion and anthropology, Mittermaier's work weaves textual analysis with ethnographic fieldwork. Her research focuses on modern Islam in Egypt.
"The question of how theologies shape lives has stayed with me throughout my career," she says. "Working with Egyptian interlocutors with whom I have established long-term relationships, I study and write about Islam as it unfolds in the midst of their everyday lives." 
Her first book, Dreams that Matter: Egyptian Landscapes of the Imagination, explores Muslim practices of dream interpretation as they are inflected by Islamic reformism, Western psychology and mass mediation. Her more recent work, Giving to God: Islamic Charity in Revolutionary Times, describes a religious ethic of giving in which believers engage with God by way of giving to the poor.
She describes her upcoming book as her most ambitious to date: an ethnographic study of God. In this work, she will both apply her expertise in Islam and work with other scholars in the Abrahamic faiths.
"I'm thrilled and honored to have received a Guggenheim Fellowship," Mittermaier says. "I look forward to getting started on my book about God and humans in Egypt today. My recent half-sabbatical was taken over by COVID-19, so I'm doubly grateful for this extra time coming my way."
Kevin Lewis O'Neill is a professor in the department for the study of religion, as well as director of the Centre for Diaspora & Transnational Studies. He is a pioneering scholar on the subject of clerical sexual abuse, particularly as it transcends borders. O'Neill is currently writing two books. The first considers clerical sexual abuse in Latin America, with a focus on U.S. priests who moved – or were moved – to Central America to evade suspicion. The second is an ethnography of traffic in Guatemala City that realigns conversations about security, mobility and infrastructure in Latin America.
O'Neill's examination of the moral dimensions of contemporary political practice in Latin America informs the trilogy he has written on the politics of Pentecostalism in Guatemala. Each book explores the "waning viability of disciplinary institutions and how new strains of Christian piety have become recognizable modes of governance in Central America."
"The Guggenheim Fellowship comes at exactly the right time for me: at a moment when I need some time to consider the conceptual and political intricacies of transnational clerical sexual abuse," O'Neill says. "I'm very grateful to the Guggenheim Foundation." 
Ten universities across North America saw four or more of their community members receive Guggenheim Fellowships this year. They include University of California, Los Angeles, Stanford University, Columbia University, Princeton University, University of California, Berkeley, University of Chicago, Harvard University, Northwestern University, U of T and Yale University. 
A&S