Founded by a U of T prof, Indigenous-led pharmacy association aims 'to make an impact in the profession'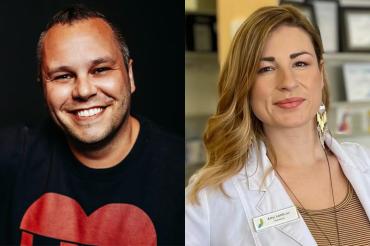 Jaris Swidrovich felt a sense of joy and optimism when the board of the newly formed Indigenous Pharmacy Professionals of Canada (IPPC) held their first official meeting in early March.
An assistant professor, teaching stream, in the University of Toronto's Leslie Dan Faculty of Pharmacy, Swidrovich says he has wanted to create a network for Indigenous pharmacy professionals since he was a student at the University of Saskatchewan in 2006.
"For years, I and other Indigenous pharmacists have worked as individuals with organizations who needed an Indigenous partner for education or training," says Swidrovich, who is founder and co-chair of IPPC and a member of Yellow Quill First Nation in Saskatchewan. "Now we have an entity that can lead these requests, and we'll be able to do much more than any of us could alone."
The IPPC has a full slate of upcoming activities, partnerships – within and outside the pharmacy profession – and federal funding to help address anti-Indigenous racism in Canada's health-care system.
Swidrovich says the idea of the association began to solidify during his PhD in education, when he interviewed Indigenous pharmacy students and graduates across the country about their experiences with pharmacy education. He found that most particpants said they felt isolated.
"We know there are quite a few Indigenous pharmacists across the country, but we don't know who or where they are," Swidrovich says. "Each of us identified that it would be nice if we had a community and could see ourselves reflected in the profession, brainstorm ideas, and support each other."
The need for an Indigenous pharmacy association was clear. And since one didn't exist, Swidrovich decided to create one.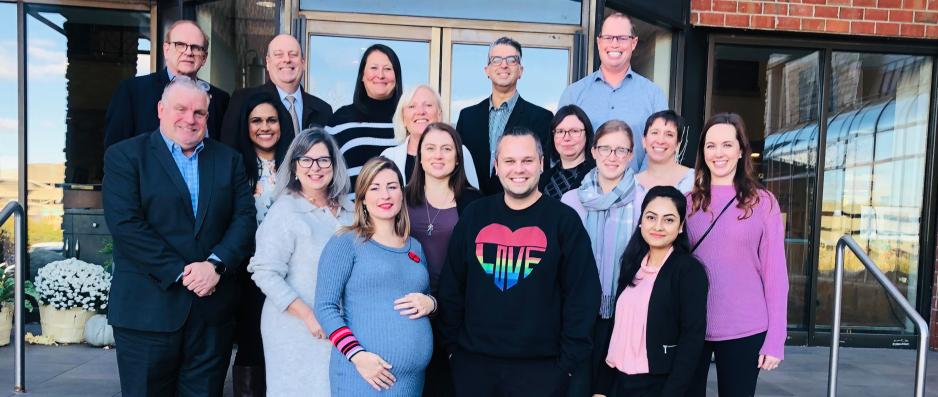 IPPC co-chairs Amy Lamb (front left) and Jaris Swidrovich (front right) met with other pharmacy representatives and leaders to introduce the organization and discuss Indigenous representation in the profession (photo supplied)
Over the past couple of years, Swidrovich has worked with other Indigenous pharmacists – including IPPC co-chair and chief executive officer Amy Lamb, a Métis community pharmacist, and Gezina Baehr, a First Nations hospital pharmacist – and the Canadian Pharmacists Association to spread the word about the IPPC, build its membership and develop the organization. The IPPC publicly launched in June 2022 at the Canadian Pharmacy Conference and in March it held its first official board of directors meeting.
The IPPC currently connects with about 40 Indigenous pharmacy professionals, including the 12 board members. The professionals include Métis, Inuit, and First Nations pharmacists, pharmacy technicians and pharmacy assistants across the country. There are plans to grow the membership further as the IPPC becomes more established.
Lamb brings extensive experience in pharmacy advocacy and governance to her role as CEO and says she is looking forward to working with the board to develop the organization and its priorities through an Indigenous lens.
"We want to take that cultural lens and respect it as best we can and create a system that is going to represent something that will make our communities proud," says Lamb. "Indigenous Peoples are knowledge keepers and storytellers. This is an opportunity for us to look at our membership and determine ways to empower their voices and perspectives and to share with the pharmacy profession and the world what an Indigenous pharmacy professional does, how they think and how they care for patients."
Federal funding will help address anti-Indigenous racism in health care
The IPPC recently received $380,000 from Indigenous Services Canada to address anti-Indigenous racism in Canada's health systems, including pharmacy. The funding will allow the IPPC to partner with other organizations, including provincial pharmacy regulatory and advocacy bodies, to provide: education and training for their members; Indigenous perspectives on research issues such as data sovereignty; and a supportive community for Indigenous pharmacy professionals who are experiencing racism.
"Addressing anti-Indigenous racism is not just about patients. Indigenous pharmacy professionals also experience racism – whether that's from colleagues, classmates or even our patients," says Swidrovich. "Addressing anti-Indigenous racism involves tackling all of its forms."
A key part of addressing anti-Indigenous racism is to ensure that more Indigenous Peoples enter the profession. The IPPC has plans to develop recruitment strategies that reach Indigenous high school students and advocate for equity seats at all pharmacy schools in Canada.
The IPPC has launched a series of scholarships for Indigenous pharmacy technician students and Indigenous PharmD students to support their education at any university in Canada, including one four-year full scholarship. The goal is to launch additional scholarships for students in pharmacy assistant programs in the near future.
Lamb says she is looking forward to sharing the stories and experiences of IPPC members as a way of reducing the feeling of isolation in the profession.
"The idea that healing takes place alongside creativity and growth is such an Indigenous intention. If we can find ways to share our members' stories in a way that is creative and inclusive of things that are ancestral and healing, I think that is going to make an impact in the profession," says Lamb. "It will also reaffirm that connection that we as Indigenous Peoples and Indigenous pharmacy professionals have together – and hopefully the feelings of isolation will dissolve the more that we represent and share those authentic experiences."
Pharmacy