Forest science and forestry education find new home in John H. Daniels Faculty of Architecture, Landscape, and Design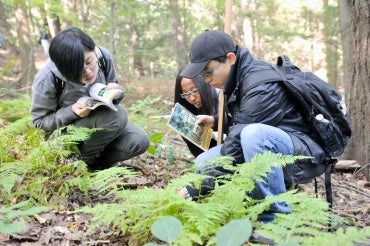 The University of Toronto's Governing Council recently approved a proposal for academic restructuring that closes the Faculty of Forestry and has faculty members, students and staff from forestry join the John H. Daniels Faculty of Architecture, Landscape, and Design.
The move, which took effect July 1, creates a new home for forest science research, programs and professional forestry education and means that all programs from the former Faculty of Forestry will continue within the Daniels faculty. The decision follows extensive consultations over several years with faculty members, students, staff, alumni and industry groups, and aims to secure a sustainable future for forestry-related academic programs and research at the university.
 "We are committed to ensuring forestry as a discipline not only flourishes, but continues to be a source of innovation at the University of Toronto," said Vice-President and Provost Cheryl Regehr. "This new vision for forest sciences and forestry education will provide students and faculty with the resources necessary to engage in forestry research and interdisciplinary collaboration for years to come."
The 122 graduate students in forestry programs will not be affected by the move, nor will undergraduate students who are pursuing forestry-related courses and programs through the Faculty of Arts & Science. There will be no reduction to the number of faculty or staff. Professor Sandy Smith has been appointed Program Director for the forestry graduate programs, which will continue to be offered through the forestry graduate unit and housed at 33 Willocks St.
To assist with the transition and to support future innovative research and interdisciplinary collaboration, the provost has allocated an additional $1 million in funding to the Daniels faculty budget. Five new faculty positions will also be added to support cross-disciplinary forestry research within the Daniels faculty.
"We are excited to join forces with U of T's forestry faculty, staff and students to continue and expand upon its outstanding programs and vital scientific research in the field of forestry," said Richard Sommer, dean of the Daniels faculty. "Through their research, teaching and outreach, our forestry colleagues lead their field in exploring the most sustainable ways to manage Canada's – and the world's – forests."
Forestry's new home within the Daniels faculty will pave the way for new collaborations between design and forest sciences scholars, he added.
"Bringing forestry's strengths in ecosystem management, biomaterials science, conservation science, urban forestry and mass timber technology together with our strengths in architecture, urban design, art and landscape architecture is going to create a unique and, we believe, powerful interdisciplinary approach to environmental design, land conservation and wood-based design and construction." 
The move also better positions students to meet societal and environmental challenges as they enter the workforce, according to Robert Wright, an associate professor at Daniels who was named dean of  forestry in 2017 for a two-year term.
"Design without having scientific partners doesn't make a lot of sense in a world with climate change and environmental change," he said. "There's a lot of good crossover in terms of interests."
Beyond its academic benefits, placing forestry within a larger faculty will allow its students, faculty and staff to access more resources and supports, Wright added.
"We now have a full set of student services, including embedded counselors for mental health, financial officers, language supports and full-time fundraising people – a whole host of faculty-level services, which will really benefit forestry into the future."
UTC