Foreign Affairs Minister Chrystia Freeland announces $52.6 million for U of T scientists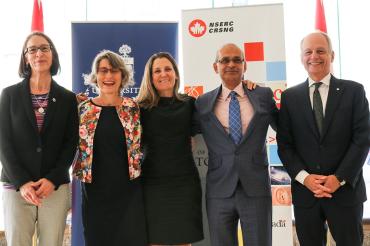 The secret contaminants lurking in your home, from the water in the washing machine to the dust bunnies collecting under the bed, are providing an amazing wealth of information for Miriam Diamond, an earth sciences professor at the University of Toronto.
"We mop up literally what people are exposed to and then we try to find the sources of the chemicals, the pathways by which they move and ultimately human and ecological exposure," she explained.
These chemicals – like flame retardants and plasticizers from a sofa or computer – have been linked to a number of adverse health effects, including reduced fertility rates, as well as lower IQs and attention deficit disorder-like effects in children. Ultimately, Diamond says the purpose of her research is to find ways to lessen the exposure of Canadian households to these chemicals.
Today she is one of almost 350 researchers at the University of Toronto receiving $52.6 million in funding from the Canadian government through the Natural Sciences and Engineering Research Council of Canada (NSERC).
Their fields of research range from understanding how galaxies and planets form to making drinking water safer to improving deep neural networks, which are driving the global artificial intelligence boom.
"I want to commend all of today's recipients, particularly those at the University of Toronto, who can use these funds to expand their research horizons," said Foreign Affairs Minister Chrystia Freeland, who took a break from North American Free Trade Agreement negotiations to attend the funding announcement held today at U of T's downtown Toronto campus.
"By giving scientists the opportunity to pursue the answers to some of their most profound questions, our government is investing in a wealth of new knowledge and innovation that will help us build a bolder, brighter future for all people," she added.
The U of T funds are part of a larger $515-million announcement for fundamental research made earlier today in Victoria by the federal government.
The funding, NSERC's largest annual investment, provides researchers with financial support though scholarships, fellowships, research supplements and equipment grants.
Although the federal funding announced today is substantial, it remains important for the federal government to act on all 35 of the recommendations made by the Canada's Fundamental Science Review panel, said U of T President Meric Gertler.

Read more about U of T's position on the Naylor report
Public funding and support for science is vitally important to ensure the "brilliant women and men" at U of T can continue to explore "new horizons of discovery" in globally important areas of research, the president said.
His comments were echoed by Vivek Goel, U of T's vice-president of research and innovation: "We're extremely proud of the students and faculty who are among the recipients of this year's NSERC grants. Not only are they current and future leaders in their fields, their research is also a major reason for why the University of Toronto is consistently ranked one of the top research universities in the world."
 Diamond, who is a core member of the Canadian Chemical Management Plan Science Committee, said Canadians are concerned – and rightly so – about toxic chemicals and their health effects.
"I believe basic research is important," she said. "And I feel a responsibility to ensure my research speaks to issues that are of high importance to the public."
One of those issues is looking at our everyday laundry. Chemicals accumulate in our clothes, too, and some of these chemicals come off in the washing machine and then are carried into the outdoor environment from treated waste water along Lake Ontario. Other chemicals stay put in fabric, which is also a potential health concern.
"It's about looking at things in a new light that are literally right under our noses," Diamond said with a laugh. "It comes from being a mom."
"That's why discovery and advances in knowledge can't be planned. That's what research is – research is discovery," she said. "The reason why so many Canadian researchers are effective in their fields of expertise is that the NSERC program provides us with relatively stable funding for exploration."
The federal funding is also making it possible for her to start work with a fellow researchers in Nigeria on the impact of e-waste – old electronics shipped as junk from North America and Europe – and the young children in Lagos who work to strip these old computers for reusable materials.
UTC