Food insecurity in Nunavut increased despite federal subsidy program: U of T study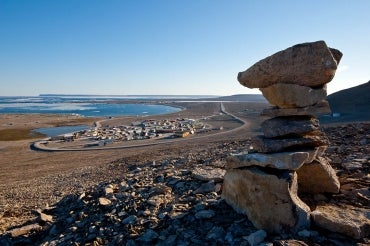 Researchers at the University of Toronto have charted a spike in food insecurity since the introduction of Nutrition North Canada in 2011, calling into question the federal program's approach and claims that it has been successful.
Food insecurity is the insecure or inadequate access to food due to a lack of money. In 2010, it affected 33 per cent of households in Nunavut – almost three times the national average. But the U of T study showed that by 2014, when Nutrition North was fully implemented, food insecurity had increased to 46 per cent of households.
The increase in food insecurity remained even after the researchers accounted for macroeconomic trends and changes in household characteristics over time. The findings were published today in Canadian Medical Association Journal.
"These results are shockingly bad," says Valerie Tarasuk, the paper's senior author and a professor in U of T's department of nutritional sciences.
"They really call out for a re-think of this program based on the daily experience of people in the North, rather than on metrics such as the price of food and shipments of goods."
Nutrition North provides subsidies to retailers and suppliers, which are expected to pass on lower prices to consumers in remote areas. The program offered $69 million in subsidies in 2017 and last year the federal government announced an additional $62 million in funding over five years.
The program emphasizes perishables such as fruits and vegetables, and provides funding for education on healthy eating. The Nutrition North website claims the program has lowered the cost of the Revised Northern Food Basket (typical food consumption for a family of four) by almost $100 a month, and that the average volume of eligible items shipped to the North has increased by about 25 per cent.
"Price and volume of shipments are distant measures of whether people can afford and access food," says Andrée-Anne Fafard St-Germain, lead author on the study and a doctoral student who works with Tarasuk.
"Our results suggest that a lot of people aren't able to afford the foods in the stores despite the presence of Nutrition North. We think the federal government should be concerned by the disconnect between our findings and their reports."
The researchers used data from over 3,200 households, based on 18 questions about different food access problems caused by financial constraints in the annual Canadian Community Health Survey. These metrics provide a picture of food insecurity over time, say the researchers.
Food insecurity in Nunavut breached 50 per cent in 2016, the researchers also found. They added that the figures are likely conservative because they are based only on data from the 10 largest communities in Nunavut.  
The study results do not provide an explanation for why food insecurity has grown in Nunavut. But the researchers hypothesize that perhaps wealthier households that were already more food-secure benefited the most from the reduced prices.
"We can't validate whether this is true, but it might help explain how food insecurity has grown while more food is being shipped since this program began," says Fafard St-Germain.
The researchers acknowledge that their data does not include all aspects of food security that affect the Inuit, including access to traditional foods. But they note that broader measurement could show even more food insecurity, and that the survey data they used is well-suited to measuring the impact of Nutrition North's retail and subsidy components.
"The bottom line is that this program was never really evaluated against the lived experience of food access," says Tarasuk, who is also a scientist in the Joannah & Brian Lawson Centre for Child Nutrition and U of T's Dalla Lana School of Public Health.
"We can see that food insecurity has worsened, and think that any solution should come with more meaningful input from the people of Nunavut."
The study was supported by the Canadian Institutes of Health Research.
Medicine