With a focus on equity, diversity and inclusion, U of T looks beyond the pandemic in 2022-23 budget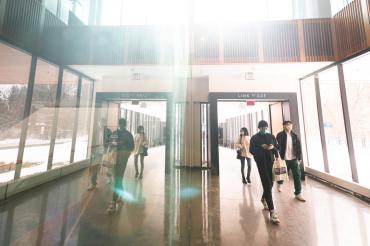 As pandemic-related health measures are relaxed across Canada, the University of Toronto envisions a steady return to more normal operations in its 2022-23 budget amid high vaccination rates and strong demand for its programs.
The $3.23-billion balanced budget, an increase of 3.5 per cent over the previous period, makes significant investments in teaching, research and the student experience – all while taking concrete steps to foster a diverse, equitable and inclusive environment.
It is scheduled to go before Governing Council for approval on March 31.
"The University of Toronto is pleased to be welcoming members of its community back to campus for more in-person learning, research and other activities – particularly its students," says Cheryl Regehr, U of T's vice-president and provost.
"The investments made in this year's operating budget reflect U of T's continued dedication to enriching the learning experience and supporting success across all divisions.
"We are committed to providing a world class experience for everyone, regardless of background or financial means."
Many priorities shared by students – expanding mental health services, enriching the academic experience, expanding experiential learning opportunities, committing to a climate positive campus and investing in student financial support – are reflected in this year's budget.
Through its University Fund, U of T plans to spend $22 million across five categories: building inclusive cities and societies, reimagining the undergraduate experience, the Defy Gravity campaign, investing in divisional priorities and driving scientific discovery.
As in previous years, U of T is making a significant investment to uphold its commitment to equity, diversity and inclusion. U of T plans to spend $2.3 million in the upcoming academic year to hire 30 additional Black and Indigenous faculty, bringing the total number hired through the Diversity in Academic Hiring fund to 160.
"These efforts are critical to achieve U of T's goal of inclusive excellence, which is all about drawing on a diversity of perspectives and lived experiences to generate world-leading scholarship and research," said Regehr.
"We want our university to reflect the many communities that it serves."
In addition, a $1-million investment will be made to support innovations and best practices in embedding equity, diversity and inclusion principles in education and divisions across U of T.
There are also budget allocations for the creation of a new residency program to support Black and Indigenous librarians who are at an early stage in their careers.
Nearly $1 million is being committed to support the Sexual Violence Prevention & Support Centre (SVPSC). The funding will go towards providing support to individuals who disclose or report incidences of sexual assault and expand capacity for prevention education across the three campuses.
U of T is continuing to prioritize mental health and wellness services, investing half a million dollars in the Stepped Care 2.0 model. There are plans to support programs to eliminate waitlists for same-day access and one-at-a-time counselling appointments, a new acute care service in partnership with the Centre for Addiction and Mental Health and a renovation to the St. George Health & Wellness Centre.
"Mental health and wellness continue to be a priority for the university," says Regehr, who is also a professor at the Factor-Inwentash Faculty of Social Work. "We want to make sure that every student has the support they need on and off campus."
The University Fund will also invest $5.2 million in the Defy Gravity campaign, including matching funds for donations, $1.9 million to support divisional priorities and $9.2 million for driving scientific discovery.
Many universities across the country, including U of T, have faced challenges due to the ongoing global pandemic. Ancillary services have been impacted because of the decrease of on-campus activity, with food service outlets and parking being hit the hardest. Such services are normally self-sustaining and not funded by the operating budget.
"Over the last two years, we have not had the normal level of activity of students, staff and faculty commuting to our campuses, using parking services or purchasing items at food services," says Jeff Lennon, executive director of institutional planning and budget administration at U of T.
"With the increase of on-campus activity, we're anticipating those services will be in better shape by next year." 
Student residences are showing faster signs of recovery with high occupancy rates for the fall 2021 semester, according to the budget documents.
Despite some of the challenges COVID-19 poses, domestic and international student enrolment remains robust. In addition, enrolment in the summer semester is significantly higher than pre-pandemic levels, with students increasingly interested in spreading courses across the three semesters.
To ensure that no domestic student who is accepted to a U of T program is prevented from pursuing their studies because of a lack of financial means, the university is budgeting $331 million in regular financial aid for 2022-23. The amount is expected to grow to $388 million over the next five years.
U of T assumes that Ontario's tuition framework will be extended for another year, which, due to a freeze for Ontario resident domestic students, amounts to total annual shortfall of $167 million next year compared to the university's plan from prior to the 10 per cent reduction and freeze that went into effect in 2019-20.
International students, who are on track to reach 31 per cent of the undergraduate body in five years, will continue to receive support from the university through programs such as the Pearsons Scholarships and a $53-million investment in the International Scholars program. An average tuition fee increase of two per cent, with variations by program, is planned for international students in 2022-23.
To generate additional revenue and support U of T's academic mission, the university's Four Corners development strategy aims to take advantage of the university's real-estate assets. The goal is to generate $50 million in operating funding per year by 2033 through the development of new space devoted to campus services, amenities, office and retail spaces.
Several projects are in various stages of planning, design and construction. They include new student residences and the first building in the Schwartz Reisman Innovation Campus on the St. George campus.
Several academic projects are also in the works, including the development of the James and Louise Temerty Building on the site of the west wing of the current Medical Sciences Building; a new interdisciplinary building at U of T Mississauga; renovations in several Faculty of Arts & Science buildings on the St. George campus and a multi-use timber parking structure at U of T Scarborough.
In total, there are 31 projects in various stages of planning, design and construction at U of T, worth a total of $4.6 billion.
"For the past two years, the U of T community has safely and successfully navigated the COVID-19 pandemic and is now looking forward to a sustained return to more in-person activities," says Scott Mabury, U of T's vice-president, operations and real estate partnerships.
"That's why we've continued to move forward with these critical projects on all three campuses, which will give U of T the necessary space to continue to grow and fulfil its important academic and research missions." 
UTC