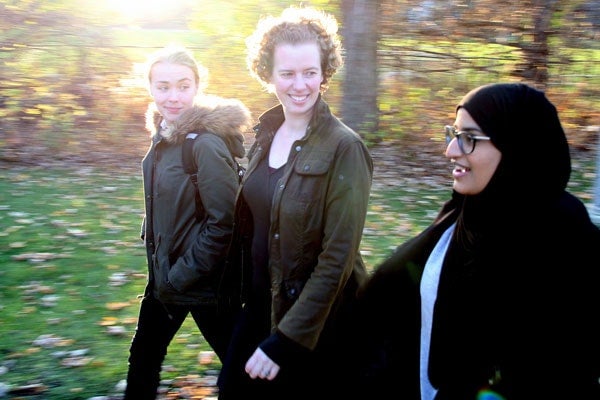 Five weird things that will make you want to fill out course evaluations
Re-arrange the cosmos, take learning to the streets and give your prof a boost – all with the click of a survey
Students are focussed on the finish line for exams and final projects at this time of year – so when email reminders for course evaluations start pouring in, it can be tempting to let them slide.
But taking a few short minutes to click through the online evaluations can wield a surprising amount of power on the future of teaching at U of T and on the career of a professor or TA. It's also a way to turn a stressful time of year into one that celebrates one of the best things about U of T: teachers who go the extra mile.  
Actual course evaluations are confidential but U of T News asked a couple of students to share what they would like to say about their favourite teachers.  
"In a time where I felt like I wasn't ready for university, you made me realize that I could achieve success here. And for that, I thank you," wrote Edwin White Chacon, a fourth-year political science student and co-founder of the urbanist student group called CivicSpark, in sharing a U of T Prof Shout-Out for Associate Professor Walid Saleh of the department of Near and Middle Eastern civilizations and department for the study of religion.
"I want you to know that your POL305Y1 class was one of the best courses I have ever taken at U of T," wrote Bushra Nassab, a fourth-year student of peace, conflict and justice studies and president of the U of T Association of Political Science Students, in sharing her U of T Prof Shout-Out for Donald Kingsbury, lecturer, department of political science. "Thank you for increasing my interest in (and understanding of) Latin American politics. I always recommend your course to my friends. Keep up the amazing work!!"
Below, two of the great teachers U of T recognized with its first-ever Early Career Teaching Awards this year unpack a few reasons why students might want to quickly click through course evals. (Read more about early career teaching awards)
Biologist Fiona Rawle, associate professor, teaching stream, from U of T's Mississauga campus, and astronomer Mike Reid, a lecturer in the department of astronomy and astrophysics at the downtown Toronto campus, share their perspectives on the impact of those approximately 15 minutes of online survey. Rawle and Reid say students can:
Shape the geography of teaching at U of T
"Students would comment on my course evals that, in large classes, they wish they had more interaction with the prof. Because of this feedback I started to do "walking office hours" wherein students can join me for hikes on campus and talk both about course content and other non-course related things."
Rawle
Alter the motion of the planets
"The thing I most want students to know about course evaluations is that we do read them and make changes based on them. The more detailed and specific students can be on their evaluations, the better. If there's an aspect of a course that isn't working for students, we need them to tell us about it so we can fix it. For example, when our students told us on evaluations a few years ago that they didn't really like the style of planetarium shows we were doing and didn't find them helpful, we stopped doing them that way. We scour our evaluations every year, looking for trends in the feedback, things we can change to make the course better next year. Then we check the evaluations the following year, looking to see whether the changes we made worked."
Reid
Make your voice heard – and tell your prof or TA things you might be too shy to mention otherwise
"I tend to get really excited about what I¹m lecturing and I know I tend to talk fast sometimes – student opinion surveys remind me to pause and slow down. I really appreciate the time it takes for my students to do these surveys, and I make sure I read through all the comments. Student opinion surveys are valuable for giving the professor a snapshot of how the students are feeling."
Rawle
Influence whether or not a great teacher gets promoted
"Student evaluations are also critical in supporting professors in their careers. In the same way that students try hard to do well on tests, professors try hard to do well on evaluations. I'm not sure if students understand that when professors are considered for tenure or promotion, teaching evaluations play a big role. 
"For teaching-stream faculty like me, student evaluations are one of the biggest parts of the promotion package we have to submit to the university. When I submitted my promotion package recently, it included literally hundreds of pages of student evaluations spanning about ten years of teaching at two universities. I have to be able to demonstrate that not only am I using modern, evidence-based teaching techniques, but that I'm doing so in a way that students find helpful."
Reid
Help improve things for future generations (or at least for future students in the course)
"Sometimes certain issues will be of interest to students, but aren't on the professor's radar. For example, when we implemented active learning tutorials for genetics last year, student feedback showed they didn't know what to expect about this new format and felt rather nervous about it. As a professor, these comments made me realize that it is important to have very clear expectations – so when we teach genetics next, we will do a "mock active learning tutorial" in lecture first, so that students know what to expect when they go into the active learning classrooms."
Rawle
(Photo below by Blake Eligh, University of Toronto Mississauga communications)