Five Ways of Being a Painting: U of T historian crafts essay on smartphone, longlisted for elite prize
William Nelson, an assistant professor of history at U of T Scarborough, has been longlisted for the prestigious Notting Hill Editions Essay Prize, worth £20,000 ($33,000 CDN).
Nelson's innovative 4,700-word essay, "Five Ways of Being a Painting," combined text and images to examine "the ways that people have used paintings to think about the experience of estrangement." 
Historically, other U of T essayists have done well in the competition. Michael Ignatieff, then a professor at U of T's Munk School of Global Affairs, won in 2013, the first year of the biennial prize. In 2015, Philosophy Professor Mark Kingwell was longlisted and received special mention.
In Nelson's essay, he mentions anecdotes and musings about historical figures and images from the past 400 years in Europe and China, as well as memories from his own childhood.
"I wrote the essay in an experimental form that weaves together five storylines exploring the ways that people can 'be' paintings," he said. "I am an academic historian of ideas. This is another type of exploration of ideas." 
He began writing the essay about three years ago, then put it aside to work on a book. Last year, seeing the deadline coming up, he completed the essay in fragments in bed at night, typing on his smartphone.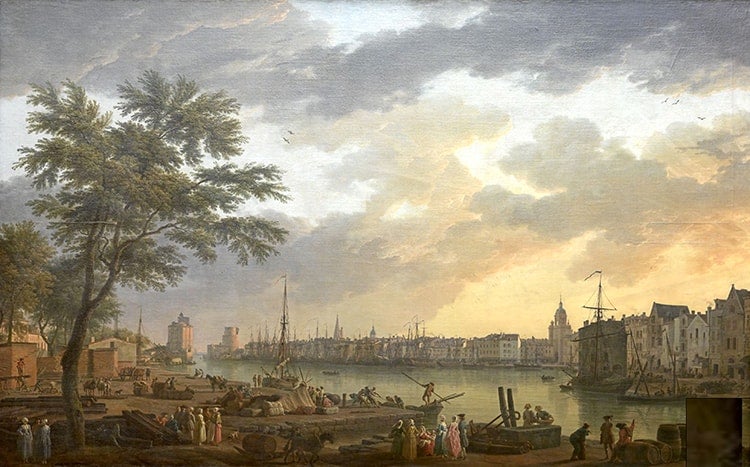 The Vues des ports de France (Scenes of the harbours of France) is a series of paintings by French painter Joseph Vernet, made between 1754 and 1765, that are featured in William Nelson's essay
Notting Hill Editions, a website and publisher aiming to "reinvigorate the art of the essay," was founded by games inventor and entrepreneur Tom Kremer, who helped popularize Rubik's Cube. The shortlist for the prize will be announced on May 3, and the winner and five runners-up will be selected June 28.
Nelson, whose piece is one of 76 on the longlist, said he has published a number of academic works but never a literary essay. Most of the other authors on the list, he noted, are professional writers.
"When I was doing my PhD, I realized I wanted to pay a lot more attention to writing," he says. "So, I practiced writing in a number of different styles."
Nelson, who grew up outside Washington, D.C., did his PhD at the University of California, Los Angeles. He was a post-doc researcher and a visiting professor at the University of Cambridge, the University of Miami and the University of Texas at Austin. A specialist in 18th-century intellectual history, he came to U of T Scarborough in 2011.
UTSC