Five poets, one party: U of T authors mark National Poetry Month with joint book launch
Toronto Lit Up is a joint project of IFOA, Toronto Arts Council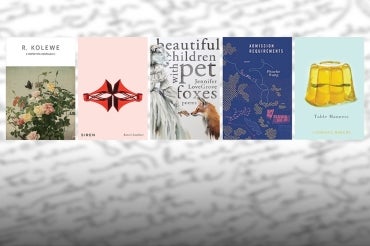 It's National Poetry Month – and thanks to the International Festival of Authors, this week you can catch up with five University of Toronto poets at one launch.
It's all part of Toronto Lit Up, a three-year initiative spearheaded by the Toronto Arts Council and IFOA, designed to spotlight Toronto's writers and empower local artists with career-building opportunities. Presented by the League of Canadian Poets, the five-poet book launch on April 6 features the new works of:
R. Kolewe, Inspecting Nostalgia (Talonbooks)
Kateri Lanthier, Siren (Véhicule Press)
Jennifer LoveGrove, Beautiful Children with Pet Foxes (BookThug)
Phoebe Wang, Admission Requirements (McClelland & Stewart)
Catriona Wright, Table Manners (Véhicule Press)
The lineup of award-winning poets is composed entirely of U of T alumni and staff.
Kolewe, who studied physics and engineering at U of T, has moved from the software industry to writing full time; the event marks the release of his second book. Wang, a graduate of the MA program in creative writing at U of T, is releasing her debut collection of poetry.
LoveGrove, on leave from her position as associate director of alumni and donor services in the division of advancement at U of T, is the author of the Giller Prize–longlisted novel Watch How We Walk, as well as two poetry collections. Lanthier, winner of the Walrus Poetry Prize in 2013, received her BA and MA in English from U of T and has taught creative writing at the University of Toronto Mississauga. Alumna Wright is a tutor in the Engineering Communication Program at U of T and the co-founder of Desert Pets Press, a chapbook press.
UTC