First-year student takes big step as head female dancer at U of T powwow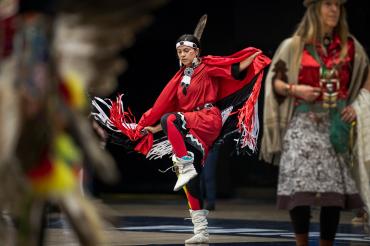 Miyopin Cheechoo hasn't even been a University of Toronto student for a year, and she was already asked to fill important shoes as head female dancer of the spring powwow.
The Cree student from Moosonee has been dancing at powwows in northern Ontario basically as long as she could walk, but this was her first in Canada's largest city.
"It's a big responsibility because you're representing not only your tribe but also your community, your family and Indigenous Peoples here," she says. "It's a lot actually."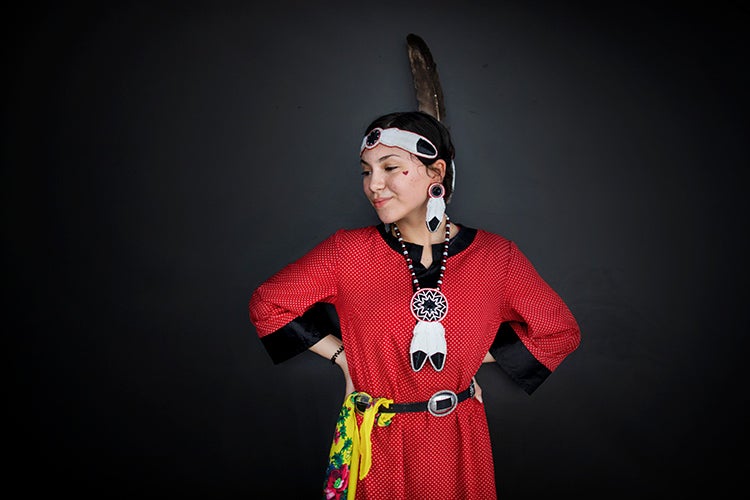 Miyopin Cheechoo, the head female dancer and a New College student, poses for a portrait at the Goldring Centre for High Performance Sport (photo by Nick Iwanyshyn)
If she had any pre-dance jitters, they seemed to melt away as she took the floor at the Goldring Centre on Saturday for the grand entry. In red polka dot print and wearing eagle feathers and beadwork given to her by her aunt, she danced to the drumbeat alongside the head male dancer, Amos Key Jr., an assistant professor at the Centre for Indigenous Studies and the department of linguistics.
An age gap of almost five decades separated the head dancers, but they danced in harmony. Cheechoo says she looked to Key for guidance when she lost her place. Key, a member of Mohawk Nation from Six Nations of Grand River Territory, has no shortage of experience, spending much of his summers at powwows across southern Ontario.
On the sidelines, more than 100 people watched the event or left their seats to join in. The Indigenous Studies Students' Union put on the event for the third year in a row after resurrecting a campus tradition that was lost for 20 years. Earlier the same week, U of T Scarborough hosted its first Indigenous conference and powwow.
Ziigwen Mixemong, the membership co-ordinator at ISSU and the head female dancer last year, says she had planned to invite Cheechoo to be the next head dancer even before she was a U of T student. They met through the Soar program, a week-long campus visit for Indigenous students in Grades 9 through 12 hosted by the Faculty of Kinesiology & Physical Education. Mixemong, now a third-year student at University College and former on-site co-ordinator at Soar, says Cheechoo struck her as an "empowering young woman" who could rise to the challenge of being head dancer.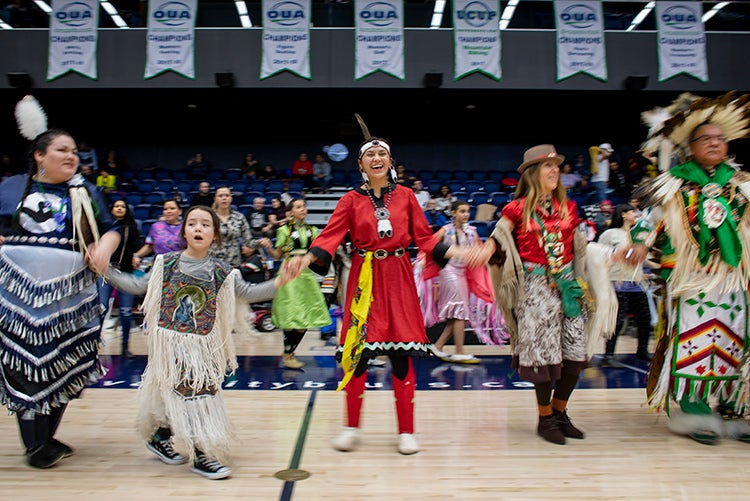 Miyopin Cheechoo, centre, holds hands on the gym floor. Ziigwen Mixemong of the Indigenous Studies Students' Union is on the far left and Amos Key Jr, the head male dancer and an assistant professor of Indigenous studies, is on the far right (photo by Nick Iwanyshyn)
It's a role that comes with challenges, not least of which is to stay on your feet all day. The dancing took a toll on Mixemong, but the soreness only caught up afterwards, she recalls. "When you're dancing you don't really feel pain because it's just about the beauty of dancing," she says.
Maybe the biggest responsibility of the head dancer is to get people on their feet and keep the party going. "Powwows aren't a spectator sport," Mixemong says. "I always say, if you haven't danced at a powwow, you haven't been to a powwow."
In her earliest memories of powwow dancing, Cheechoo is wearing her purple butterfly print regalia and dancing her heart out. Others kids might run around and play, but her mom Christina used to say, "You're not here to run around, you're here to dance."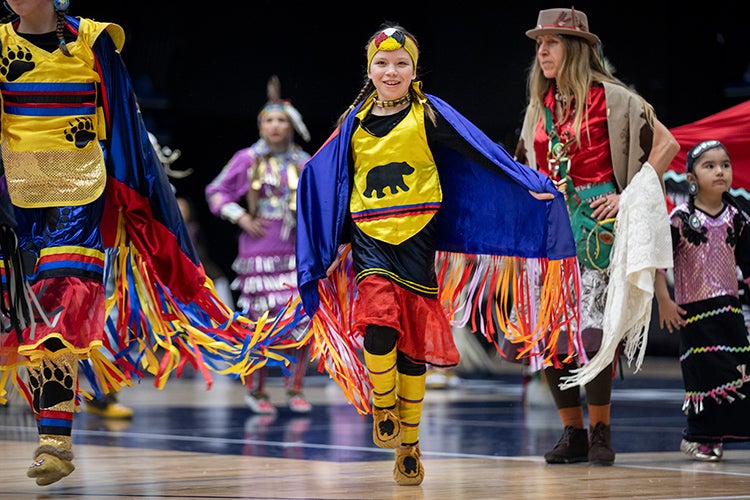 Young and old danced across the gym floor at the U of T powwow over the weekend (photo by Nick Iwanyshyn)
Her father Don didn't want to miss seeing his daughter make her debut at a Toronto powwow. Earlier in the week, he and his truck made the six-hour train trip from Moose Factory to Cochrane, Ont., and then he drove another 10 hours to U of T. He sat in the bleachers with his daughter's friends. 
It's not easy being so far away from his daughter, he says. "I miss her all the time, every day," he tells U of T News, "and I worry about her all the time now that she's in the big city, but she's doing really well." 
He was happy to see that U of T students organize a celebration of Indigenous languages, cultures and communities that attracts a large crowd each year. "First Nations have been underrepresented and marginalized," he says. "It's good to have this at a major university and have that recognition that we are here, we exist."
Miyopin agrees. "Having an event like this at U of T is important for Indigenous representation, and also it provides a space for both Indigenous Peoples and settlers to interact in a way that's fun."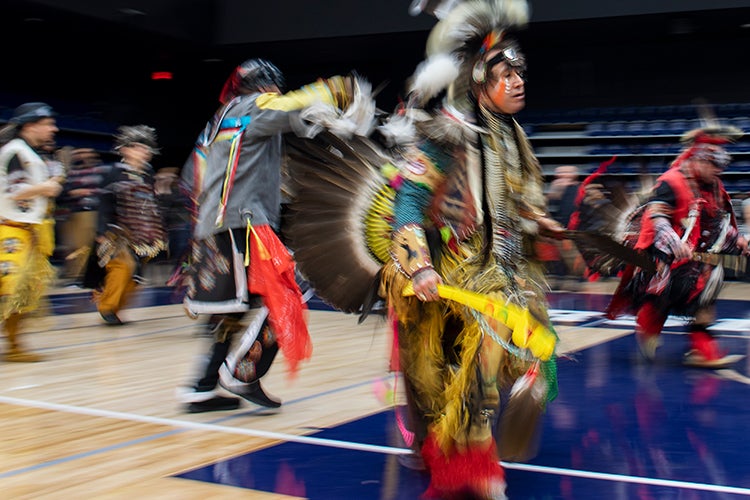 The Indigenous Studies Students' Union organized the powwow, the third event of its kind at U of T after the tradition went dormant for 20 years (photo by Nick Iwanyshyn)
UTC