First in their family to go to university, these U of T students reflect on graduation
Graduation is a milestone in many people's lives, but especially for those who are the first in their family to don a convocation robe. 
Students who are the first in their family to go to university make up as much as one-third of all Canadian university students, according to some studies. At the University of Toronto, the number is closer to one in five, says Adonica Huggins, student life co-ordinator of academic and peer programs. She leads a mentorship program for first-generation students that connects new first-in-family students with their peers in higher years. 
"Being first is challenging and tough," says Huggins, who was a first-generation student herself. 
The overarching goal of the mentorship program is to show by example that they have what it takes to succeed, she adds.
Five first-generation students, including some first-in-family mentors, spoke to U of T News about their paths to graduation and plans for afterward.  
---
Mendy Chen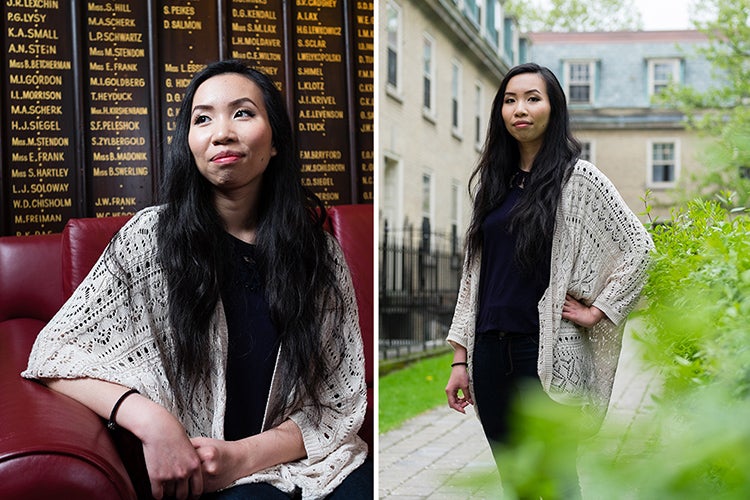 When she was applying to university, Chen Googled students' experiences at U of T. Her search led her to forums in which students complained that the As they had in high school became Cs at U of T because the courses were so difficult. "It was intimidating at first," she recalls.
She gained confidence and a sense of community through the First in the Family Peer-Mentor program. Her first mentor gave her advice on how to find summer jobs, and her second helped her better manage her time. She learned to jot down all her assignment due dates for the year on a calendar and agenda. 
In third year, she became a mentor herself. "I like helping people, and helping people in the same position I once was in is really rewarding," she says. "I know how it feels to be in that place in first year where you're confused and scared and there are so many things you don't know."
Chen is graduating with a bachelor's degree in sociology and English. As a next step, she's considering teacher's college or social work. 
Nabi Dressler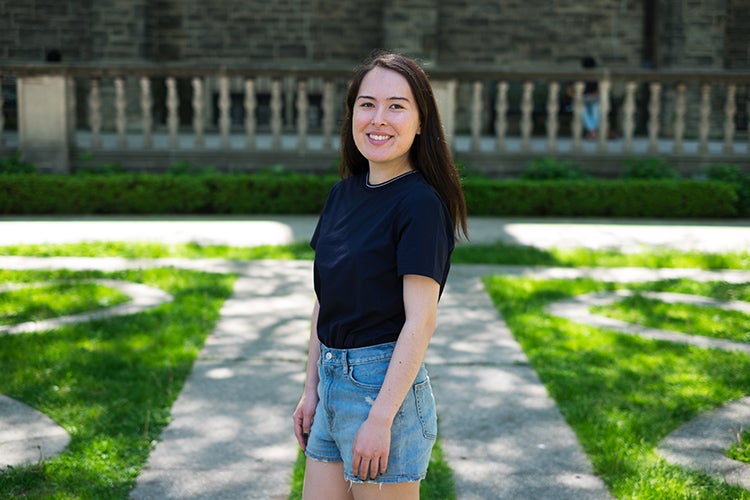 Dressler, who's from the Chicago area, majored in sociology and political science because she cares about people and how they can get ahead, she says.
"What I've gained in my time here is the confidence to believe in myself and to believe I have a place here, at an institution like this, and to be able to compete at this level," she says. "I realized that if I did well here, I could really do whatever I wanted."
Early on, she learned the importance of speaking up when you need help, going to professors' office hours and getting involved on campus. She edited an East Asian studies journal and landed a work-study position writing and editing sociology textbooks.
Post-graduation, she wants to take a gap year before applying to PhD programs.
Omar Qashoa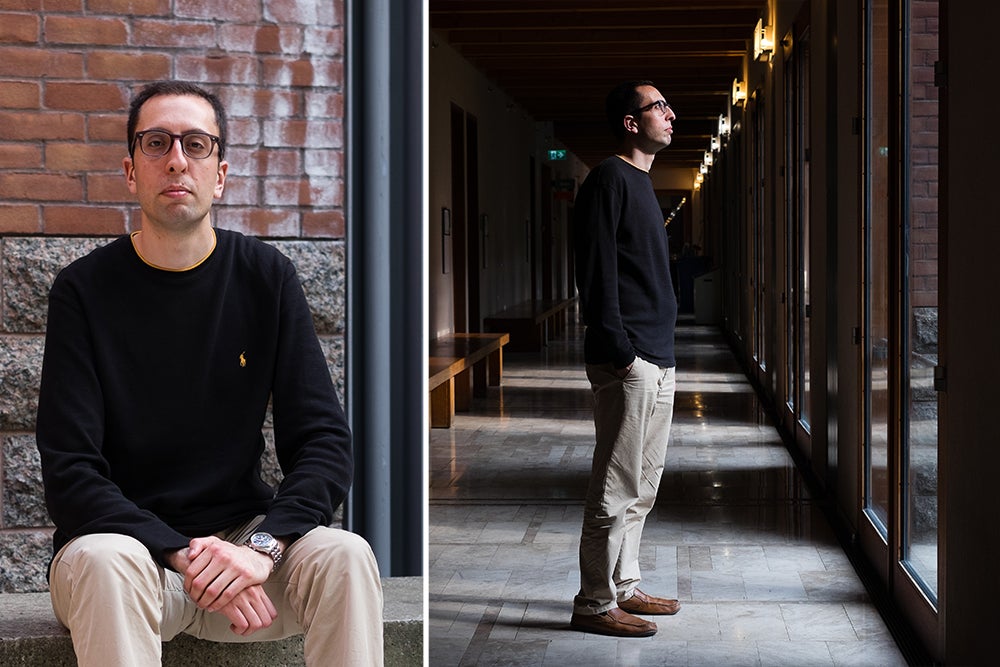 Qashoa came to Canada from Kuwait in his mother's womb. Neither of his parents, originally from the West Bank, went to university, and his mom didn't go to high school.
"One of the main reasons they came to Canada was for the purpose of better education and a better future for their children," he says.
Qashoa went to business school at York University, but he didn't enjoy his courses or excel. He dropped out and worked for a few years before giving university another chance. He applied to U of T and majored in Near and Middle Eastern civilizations, keen on learning about the intellectual history of the Middle East. 
He earned a bachelor's degree and today is on the verge of receiving his master's degree. His specialty is Medieval Perso-Islamic history. "I never thought to myself I'm going to get a 4.0. I just tried my best," he says.
He's been admitted to the PhD program in South Asian studies at the University of California, Berkeley with advisors in history and South Asian studies (the acceptance rate for international PhD students in the history department is below 5 per cent, according to its website). At Berkeley, he'll be focusing on the Mughal Empire, a Muslim empire that ruled most of northern India between the early 16th and mid-18th centuries.
If all goes to plan, he'll be the first in his family to earn a doctorate. "I'm excited that I get to pursue my dreams to be a professor," Qashoa says.
Liana Ramos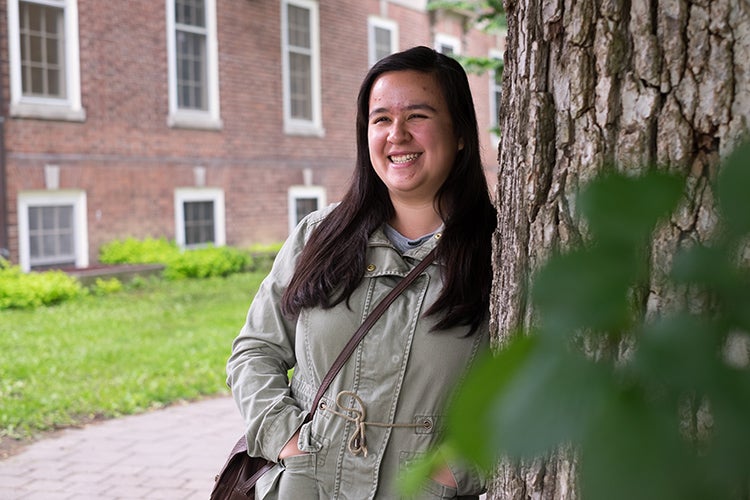 Like millions of kids around the world, Ramos fell in love with the written word partly by exploring the wizarding world of Hogwarts. She went from reading J.K. Rowling as a child to William Faulkner and Jane Austen at U of T, where she studies English, book and media studies and Renaissance studies.
She remembers feeling excited, though "quite terrified," when she first set foot on campus. She didn't know any other students or how the next four years would play out. She had to learn many things on the go, including what a major was. She learned the ropes with the help of a peer mentor and writing-centre coaches.
Now that she has her degree, she wants to take some time off school to work. She aims to go back to school eventually for a certificate in communications or professional writing. 
To other first-in-family students just starting out, she says: "There will be a lot of firsts, obviously, but everything will work out. Don't worry."
Ayaan Abdulle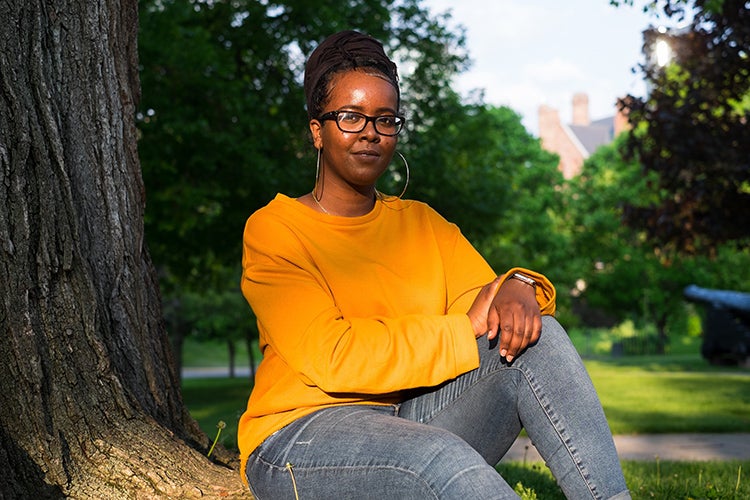 Abdulle says she didn't just go to university for herself, but for her family too. 
When she got her acceptance letter from U of T Scarborough, her family was "ecstatic," she recalls. "It means the world to them. It's a tangible result of everything my parents worked so hard for."
Her father, who is self-employed and works in transportation, and mother, a stay-at-home mom and seamstress, moved to Toronto from Somalia in the 1990s.
Abdulle says she made friends on campus who helped her cope with the demands of university. Now her two younger sisters are in university, too – one is also at U of T Scarborough – and they look to her for advice on everything from course selection to good study spots. "They're simple questions that you wouldn't think are super important, but they definitely shape your experience," Abdulle says.
She's on track to graduate next year and is considering doing an advanced degree in health policy. Her father has big expectations for his daughter. He tells his friends that she will be prime minister one day, Abdulle says. 
UTC