First students join U of T's new International Doctoral Cluster program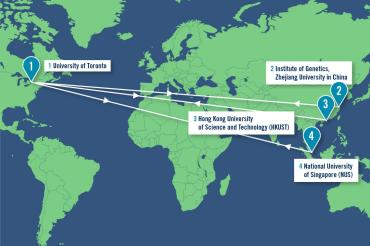 Charmaine Rodrigues understands the importance of international experience – and she's already had a taste of it.
While an undergraduate in the forensic biology program at the University of Toronto Mississauga, she spent a term at the Chinese University of Hong Kong. 
"It was my first experience working in a lab," she says. "The environment was stimulating, the idea of research was new to me and fascinating – it really opened my eyes to the scientific world. I had considered graduate school but, after the Hong Kong experience, I said, 'I have to do a master's.' It was my supervisor there who inspired me."
She is now a doctoral stream student in the lab of Dr. Chi-Chung Hui, a professor in the department of molecular genetics and senior scientist at SickKids Hospital, and is about to take her international studies to another level. 
Rodrigues is set to become the first U of T student enrolled in a new program known as the International Doctoral Cluster initiative (IDC). 
As part of a collaboration agreement between U of T's department of molecular genetics and the Institute of Genetics at Zhejiang University in China, Rodrigues will be co-supervised during her doctoral studies by Hui and his colleague Dr. Xi Huang at U of T and Dr. Min-Xin Guan at Zhejiang.
"The project will study the role of mitochondria-associated ion channels in medulloblastoma (MB)," says Hui. "MB is the most aggressive childhood brain cancer. Dr. Huang is an expert in ion channels in brain cancer, which can contribute to abnormal growth, and Dr. Guan is an expert in human mitochondrial genetics. In the joint project, we will take advantage of the strengths of the three labs to initiate a project aiming to determine whether and how mitochondria-associated ion channels contribute to MB."
Professor Leah Cowen, chair of the department of molecular genetics, notes that "by the terms of the agreement with Zhejiang University, we have funding in place for up to five doctoral students entering per year for up to five years. And the agreement can be renewed." Students can come from Zhejiang or from U of T or can be recruited directly into the program from elsewhere.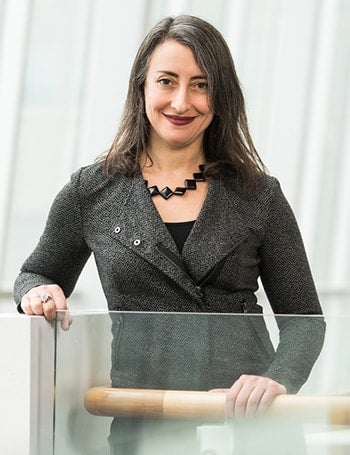 "To recruit the best possible talent, we can't only recruit from within Canada," says Cowen (pictured left).
"U of T has IDC agreements with three universities so far," says Christopher Yip, U of T's associate vice-president of international partnerships. "In addition to the one with Zhejiang University, they are with the National University of Singapore (NUS) in the area of cybersecurity, and with Hong Kong University of Science and Technology (HKUST) in the area of next-generation power devices, both of which were signed in late 2017." Both involve U of T's department of electrical and computer engineering in the Faculty of Applied Science & Engineering.
"Cybersecurity is an area we believe will be tremendously important going forward," says David Lie, a professor in the department of electrical and computer engineering, who along with Professor Deepa Kundur is co-ordinating the partnership with NUS for the department and is one of seven principal investigators involved on the U of T side. 
"Cybersecurity is necessary for public safety and a country's sovereignty. We are so dependent on technology – it needs to be trustworthy and reliable." 
Lie expects that each of the seven principal investigators [PIs] from U of T will have a single counterpart at NUS with whom they will jointly supervise a doctoral student. "Ten potential PIs from NUS that have been identified but it's kind of like a high school dance – you've got to shop around a bit and it depends on where you are and what your students are doing."
The IDC agreement with HKUST will see researchers collaborate on the development of next-generation power semiconductor devices and integrated circuits.
"Both agreements [with NUS and HKUST] are in line with our academic plan and strategy, which is training students who are international citizens," says Ramin Farnood, vice dean of research in the Faculty of Applied Science & Engineering. "The IDCs will help our students get global experience, help our researchers get global exposure and improve the reputation of the University of Toronto globally."
"This agreement is really just the start of the opportunities for collaboration and exchange with HKUST," says Yip. "There are tremendous synergies between our two institutions and so there are definitely more ideas to explore, finding new ways to bring our students and researchers together."
Yip acknowledges that the fields of engineering and medicine lend themselves most readily to collaboration between universities and so were a good place to start with the IDC initiative. But he's eager to expand the IDC program into non-STEM (science, technology, engineering and mathematics) areas of study as well in the months ahead. 
One possibility may be global migration. "It's a topic that demands collaboration across subjects and spaces," says Randall Hansen, interim director of U of T's Munk School of Global Affairs. "Global migration affects all corners of the globe, including regions with different histories, languages, cultures and institutions. No one university, however strong, can have enough competence to cover all aspects of the topic."
This summer the Munk School will host a conference bringing scholars from the Universities of Oxford and Melbourne to Toronto. "Toronto, Melbourne, and Oxford are all leading institutions for research on global migration; all are in or near the world's great migration cities (London in Oxford's case). The conference will explore the scope for expanded research collaboration, faculty exchange, and joint graduate supervision," said Hansen.
"It's early days on this," says Yip, "but we're thinking big. We want to encourage our departments to think about how they can become stronger through collaborations. And we want to encourage our students to think about the benefits of international study. These IDCs are but one of the many new ideas we are exploring to help bridge institutions, and indeed countries, and help build innovative international partnerships."
UTC