First cohort of U of T's Master of Professional Kinesiology program graduates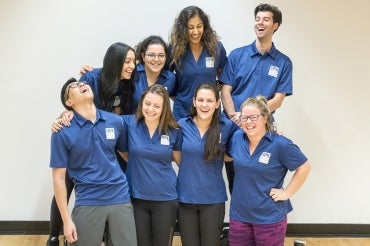 Students of the first cohort of the Master of Professional Kinesiology (MPK) program – the Faculty of Kinesiology & Physical Education's first professional master's degree program and the first of its kind in the province – attended their convocation on Wednesday.
"The reputation of our graduates as exercise experts with a keen interest in improving how exercise is used to enhance health and performance will ensure a strong future for the MPK," said Professor Scott Thomas, the founding director of the program.
The MPK program provides 600 hours of practical experience starting with structured, in-university experiences, followed by diverse experiences in the Toronto area, including professional sports teams, private clinics and businesses and hospital programs.
 "Beyond being the first of its kind, the program is unique in at least three other ways," said Thomas. "It reflects our faculty, which looks at kinesiology from four distinct viewpoints: behavioural, physical-cultural, biophysical and clinical. It reflects the University of Toronto's consistent emphasis on driving practice improvement using the best evidence, from experience and from research. And, it reflects our communities."
Sonia Jain, one of the 30 new graduates, said the program "enhanced my passion for promoting and raising awareness about the relationship between the mind and body.
"I thoroughly enjoyed my placement experience with the Sensory Motor Instructional Leadership Experience (SMILE) program."
SMILE is a 12-week, academic-based program that is intended to provide children and youth with varying ability levels a unique opportunity to participate in group-based physical activitiy programming. Each child is paired one-to-one with a MPK student to receive adapted programming for fundamental movement skill development.
"It was demanding to commit early Thursday and Saturday mornings to running around and playing with numerous children of all capabilities and exceptionalities," said Jain, "but our supervisors, Associate Professor Ashley Stirling and Senior Athletic Instructor in Gymnastics Barb Brophey, taught us the skills we needed to be patient and positive. Seeing the smiles on the children's faces and getting them to move when they otherwise thought they couldn't was so worth it."
Jain chose to focus her capstone project on the psychosocial determinants that prevent adolescent girls from exercising and partaking in physical activity. Under the supervision of Thomas and the executive director of Boxing Ontario, Matthew Kennedy, she and her classmate Kyla Crocker created a high school boxing program to improve life skills such as self-esteem and self-confidence.
Jain's plans for the future involve leading and creating an exercise therapy program at the Centre for Addiction and Mental Health. She is currently working as a strength trainer at U of T's Goldring Centre for High Performance Sport and volunteering for an organization called Bootcamps for Change, which facilitates youth shelter programming and helps homeless youth.
"I hope to make movement and physical activity accessible for all people, not just elite athletes and those capable of exercising," said Jain.
KPE