First Canadian-born Black doctor studied at U of T
Dr. Anderson Abbott among group who stood vigil over dying President Abraham Lincoln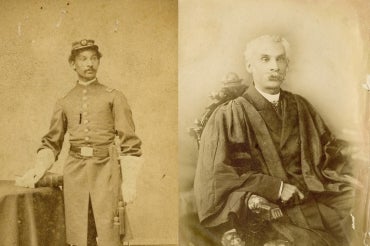 More than 150 years ago, the man who would become the first Canadian-born Black doctor came through the University of Toronto. 
Dr. Anderson Abbott's life, from his upbringing as the son of immigrants from Alabama to his illustrious medical career, is the focus of a feature in the Toronto Star.
According to the Canadian Encyclopedia, he enrolled at University College to study chemistry in 1857. Soon thereafter, he began his studies at the Toronto School of Medicine, then an affiliate of U of T.
He studied and worked under Dr. Alexander Thomas Augusta, an American-born "free person of colour" who graduated from Trinity College in 1856. 
In 1861, the same year the U.S. Civil War broke out, he obtained his licence to practise medicine. Although he was Canadian, he volunteered to help the Union Army defeat the Confederate states, which allowed slavery. 
Abbott distinguished himself as a contract surgeon and later surgeon-in-chief at the Freedman's Hospital (for Blacks), according to the Star. "He received many commendations and he and Dr. Augusta came to be known by Washington's movers and shakers, including U.S. President Abraham Lincoln." 
After Lincoln was shot by an assassin on April 14, 1865, Abbott was among the group of doctors, friends and family who stood watch over the dying president. After Lincoln's death, his widow, Mary Todd Lincoln, sent Abbott the houndstooth shawl that Lincoln had worn to his inauguration. 
Abbott returned to Toronto in 1866. He married a few years later and moved with his wife to Chatham, Ont., where they raised a family. He became the first Black coroner of Kent County and advocated for integrated schools. 
Rising racial prejudice led the Abbotts to move to Dundas, Ont., where Abbott had a thriving medical practice and became the assitant editor of a newspaper, according to the Star. Writing under an alias, he criticized racist views.
In 1913, he died at age 76.  
U of T honours his memory with a scholarship for Black undergraduate students in any program. The Dr. Anderson Abbott Award is for Black undergraduates in any field of study who demonstrate high academic achievement, financial need and service to the Black community. 
UTC