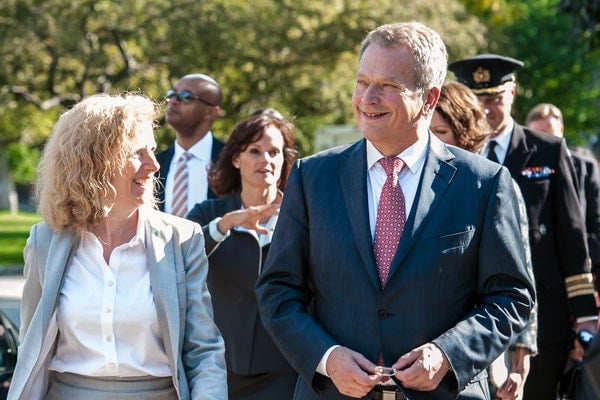 Finnish President Sauli Niinistö visits U of T
Discussing international affairs at Munk School, celebrating 25 years of Finnish studies at U of T
Finland and Canada need to work together to ensure the Arctic region is developed sustainably, Finnish President Sauli Niinistö told a standing-room only audience at the University of Toronto's Munk School of Global Affairs.
Niinistö, along with his wife Jenni Haukio, visited U of T on October 10, participating in a conversation on international affairs with Munk School Director Janice Stein, as well as a panel discussion on the future of Finnish studies in North America.
During the talk at the Munk School, he spoke about the need to "be careful not to ruin the Arctic."
"We need cooperation between Canada, the Nordic countries and Finland. We share a similar mindset that differs from that of the United States and Russia," he said.
Niinistö had asked to visit U of T on the occasion of his state visit to Canada, to engage with the Finnish studies program and to have a dialogue at the Munk School. Members of his delegation included: Jan Vapaavuori, Minister of Economic Affairs; Charles Murto, Finnish Ambassador to Canada; Andree Cooligan, Canadian Ambassador to Finland; Secretary General Teemu Tanner; and Peter Stenlund, Secretary of State, Ministry for Foreign Affairs. Also in attendance was retired NHL player Saku Koivu, the longest-serving captain of the Montreal Canadiens.
(See a photo gallery of the visit.)
Besides the Arctic, the conversation touched on topics such as Russia, China, Europe and the secret of the Finnish "economic miracle."
Finland is acutely sensitive to the motives and goals of its Russian neighbours, Niinistö said, especially since the recent annexation of Crimea. One positive outcome of that event, he said, is that Europe is re-awakening to the importance of peace as a common goal.
Stein asked Niinistö whether he could share with Canadians the secret of the Finnish economic miracle. He responded that there was no secret. "We are a small country and have been very poor. But we value education very highly, and this has led to results." 
Innovation, like creativity, he said, can't be achieved on command. "You can't just tell someone to innovate or create; you need to foster a culture of innovation and creativity."
Earlier in the day, Niinistö was part of a panel on the future of Finnish studies in North America, and took part in a scholarship ceremony to congratulate this year's recipients in the Finnish Studies program at U of T. 
Panellists included Peter Auvinen, honorary consul of Finland in Toronto and vice-president of the Canada-Finland Chamber of Commerce, Professor Anu Muhonen, director of the Finnish Studies program at U of T, and Finnish Studies major Emmett Snyder (pictured at right with President Niinistö and Professor Emeritus Börje Vähämäki.)
The Finnish Studies program was established 25 years ago, and is now regarded as the largest, most comprehensive program dedicated to the study of Finnish language and culture in North America, and is the only fully accredited program in Canada.
"When I first began my journey into the world of academia, I saw myself as a budding, young scientist – a young man following his grandfather's footsteps down the path of microbiology," said Snyder. "Yet, when I sat down in a Finnish class for the first time, something told me that I would end up walking a different path. I had no idea where this new and exciting language would take me, and I certainly had no idea that I would end up in this room today. I'm a Finnish Studies major [now], who hopes to return to Finland. Many of my peers in the program hope for the same thing in their future – studying, translating, teaching, living, or working in Finland."
The panellists also stressed the importance of advancing studies in Finnish culture and language because knowledge of languages and cultures, especially of smaller countries, gives students a unique opportunity that's outside their comfort zones. And this knowledge can enrich their other studies and even extra-curricular activities. 
"Finnish culture is worth investing in," said Muhonen, who spoke about improving Finnish studies by providing more reflective, collaborative learning of Finnish culture and society. 
As the discussion wrapped up, Niinistö concluded, "I am motivated by the fact that there are so many similarities in Canadian and Finnish people. I am motivated that we can cooperate and understand each other, and can do business together. It is important that we continue to learn together and share our values."
Terry Lavender writes about international affairs and Liz Do writes about education for U of T News.